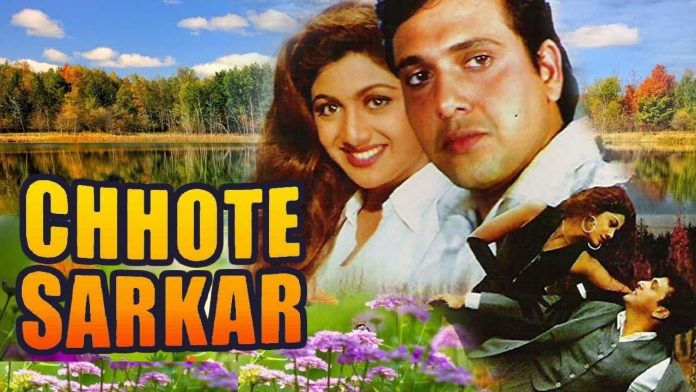 CHHOTE SARKAR
Shivam Chitrya (Bombay)'s Chhote Sarkar aims to be both, a suspense film and an entertainer, but succeeds in being neither. It lacks the thrill of a suspense drama and does not have much of entertainment which could be termed novel. The story is about a young businessman who is under the impression that he has murdered his uncle when the fact is that he has intentionally been framed for the murder by vested interests. A lady inspector, pretending to be his beloved, comes in his life and the moment he decides to get married to her and confesses his crime, she shows her true colours and arrests him. It then falls upon him to prove himself not guilty when he realises that his confession is a result of his not knowing the truth. The first half of the film is relatively light. The post-interval portion is devoted mainly to solving the mystery of the real killer.
Till a suspense drama doesn't keep the audience guessing, it cannot keep their interest alive. There is absolutely no scope for guessing in the film for two reasons — there aren't too many characters whom one can suspect, and secondly, the identity of one person who is connected with the crime is revealed to the audience soon after interval. Nor is the customary fear/thrill associated with a suspense film there in this drama. The title has no specific relevance to the story. While a few comedy scenes do entertain, there are others which fall flat. Prominent among those which fail to evoke laughter are the court scene in which the hero likens the relationship between uncle and nephew to that between an underwear and its string, as also the take-off on a television programme. Overall, the story is a bit childish, and the screenplay is one of convenience. For instance, the hero escapes from the mental asylum (where he has been sent by the court after being convicted for murder) and does everything including dancing, without attracting the attention of the custodians of law.
Govinda acts very well in the first half but is not at ease when playing the role of a mad man. Further, he sometimes tends to forget the character he is portraying and plays Govinda instead. Shilpa Shetty is fairly alright. Aroona Irani is okay. Kader Khan is quite good. Sadashiv Amrapurkar does an average job. Divya Dutta, Tej Sapru, Guddi Maruti, Dinesh Hingoo, Bobby Saini, Asif Sheikh and the rest of the cast lend adequate support.
Direction is fair but, given the story and screenplay, one couldn't expect more. Dialogues are ordinary. Anand Milind's music is good. 'Ek chumma' is a mass-appealing song. 'Ek naya aasman' is melodious. Camerawork is good. Action is as usual.
On the whole, Chhote Sarkar lacks in merits. With the average opening it has taken, even its reasonable price and solo-release advantage cannot do much for it.
Released on 22-11-'96 at Dreamland and 23 other cinemas of Bombay thru Mahalakshmi Film Distributors. Publicity: good. Opening: average. …….Also released all over. Opening was quite good at a few centres but dull at majority of the places.
LATEST POSITION
As predicted, RAJA HINDUSTANI has created history all over with AA collections.
Raja Hindustani is expected to cross the 5-crore mark in every circuit. 1st week Bombay 38,42,661 (100%) from 10 cinemas (5 on F.H.); Ahmedabad 11,88,745 from 5 cinemas, Palanpur 2,15,600 (100%), Mehsana 2,67,148 (100%), Vapi 3,84,384 (100%), 2nd week Baroda 100%, Padra 2,37,356 (100%), Anand 4,53,809 (91%), Asodar 1,88,509 (96%), Valsad 2,78,992 (100%), Rajkot 1,29,744 (100%), Jamnagar 1,60,563 from 2 cinemas (1 in mat.), 1st week Bhuj 1,50,633; 2nd week Pune 9,30,272 from 4 cinemas (1 in mat.), 1st Kolhapur 1,88,868 (100%), Solapur 2,40,573 (100%) from 2 cinemas (1 in mat.), Satara 1,43,031 (100%) from 2 cinemas (1 in mat.), Nasik 3,22,896 (100%); Belgaum 4,39,951 (100%) from 3 cinemas (1 in noon); Delhi 27,57,487 (99.41%) from 7 cinemas; Lucknow 2,22,403, Agra 1,95,789, Allahabad 1,49,801, 2nd week 4 days 91,000, 1st Meerut 1,85,620 (100%), Bareilly 1,84,137, Hardwar 79,871, 2nd week 4 days 35,359; 1st Amritsar 62,170; Calcutta 27,81,664 (95%) from 21 cinemas; Nagpur 8,53,308 from 4 cinemas, Akola (31 shows) 1,56,982 (100%), 2nd week 3 days 60,767 (100%), 1st Bhilai 2,62,248, Jalgaon 1,89,255, Wardha 1,00,321 (100%), 2nd week 3 days 42,686 (100%), 1st Chandrapur 1,92,758, Yavatmal 80,989 (100%), 2nd week 3 days 38,875 (100%); 1st Indore 2,32,696 (100%; 1 on F.H.), Bhopal 4,42,158 from 2 cinemas; Jaipur 10,81,656 (gross 13,13,488) from 4 cinemas, share 9,30,488, Jodhpur 4,54,084, share 3,77,000, Sriganganagar 2,03,374, share 1,45,374, Udaipur share 3,00,000; Hyderabad 19,01,439 from 9 cinemas, share 11,27,000.
…….
Ghatak maintains well at some stations and drops at others. Proves overflow in some circuits and class A in some. 2nd week Bombay 38,97,473 (79.38%) from 12 cinemas (7 on F.H.); Ahmedabad 7,93,471 from 7 cinemas, Baroda 80% from 2 cinemas, Bharuch (gross) 2,45,880, Patan (gross) 1,91,125 (1st 2,14,886), Adipur 94,563, Jamnagar (mat.) 14,445; Pune 7,61,563 from 4 cinemas (1 in mat.), Kolhapur 1,80,000, Solapur 2,36,724 from 2 cinemas (1 in mat.), Satara 1,36,019 from 2 cinemas (1 in mat.), Nasik 2,00,822, Nasik Road 1,01,428; Hubli 1,23,862 from 2 cinemas (1 in noon), Belgaum 98,274; Delhi 25,81,930 from 13 cinemas (2 on F.H.); Lucknow 1,98,953, Agra 1,95,026, Allahabad 1,08,000, Hardwar about 40,000; Calcutta 10,94,279 from 12 cinemas; Nagpur 5,26,700 from 4 cinemas, Jabalpur (6 days) 1,15,428 (1st 1,79,089), Akola 1,33,201, total share 2,82,576, Bhilai 71,252, Jalgaon 1,06,563, Yavatmal 57,600, 1st Khandwa 1,18,000; Bhopal 4,50,274 from 3 cinemas; 2nd week Jaipur 3,16,905 from 2 cinemas, Ajmer 1,17,770, Bikaner 2,28,842, Kota 1,19,780; Hyderabad 4,24,465 from 2 cinemas.
………
100% TAX COMING IN MAHARASHTRA?
The Maharashtra film industry is likely to down shutters from 1st January, 1997. An informal decision to this effect was taken on 22nd November when Pramod Navalkar, cultural affairs and transport minister of Maharashtra, told a delegation of the film industry the same day that it would not be possible for the government to extend the benefit of 50% entertainment tax beyond 31st December, 1996.
The delegation, comprising TOA president U.A. Thadani and CEAI president Pranlal Doshi, met the minister to apprise him of the urgent need to renew the benefit of 50% tax. But the minister informed them that 100% tax would be levied with effect from the new year. The two leaders told him that the industry would be left with no alternative but to close down in protest, to which Navalkar is said to have pleaded helplessness.
A meeting of Bombay distributors to discuss the course of action will be held on 26th November at 2 p.m. This will be followed by a joint meeting of exhibitors and distributors at 3 p.m. the same day.
In case the industry is actually forced to down shutters, it would mean that all releases of December 1996 and January 1997 would be rescheduled.
TWO PROPOSALS FOR MULTIPLEXES IN STATE
Zee TV and the Hollywood film company, United Artistes, the latter in collaboration with Modi Enterprises, have shown interest in constructing multiplexes in Maharashtra after Warner Bros. dropped its plans for the same. The two giants have submitted proposals in this regard to the state government.
S.P. MAHENDRA NO MORE
Producer and actor S.P. Mahendra died at a nursing home in Bombay on 16th November due to a heart ailment. He was 70.
S.P. Mahendra came to Bombay from Punjab at the age of 20 to become an actor. He acted in various dramas with late Prithviraj Kapoor. He produced five films including Waqt Ki Pukar and Angaare, and acted in more than 75 in a career spanning 50 years. He was also secretary to late actor Raaj Kumar years ago and was associated with Sunil Dutt too.
He was a member of the executive committee of the IMPPA and the Cine Artistes' Association for several years. A humble person, he helped promote a number of stars. S.P. Mahendra is survived by his wife, two sons, a daughter and grand-children. The funeral on 17th was attended by several film people.
Pagdi ceremony will be held on 28th between 12 noon and 1 p.m. at his residence (Apollo Building, 14th Road, Khar, Bombay-52).
YOU ASKED IT
What is the progress of the studio which Anupam Kher is building? When is it likely to become operational?
– Not much headway has been made in that direction, according to a spokesperson of Anupam Kher's company.
If the Maharashtra government increases entertainment tax in the state to 100% from the new year, will film prices come down?
– First of all, the industry should not accept this hike in entertainment tax, under any circumstances. If it doesn't accept, why talk of falling film prices?
Now that we are coming closer to 1997, what do you foresee in the new year?
– There will be a clash of the Titans because a record number of big films (big banners, big directors, big star-cast, big price) will be released in 1997.
IN & OUT OF BOMBAY
Producer-director B. Subhash left on 19th November for London and Los Angeles to finalise the main cast and locations for his next English film, KILLING OF VALLEYS.
Producer Boney Kapoor is expected back from Madras tomorrow (24th November).
Mr. Manohar Kankaria of Musical Films Pvt. Ltd., Calcutta, presently in Bombay, will return to Calcutta today (23rd November).
Producer-director Sultan Ahmed will leave for the USA on 25th November to finalise locations for RAAMA. He will return on 18th December.
DO YOU KNOW?
* A reader writes to inform us that prior to the Pardesi pardesi song of RAJA HINDUSTANI, there have been several more Pardesi songs that have been super-hits. He cites the examples of AWARA (Ghar aaya mera pardesi), MADHUMATI (Aaja re….pardesi), PHAGUN (Ek pardesi mera dil le gaya) and JAB JAB PHOOL KHILE (Pardesiyon se na ankhiyaan milana).
* Mahalakshmi Film Distributors has acquired the Bombay distribution rights of as many as 10 films of Plus Films. The contract for all ten was signed on 21st November. The films: GUDGUDEE, GUDIA, MIL GAYEE MANZIL MUJHE, SAAZ, SARDARI BEGUM, AUR EK PREM KAHANI and, the balance period rights of PAPA KAHTE HAIN, IS RAAT KI SUBAH NAHIN, BHAIRAVI and LAALCHEE.
* Tips will be releasing the audio cassettes of its AUZAAR in three varieties. Each variety will have a different inlay card and a different song (from the film, of course) at the start of the album.
ANNOUNCEMENT & LAUNCHING
Rekha Opposite Dilip Kumar In 'Qila'
Rekha has been signed opposite Dilip Kumar for Eagle Films' Qila. Mukul Dev, Mamta Kulkarni, Kiran Juneja, Smita Jaykar, Umesh Shukla, Avtar Gill, Tej Sapru, Sharat Saxena, Malay Chakravorty, Shahbaaz Khan and Gulshan Grover play other key roles. Being directed by Umesh Mehra for producer Parvesh Mehra, the film is written by Humayun Mirza. Cinematography by S. Pappu, editing by Kamal Saigal, music by Anand Raaj Anand, and lyrics by Dev Kohli are the other credits. It is presented by F.C. Mehra.
GRAFFITI
Hit the screens
this week:
CHHOTE SARKAR.
Waiting to hit the
industry in the
coming weeks:
MAHARASHTRA SARKAR.
3-E
Education-Entertainment-Enlightenment
Piracy In Hindustan
The pirated video cassettes of Raja Hindustani are out in the market. The producers, Karim Morani, Bunty Soorma and Aly Morani, had marked every copy of the film before delivering them to the various distributors so that if piracy took place, they could ascertain the source of the illegal copying. The pirated cassette has been made from copy no. 86 which was despatched to Dubai. It is common knowledge that Johny Lever is banned in Dubai and his portions in any film have to be deleted before a film can be screened there. But the video cassettes in circulation all over India have the complete film including scenes of Johny Lever. This would mean that the piracy took place before the print (no. 86) reached its destination, Dubai. In the alternative, the video copy was made before the print no. 86 was submitted for censorship in Dubai. Wonder how it happened. The producers of Raja Hindustani are convinced that it is due to the lack of care and caution by the film's Overseas distributor that piracy has taken place.
Three Major Blockbusters
With Raja Hindustani poised to be a major blockbuster, Filmcenter has reason to rejoice. For, three super-hits of recent times have been processed at this laboratory. HAHK..!, DDLJ and Raja Hindustani have all been processed at Filmcenter. The other blockbuster of 1995, Karan Arjun, is a product of Adlabs.
Financier's Favourite
For all those who've wondered how so many Mithun-starrers are on the floors and more and more are announced in spite of his films flopping one after the other, this may provide an answer. Believe it or not but financiers are keen to back Mithun projects because their money is not only secure but also comes back to them faster than if they finance films of other heroes. This is because not only does Mithun complete every film he signs but also completes them fast. So, the question of a financier's money being blocked for unduly long periods generally doesn't arise. As producer Surendra Bohra, who has just completed his Mithun-starrer, Kaalia, confirms, "I get offers from financiers who are keen to lend money because I am making a Mithun film. They invariably tell me, they are keen to finance a Mithun project because their turnover would be fast." Bohra's Kaalia had gone before the cameras in September '96 and is complete (except for a song picturisation) in November. It is for the same reasons that distributors also like to buy a Mithun starrer.

catchline
Music Of
Yesteryears:
There
Was
Melody
Everywhere.
Music Of
Today:
There
Is
Malady
Of
Lifting
Tunes
From
Anywhere
And
Everywhere.