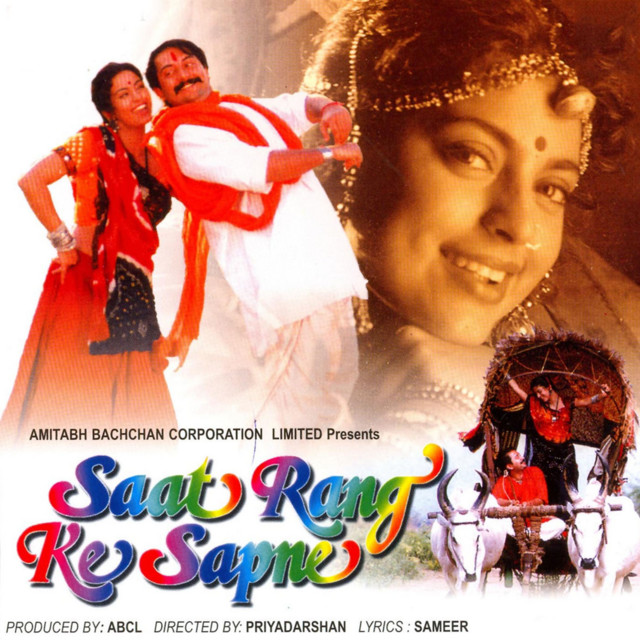 LATEST POSITION
The holiday of Maha-Shivratri was the only saving grace of an otherwise dull week — dull because of the poor films.
Saat Rang Ke Sapne is a washout. 1st week Bombay 13,32,656 (64.32%) from 7 cinemas (3 on F.H.); Ahmedabad 3,02,363 from 2 cinemas; Kolhapur 51,871, Solapur 32,693; Delhi 7,82,042 (37.12%) from 3 cinemas; Kanpur 48,367, Lucknow 49,561, Allahabad 34,136; Amritsar 52,160; Calcutta 3,09,978 from 2 cinemas; Nagpur 1,17,689 from 3 cinemas, Jabalpur 88,628, Amravati (6 days) 61,351, Raipur (6 days) 55,958, Bhilai 59,836; Indore 1,18,695 (1 on F.H.); Jaipur 1,81,814, Jodhpur 1,50,000; Hyderabad 4,40,197 from 2 cinemas.
Saazish is also a disaster. 1st week Bombay 18,80,478 (41%) from 14 cinemas; Ahmedabad 71,172 from 2 cinemas (2 cinemas unrecd.), Rajkor 47,900 from 2 cinemas (1 in matinee); Kolhapur 68,734, Solapur 59,525; Delhi 10,74,696 (35.01%) from 8 cinemas (2 on F.H.); Kanpur 66,294 from 2 cinemas, Lucknow 75,529, Allahabad 33,900; Calcutta 10,70,672 from 17 cinemas; Nagpur 1,76,589 from 4 cinemas, Chandrapur 75,062; Jaipur 1,86,161 from 2 cinemas.
2001 dropped badly after a reasonable start. 1st week Bombay 22,56,890 (54.70%) from 12 cinemas (3 on F.H.); Ahmedabad 93,038 (2 cinemas unrecd.), Rajkot 1,55,240 from 3 cinemas (1 in matinee); Pune 5,60,816 from 6 cinemas (1 in matinee), Kolhapur 1,09,127; Hubli 1,02,065, Belgaum 1,01,874; Delhi 13,22,661 (51.09%) from 7 cinemas; Kanpur 1,37,590 from 2 cinemas, Lucknow 1,75,714, Allahabad 57,800, Meerut 77,368, Bareilly 70,282 (31.46%); Calcutta 12,49,980 from 17 cinemas; Nagpur 1,29,548 from 2 cinemas, Amravati (6 days) 1,06,356, Akola 1,00,248, Raipur (6 days) 71,788; Bhopal 1,49,010 from 2 cinemas; Jaipur 3,80,471 from 4 cinemas; Hyderabad 12,80,205 from 9 cinemas (4 unrecd.).
………..
LALITA PAWAR DEAD
Famous character actress Lalita Pawar passed away probably on 23rd February in her flat in Pune where she lived alone. Although she died on 23rd, it was noticed only on 25th when neighbours complained to the police. It is believed that she died of a heart attack.
Lalita Pawar, who was 82 years old, was known for her squint-eyed persona of the wicked mother-in-law or step-mother. But she also played emotional roles with aplomb. She was, perhaps, best at portraying the role of a strict lady but one who had a soft heart.
An unfortunate incident in Lalita Pawar's life affected her left eye. While shooting for the silent film, Jung-E-Azadi, director Bhagwan (the well-known comedian) got annoyed with her over some mistake and slapped her hard. It was this which resulted in the bursting of a vein and maimed her left eye. With this deformity, the actress continued to work, and she acted in over 500 films.
She started acting in silent films when she was just nine years old. Her first film was Patitoddhar after which she worked in a number of other silent films too. In 1928, she acted in a silent film, Aryamahila. Then followed such adventure films as Thaksen Rajputra and Chatur Sundari. The first talkie film in which she acted was Himmat-E-Mard (1935), directed by G.P. Pawar who she eventually married. She also acted in his Duniya Kya Hai. Among the other films she had worked in were Anari (in which she palayed the famous Mrs. D'sa), Shri 420, Jayshree, Sajni, Suraj, Baarish, Sant Raghu, Bal Yogi Upmanyu, Karigar, Kabhi Andhera Kabhi Ujala, Mahasati Behula, Grahasti, Saas Bhi Kabhi Bahu Thi, Sau Din Saas Ke, Gharana, Humrahi, Khandaan, Aankhen, Sampoorna Ramayan and many, many others. Deepak Shivdasani's Bhai was one of her last films. Lalita Pawar also worked in a number of Marathi films such as Netaji Palkar, Jaymalhar, Ramshastri and Limited Manuski.
Lalita Pawar's original name was Ambika Sagun.
OM PRAKASH NO MORE
Veteran character actor Om Prakash breathed his last on the afternoon of 21st February at Lilavati Hospital at Bandra, Bombay, due to cardiac arrest. He had been admitted to the ICU of the hospital two days earlier and had slipped into a coma.
He was 78 and is survived by a daughter. He had no children of his own, and had adopted the daughter of his brother, producer-director Pachhi. In fact, Om Prakash had lost interest in life to a large extent, after Pachhi's death a few years ago and the death of his wife seven years ago. One could always find him at Rooptara Studios.
He had acted in over 300 films in a career spanning four decades. Among his well-known films are Dil Apna Aur Preet Parai, Dhake Ki Malmal, Ek Jhalak, Miss Mary, Sadhu Aur Shaitan, Dus Lakh, Buddha Mil Gaya, Amar Prem, Baghi Sipahi, Karigar, Police, Zanjeer, Aandhi, Sharaabi, Namak Halaal, Padosan, Guddi, Khandan, Kanyadaan, Bhoot Bangla, Chupke Chupke, Malik, Julie, Dil Daulat Aur Duniya, Parivaar, Neend Hamari Khwab Tumhare, Pyar Kiye Jaa, Ek Shriman Ek Shrimati, Around The World and Gopi. His first film, Daasi, was released in 1944. Before that, he worked in All India Radio. He was born in Lahore.
His funeral was held on 22nd at the Chembur crematorium. It was largely attended. The chautha ceremony was held on 24th and that too was largely attended.
Om Prakash was well-known for comic and emotional roles. He played comedy roles with as much ease as he did emotional or dramatic roles. His typical sing-song dialogue delivery was his trademark. Om Prakash was also a producer and director. His production banner was called Light & Shade. Among the films made by him were Kanhaiya, Chacha Zindabad, Sanjog (directed by Pramod Chakravorty) and Jahan Ara (directed by Vinod Kumar). He had his production office at Famous, Mahalaxmi. He also owned a cinema — Prabha — in Bareilly, which he sold off a few years ago.
BABY BOY FOR ANEES BAZMEE
Writer-director Anees Bazmee's wife, Fatima, gave birth to a baby boy in Bombay on 25th February. This is Bazmees' third child, the first two being daughters.
PADMINI KOLHAPURE'S ACTING SCHOOL
Padmini Kolhapure will open the Padmini Kolhapure School of Acting Modelling & Grooming today (28th February) in New Delhi at 29, Hauz Khas Village. Besides Padmini herself, professional tutors from various fields of performing arts will take classes in the acting school.
RAGHUNATH JHALANI NO MORE
Director Raghunath Jhalani expired in Bombay on 23rd February due to cancer. He was 64 and is survived by his wife, a son and a daughter.
Born on 22nd August, 1933, Raghunath Jhalani started out as an assistant to Bimal Roy in 1956. He assisted Bimal Roy in Apradhi Kaun, Sujata, Bandini, Prem Patra and other films. He got his break as a director with J. Om Prakash's Aye Din Bahar Ke in 1966. Among the other films he directed were Aya Sawan Jhoom Ke, Aankhon Aankhon Mein, Anamika, Uljhan, Badalte Rishte and Be-Reham. Jhalani had also produced and directed some television serials.
YOU ASKED IT
How many cinemas are there in the country?
– 9,033 permanent cinemas, besides 3,744 touring cinemas. That is to say, there are a total of 12,777 cinemas in India.
When high admission rates are killing box-office collections of film after film, why don't producers and distributors do something to correct the situation?
– They've tasted blood (high admission rates) and it's difficult to give up the taste so easily.
Is the trend of dubbing Hollywood films in Hindi likely to make the censors stricter for English films also, in view of the fact that no additional cuts can be ordered in the visuals of a dubbed film?
– Don't give ideas to the censors! There is the Film Certification Appellate Tribunal and the court too, for aggrieved producers.
DO YOU KNOW?
* Yash Johar's DUPLICATE is being booked by exhibitors of U.P. at fantastic prices. It's the magic of Shah Rukh Khan's earlier starrer, Yash Chopra's DIL TO PAGAL HAI, which is responsible for the fancy terms being offered by exhibitors, many of whom are those who did not get a chance to screen DTPH at their cinemas. A case of one Yash film helping another Yash film? Yash boss!
* The months of April and May will have double-role starrers hitting the screens. QILA, due on 10th April, has thespian Dilip Kumar playing a double role. JEANS, due on 24th April, has hero Prashant and character actor Nassar playing double roles. In DUPLICATE, due on 1st May, Shah Rukh Khan plays a double role. Amitabh Bachchan will be seen in a double role in LAL BAADSHAH which is to hit the screens in May.
* Two fathers are sparing no efforts to launch their sons into films, and, coincidentally, both the dads are abroad for scouting locations for the films of their respective sons. While Rakesh Roshan is in Dubai for KAHO NA PYAR HAI, in which he will introduce son Hrithik, Yash Johar is in Mauritius to scout locations for son Karan Johar's debut directorial venture, KUCH KUCH HOTA HAI.
Ability And Stability
There's panic in the film industry. And not because of the political scenario in the country or because one doesn't expect any single party to get an absolute majority in the Lok Sabha elections. The fear in Bollywood is born out of the 'deaths' of so many films.
Although it may sound mean, it wouldn't be wrong to describe the falling at the box-office of film after film as their deaths. Not only are films flopping, they are also taking distributors closer to their doom.
One may ask, what's new about debacles. We've always had flops amidst hits, and disasters amidst blockbusters. But the failures of the last couple of years have been major because film prices have been sky-high. Earlier, distributors could bear the shocks of flops because the stakes weren't so high. But today, one big debacle can force a distributor to close down shop forever.
If the scene in the last couple of years has been bad, that in the last two or three months has been alarming. Films have not even been taking respectable openings, what to talk of registering handsome collections.
What then must be done? Rather than blaming it on bad times, the industry must try to put its own house in order. Directors and writers must work harder on scripts because content is the backbone of any film. Without a solid backbone, no film can hope to stand. And with prices being what they are today, films need to not only stand but stand firmly for weeks together. A Zor opened to bumper houses but what happened after four days? It fell like a pack of cards. The losses to distributors of major circuits will reportedly be in the region of half or three-quarters of a crore, not to talk of the heavy losses which over-enthusiastic exhibitors (who paid fancy terms) will suffer. That the film was bad is indisputable, but that's the reason for the losses. The reason for the losses being so HEAVY is that the film's price was worse than the film itself! Aflatoon and Banarasi Babu were other recent releases which were priced too heavily.
Coming back to the content in a film, it is rather shocking that such little attention is paid to a matter of so much importance. The audience today is far more smart than that of yesteryears. It is exposed to a multitude of satellite channels and can distinguish between the good and the bad. So, it's all the more necessary that script-writers and directors pull up their socks now instead of being socked down forever.
Stability in prices and ability of makers and writers will be the new catchwords now.
– Komal Nahta
3-E
Education-Entertainment-Enlightenment
Familiarity Breeds Contempt?
The trailer of Tutu Sharma and David Dhawan's Gharwali Baharwali, being aired on satellite channels, is both, innovative and entertaining. It shows Anil Kapoor surfing channels on a television set, with a remote control. Addressing the viewers, Anil says something to the effect that change is fun — whether it is changing channels or the ladies at home! He then goes on to introduce his gharwali — Raveena Tandon — and baharwali — Rambha. The trailer is surely very different from the familiar ones we are used to seeing.
Love In The Air
The film industry seems to have become a 'love'ly place. Only that could explain the spate of love films under production. We have Love Today, Loveria and Love You Hamesha. There's also Love Station and if that's not enough, there's a junction too — Love Junction. There are at least two love stories by the names of Love Story 98 and Jungle Love Story. And what does love translate in Hindi into? Pyar! So we have several pyar films also being made. Like there's Pyaar Kiya To Darna Kya, Jab Pyaar Kisise Hota Hai, Hum Deewane Pyar Ke, Pyar To Hona Hi Tha, Silsila Hai Pyar Ka, Raja Ko Rani Se Pyar Ho Gaya, Tumse Pyar Ho Gaya, Pyar Koi Khel Nahin, Paraya Pyar etc.