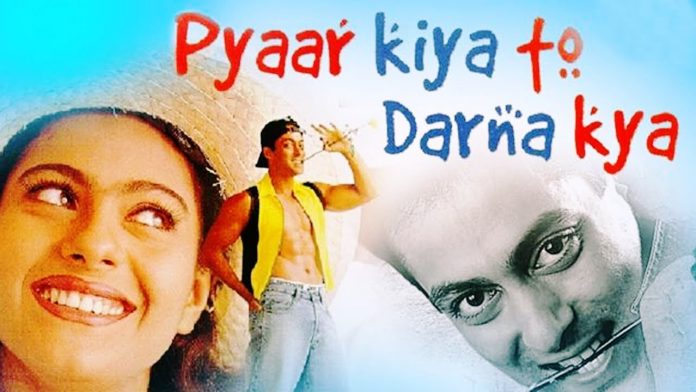 PYAAR KIYA TO DARNA KYA
G.S. Entertainment's Pyaar Kiya To Darna Kya is a youthful love story. A young village girl, who has an over-possessive brother, falls in love with a city-bred boy, but her brother won't dream of giving the nod for their marriage. The boy tries to impress his girlfriend's brother in all ways so that he would give them the green signal. Love ultimately triumphs — of course, after the mandatory hurdles are crossed. There's a track of the boy's father and step-mother, who have a change of heart in the climax. There's also another track of a greedy family in the village, which is trying to usurp land not belonging to it. There's a third track of the girl's loving uncle whose joy lies in the happiness of his nephew and niece but who, for an inexplicable reason, panics terribly on learning about the love affair of his niece and the city boy whom, incidentally, the uncle adores.
The film has generated immense craze, thanks to its hit music and the presence of heart-throb Salman Khan. Fortunately, it is the songs and Salman, which are the two major plus points in the film. In fact, so good are both that the high expectations of the audience (due to the publicity hype) are met in these two respects at least, the other drawbacks, therefore, being relegated to the background. For, otherwise, the scripting is poor and also not original, and the direction is ordinary.
There are several scenes which can be easily trimmed, either because they are unnecessary or because they do not come in the sequence they should be coming in. While several individual comedy scenes are very enjoyable, there are some which do not tickle the ribs. The city audience, especially, will appreciate the humour in the film. Climax is quite tame. Dialogues are witty. Emotions are sorely missing in this love story.
Salman Khan is the life of the film. It is one of the best performances of his career and he endears himself to the audience as soon as and everytime he appears on the screen. He looks terrific too. Kajol does a fairly good job. She should, however, check her weight. Arbaaz Khan is alright as Kajol's no-nonsense brother but since the reason for his weird behaviour is not explained, one is left wondering what his problem is. Dharmendra is fair. A bulky Anjala Zaveri gives an average performance. Kiran Kumar, Kunika, Tiku Talsania, Dinesh Hingoo, Ashok Saraf, Nirmal Pandey, Asif Sheikh, Razak Khan, Anand Balraj and Ashish Balram Nagpal lend ordinary support.
Direction is functional. Director Sohail Khan has not been able to make a cohesive drama and the discredit for this should also be shared by writer Sanjeev Duggal and editor Yusuf Khan. Even an obvious slip like Arbaaz Khan asking Nirmal Pandey whether he was new to his (Arbaaz's) city (when, all his life, Arbaaz has been actually living in a village!) has escaped the director's attention. There's no consistency in Kajol's style — she uses Main and Hum (while talking of herself) as she pleases.
Music (Jatin-Lalit, Himesh Reshammiya and Sajid-Wajid) is hit. O O Jaane jaana (lyrics: Sameer) is the best song and its picturisation is also wonderful. Odh li chunariya (lyrics: Sudhakar Sharma) is musically very strong but its picturisation should have been better. Tum par hum hai atke has an interesting picturisation. Sun o deewani teri jawani is yet another well-tuned song.
Action scenes are okay. Camerawork is very good. Other technical and production values are of standard. DTS mixing, however, leaves something to be desired.
On the whole, Pyaar Kiya To Darna Kya has hit music, cute Salman Khan and a holiday period ahead as the biggest advantages to ensure returns to distributors. While business in Bombay and South should be very good, that in North and Eastern India can be expected to be just about fair since intrinsic merits in the script and presentation are missing.
Released on 27-3-'98 at Novelty, Metro (matinee) and 18 other cinemas of Bombay by Vimal Agarwal thru R.M. Ahuja & Co. Publicity: bumper. Opening: excellent (despite examination period). …….Also released all over to very good houses (except in C.I. where opening was a little below satisfactory).
YUGPURUSH
Prathima Films' Yugpurush (A) is a tender tale about worldly exploitations. Inspired from Dostovski's Russian novel and film, The Idiot (on which was based the Bengali film Aparichito made more than three decades back), it has an unusual story which touches the heart but which has very limited appeal. It is for the elite audience only.
A young boy, who gets a shock when his parents are killed in an earthquake, is sent to a mental asylum and he comes out of it after 25 years. Although he has immense vision (he can tell a man's character simply by looking at his face), is pure at heart and extremely simple in looks, he is not one bit worldly-wise. Once out of the hospital, he meets some interesting people. One is a woman of disrepute on whom her aged lover (a politician) spends crores but she is disillusioned with her life. Another is the son of another politician, who detests his father but is madly in love with the lady of disrepute. The third is a family which has taken care of him and his property all these years. The head of this family has his eyes on the mental patient's wealth, but his daughter is in love with him (the patient). The fourth is a man who is so greedy that he can even sell himself for money.
The woman of disrepute also falls in love with the mental patient; he, too, loves her. But the politician's son makes the woman his wife and, in a fit of extreme possessiveness, kills her and is jailed for it. This mentally disturbs the mental patient again.
There are several heart-warming moments in the film, such as the scene in which he innocently signs his property papers to give the power of attorney to his manipulative caretaker guardian, and then, the guardian has a change of heart because of his innocence and himself tears off the papers, or the scene where the woman of disrepute is being auctioned, and the simpleton agrees to marry her. There are also many light scenes, mostly in the first half, which regale the audience.
But the drama moves at a slow pace. The second half is grim and too tense to be enjoyable. Besides, the central character in the film is of the kind a layman cannot identify with. Several other characters in the film also are not the kind which one can identify with. That's a major drawback of the film. Dialogues, by Hriday Lani, are simple and excellent and some touch the heart.
Nana Patekar endears himself to the viewer instantly with his simpleton looks and innocence. In a role that's different from what he is used to playing, he delivers an award-winning performance. But while he may get awards for the performance, this itself could go against the film — for, his fans will not get to see what he is famous for i.e. bad words, loud delivery of dialogues etc. Manisha Koirala also does a fabulous job which could fetch her some awards. She is especially superb in the agonising outbursts and the tender moments she spends with the simpleton hero. Jackie Shroff looks the character he plays and does justice to his role. Ashwini Bhave is fair. Shivaji Satam impresses a great deal as the lecherous aged politician. Jayant Savarkar, in a mass-oriented role, is very natural. Mohan Joshi is quite good. Mohnish Bahl, Sulbha Deshpande, Yeshwant Dutt, Ravi Patwardhan and the others lend good support.
Parto Ghosh's handling of the 'class appeal' subject is equally class appealing. There's hardly anything for the masses. Music in this kind of a film needed to be of the hit genre. Although 'Bandhan khula' and 'Chale hum do' are well-tuned, they are not the type of songs which can be hummed. Song picturisations are quite eye-filling. Camerawork (K.V. Ramanna) is very good. Other technical aspects are of standard.
On the whole, a sensitive Yugpurush is for the sensitive viewer but unfortunately, there aren't many of this class. Therefore, although it will win critical acclaim, it will bring heavy losses to all distributors. Its heavy second half, to an extent, even offsets the impact of the enjoyable first half. Tax exemption can help the film. Business in Maharashtra, where Nana is the most popular, should be somewhat better.
Released on 26-3-'98 at Metro and on 27-3-'98 at 15 other cinemas of Bombay thru Apollo Enterprises. Publicity: good. Opening: average. …….Also released all over. Opening was poor in most of the circuits.
ROTARIANS FELICITATE SUBHASH GHAI, PARDES' UNIT
The Rotary Club of Bombay Mid-Town on 21st March felicitated Subhash Ghai and the unit of his Pardes at Hotel Centaur at a charity dinner in aid of cancer patients. Besides Ghai, there were Shah Rukh Khan, Alok Nath, Himani Shivpuri, Renu Saluja, Shravan, Anand Bakshi, Javed Siddiqi, Neeraj Pathak, Alka Yagnik, Kavita Krishnamoorthy and Hema Sardesai. They were all presented trophies as well as gifts prepared specially for them by cancer patients. The trophy to Subhash Ghai was given by Mrs. Subhash Ghai. Others who handed over the trophies were Anil Kapoor, Govinda and Aishwarya Rai.
Mahima Chaudhry and Apoorva Agnihotri were conspicuous by their absence.
CCCA OPENS CHARITABLE DISPENSARY IN JAIPUR
The CCCA has started a charitable dispensary in Jaipur in its office premises. The dispensary is for members of the CCCA, their office staff and their family members. Consultation will be free and so will medicines.
The dispensary was inaugurated on 16th March. Trustee members of the CCCA, Nandu Jalani, Kishore Kala and Satyawan Pareek, attended the inaugural function alongwith other trade persons.
JATIN-LALIT BEREAVED
Kamla Pandit, mother of music directors Jatin-Lalit, Sulakshana Pandit, Vijayta Pandit and Mandheer, and wife of music director Pratapnarayan Pandit, expired on 21st March in Bombay. Chautha ceremony was held on 24th at IMA, Juhu, Bombay.
AMRAVATI FILM TRADE MOURNS DADA'S DEMISE
The Amravati film trade held a meeting on 16th April in the office of the CCCA, Amravati, to condole the death of Dada Kondke. Glowing tributes were paid to Kondke at the meeting chaired by Vijay Rathi. Two minutes' silence was also observed to pay homage to the departed soul.
YOU ASKED IT
Why do foreign production companies normally talk of business in terms of grosses?
– Because the world over, there's either no entertainment tax or, if it does exist, it is negligible. It's in India that the government is a partner in film exhibition without investing anything.
In your opinion, should Titanic have been dubbed in Hindi?
– Of course, it should have, because it had the potential to do great business in Hindi too. Given the number of people who understand English in India, you cannot expect the English film to do as much business as the Hindi version would have done. Of course, on its own too, the English version is all set to prove to be the biggest Hollywood hit so far in India.
What is the scope of a Tamil or Telugu film dubbed from a Hollywood film?
– If the film is good, the Tamil/Telugu dubbed versions do very big business.
CENSOR NEWS
G.S. Entertainment's Pyaar Kiya To Darna Kya was given C.C. No. CIL/1/17/98 (U) dt. 23-3-'98; length 4466.12 metres in 18 reels (cuts: 22.57 metres).
Eagle Films' Qila was given C.C. No. CIL/3/19/98 (A) dt. 23-3-'98; length 4507.49 metres in 17 reels (no cut).
Triple Aar Trinetra Combines' Aakrosh was given C.C. No. CIL/3/20/98 (A) dt. 26-3-'98; length 4315.26 metres in 16 reels (cuts: 72.65 metres).
Divya Films International's Kanyadaan was given C.C. No. CIL/1/18/98 (U) dt. 26-3-'98; length 4593.77 metres in 16 reels (cuts: 13.26 metres).
MIX MASALA
TITANIC CHEQUE FOR 'TITANIC' DIRECTOR
James Cameron, the director of Titanic, will be presented a cheque of $100 million by 20th Century Fox, one on the two distributors of the film. Cameron had given up much of his fees when costs for making Titanic began to soar over budget. To placate studio executives, Cameron surrendered all his remuneration except for a $1.2 million writing fee.
The new deal for restoring his pay must first be approved by Cameron and then agreed to by Paramount Pictures, the film's other distributor.
'TITANIC' STAR SUES MAGAZINE OVER NUDE PICTURES
Titanic hero Leonardo DiCaprio sued Playgirl magazine on 27th March over unauthorised nude photographs it plans to publish of the actor. He filed the suit in Los Angeles superior court, seeking unspecified damages from the magazine and an injunction to prevent publication of the photographs.
DiCaprio said in the suit that he suffered "shame, mortification, hurt feelings, emotional distress, embarrassment, humiliation and injury to his privacy and peace of mind."
3-E
Education-Entertainment-Enlightenment
Delivery Dramas
Both the deliveries of this week were Caesarean — that is to say, there were problems and tensions, and it wasn't smooth sailing. While in the case of Yugpurush, the tensions had started months back, with several distributors asking for a price reduction, in the case of Pyaar Kiya To Darna Kya, the tension was only between the Bombay distributors (Vimal Agarwal and Ashok and Nandu Ahuja) and their sub-agents for Gujarat, Saurashtra and Thane district. What surprised the Bombay trade, when all the three aforesaid sub-distributors pleaded inability to meet their commitments, was that this was happening in the case of a film which boasted of hit music, a terrific hype and an enviable advance booking! Is the money market so tight? Ultimately, the film's delivery for all the above sub-circuits was taken by the Bombay distributors only. This, of course, resulted in a lot of quarrels and heartburning. Prints of a couple of stations of Gujarat, like Baroda and Nadiad, also reached late. Yugpurush changed hands earlier this week for Bombay city-suburbs and Maharashtra when Apollo Enterprises stepped in and Shringar Films (on behalf of ABCL) stepped out. The prices of several other distributors of Yugpurush had to be reduced by producer Pranlal Mehta.
More Value For Money
As people in Bombay must be aware, the Shroffs (Shringar Films) have specially appointed a violinist at their Cinemax cinema at Goregaon to play the theme music of Titanic (which is showing at the cinema) in the interval. Well, like the film itself, this novel idea is also being appreciated by the audience. Why, one Sarita Almeida, who happened to see Titanic at Cinemax, wrote a letter to the Shroffs to express how happy, "amazed and thrilled" she was "to see such a good violinist performing during the interval". The letter further adds, "The last hymn, 'Nearer my God', he played so well, I may say, better than those performing in the picture. We were humming all the time after the picture and discussing how well the violinist played the same. Thanks, we shot two birds at a time — the picture and the live music." The idea of keeping a violinist to play in the interval, it may be mentioned here, was Shravan Shroff's.
Film Industry Problems
The seminar of the film industry, scheduled to be held on Saturday, May 2, at Bombay's Leela Kempinski, has come like a God-sent opportunity to the industry to focus the government's attention on its sorry plight. Being held under the guidance of the FICCI (Federation of Indian Chamber of Commerce & Industry), this seminar will be attended by the finance minister, I & B minister, finance secretary, I & B secretary, industries secretary and other government officials. Industry people will read papers on subjects like grant of industry status to the film line, finance to film industry, taxation in film industry (both Central and State), copyright laws vis-à-vis the film industry, etc. One hopes, the industry's problems get a sympathetic eye and ear of the government.
Striking The Right Note
Rakesh Roshan has started the launch vehicle of son Hrithik and Kareena Kapoor on a wonderful note. The very first song of the film, recorded last week, is a lovely number — lovely in all respects. It has been beautifully penned by an inspired Saawan Kumar Tak, excellently tuned by Rajesh Roshan, and ably rendered by Kumar Sanu with a couple of aalaap by Priti Singh. That's good team-work, then.
Shah Rukh, His Favourite?
Mysore distributor R.N. Mandre seems to be too fond of Shah Rukh Khan. For, he has three films of the actor, for distribution in his circuit. One is Parvesh Mehra's Shah Rukh-Karisma starrer, the second is Moranis-Bunty Soorma's Shah Rukh-Karisma starrer, to be directed by David Dhawan, and the third is Nazir Ahmed's Shah Rukh-Jackie-Juhi starrer, being directed by K. Shashilal Nair.