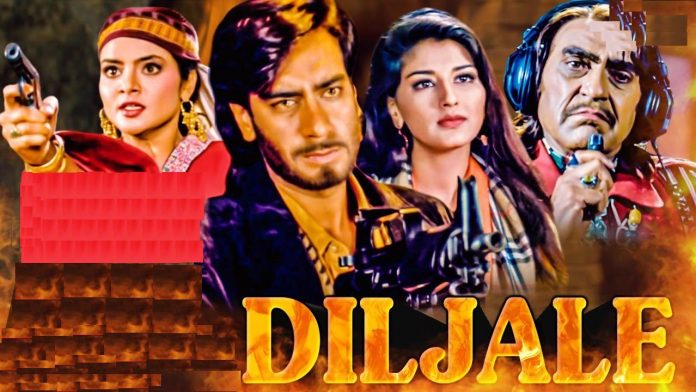 DILJALE
S.P. Creations' Diljale (A) is a violent love story of a promising nationalist who, due to circumstances, is forced to take to the gun and becomes the most dreaded anti-national element. The nation-loving boy falls in love with a rich girl whose father, unable to digest this fact, orders the extermination of the guy's father with whom the girl's father even otherwise had to settle old scores. When his father is killed, the son, who is in jail, escapes from there to avenge his father's murder. In the process, he succeeds in reforming a group of hardcore terrorists and himself turns over a new leaf and even saves the country's honour.
Karan Razdan's story is quite interesting, though not very new. Screenplay is good except that some portions are unnecessarily lengthy. Secondly, too many cinematic liberties have been taken by the writer and director, something which should have been avoided in a serious film like this. For instance, people are shown crossing the Indian border and entering the neighbouring country as if they were taking a walk in the park! The hero, who is a wanted criminal, taking charge of the security checkpost on the border without any problem is also not easily digestible. All the same, some light moments, the antakshri, the romantic portion and action scenes keep the audience interest alive. While the first half is boring at places and can do with some clipping, the post-interval portion is quite racy. Dialogues definitely needed to be more punch-packed and clapworthy, especially those dealing with nationalism. Emotions are missing.
Ajay Devgan plays his part with understanding and sincerity. Sonali Bendre looks pretty. Although she has acted fairly well, she should have been more full of life in dramatic scenes. Sonali needs to do something about her voice modulation. Madhoo doesn't look the terrorist she plays but acts quite well. Parmeet Sethi looks handsome and his performance is alright. He gets no scope for histrionics. Amrish Puri is effective. His 'Diljale' dialogue is enjoyable. Shakti Kapoor is restrained. Gulshan Grover does extremely well and his gol gappa dialogue will go down wonderfully with the masses, especially in the North. Himani Shivpuri and Tinnu Anand's comedy is thoroughly enjoyable and comes as a welcome relief. They are very good in the antakshri. Farida Jalal, Akash Khurana, Aroon Bakshi, Amrit Pal, Arif Khan, Ankush Mohit, Suresh Chatwal, Achyut Potdar, Rajoo Shreshtha, Pramod Moutho and Brij Gopal provide good support. Rakesh Bedi leaves a mark.
Harry Baweja has added all the ingredients of a commercial fare and his narration of the subject is quite good. He, however, could have done better in dramatic scenes and the light romantic scenes of the hero and heroine. Music is good. 'Ho nahin sakta' and 'Soch raha hoon' are the best numbers. A couple of other songs are also appealing. The patriotic song deserved to be a hit number. Had it been so, its repetition in the antakshri would have had double the impact it has now. Lyrics are meaningful. Song picturisations don't have much variety. The 'Dhuan dhuan' song has ample sex appeal of Madhoo.
Veeru Devgan's action scenes are very nice and some of them evoke applause. Camerawork is good and the foreign locations are quite a treat to the eyes. Production values are of a high standard. Editing leaves something to be desired.
On the whole, despite some drawbacks, Diljale has substance to fetch some returns. Business in North will be better.
Released on 26-9-'96 at Novelty and on 27-9-'96 at 23 other cinemas of Bombay thru Devgan's Entertainment. Publicity: extraordinary. Opening: excellent. …….Also released all over. Opening was very good in U.P., East Punjab, Rajasthan (1st day 1,77,983/- from 5 cinemas of Jaipur), etc. but below the mark in many stations of C.P. Berar.
New Faces In IMPDA Executive Committee
Sharad Doshi, Vinay Choksey and Pahlaj Nihalani are the three new entrants in the executive committee of the Indian Motion Picture Distributors' Association (IMPDA) for 1996-97. They were declared elected in the elections held on 27th September at Birla Kreeda Kendra, Chowpatty, Bombay after a brief annual general meeting. While Sharad Doshi had been on the committee on several earlier occasions, Pahlaj and Vinay Choksey contested for the IMPDA elections for the first time this year. IMPDA president N.N. Sippy was away in Bangalore for a family function and could not attend the AGM and elections.
There were elections only in the Ordinary class. With the withdrawal of his nomination by Anantrai Pandya, there was no contest in the Associate class. All the three sitting members in the Associate class, viz. Indravadan Shah, Mohanlal Susania and D.Y. Pattani were, therefore, declared elected unopposed.
A total of 244 votes were cast in the Ordinary class and all of them were valid.
Balkrishna Shroff polled the highest number of votes (179), followed by Devendra Shah (151). The other victors were: Kanti Mehta (139), U.A. Thadani (138), N.N. Sippy (134), Vinod Kakkad (131), Gulshan Rai (127), Vinay Choksey (126), Sharad Doshi (125), Ayub Selia (125), Pahlaj Nihalani (121) and Haresh Bhatia (118).
Guru Shenoy, a sitting member, lost the elections by a single vote. He polled 117 votes. Another sitting member, Tolu Bajaj, lost with 99 votes. Tekchand Anchal polled 45 votes.
Vijay Kondke, a sitting member, was not eligible to contest this time. Suraj Prakash, Shyam Meghani, Sanjay Chaturvedi and N.K. Sharma withdrew from the contest.
The AGM and elections of the IMPDA were followed by a dinner party at the NSCI.
The first meeting of the newly elected executive committee to elect the office-bearers will be held on 30th September at 4 p.m.
U.A. THADANI ELECTED TOA PRESIDENT
U.A. Thadani was unanimously elected president of the Theatre Owners Association for 1996-97 at the first meeting of its new Council of Management, held on 25th September. This is his seventh term as president.
R.V. Vidhani was elected vice president, and Salim Ebrahim, hon. treasurer. C.N. Mirani and Nester D'souza were elected hon. secretaries.
Earlier, at the annual general meeting of the Association, the following members were declared elected: C.N. Mirani, Nester D'souza, U.A. Thadani, Kiran Shantaram, R.P. Anand, R.V. Vidhani, M.F. Sidhwa, F.C. Mehra, R.F. Balaporia, Salim Ebrahim, K.A. Thadani, N.F. Damania, N.N. Menon, Milap Joshi, Girivarsinhji and A.L. Shahani.
YOU ASKED IT
Why has the Maharashtra government extended the benefit of reduced entertainment tax for only three-and-a-half months? Has the government notification for the same come?
– The Maharashtra government promulgated an extraordinary ordinance on 23rd September, 1996 to amend the relevant sections of the Bombay Entertainments Duty Act, 1923. As for the three–and-a-half month extension, the government, perhaps, wants to discontinue the benefit thereafter.
With so many dubbed Hollywood films flopping in Hindi, do you think, further dubbing will reduce in the days to come?
– It doesn't seem likely that it will reduce in the near future. Whatever the returns, it is an additional source of income to the producers, at a very limited cost.
What happens to the cine workers' welfare cess collected by the government at the time of film censorship?
– Only God and the government know what happens to it. Cine workers never get anything out of it.
Santosh Singh Jain Once Again Elected CCCA President
Three Young Members Make It To Committee
Santosh Singh Jain was re-elected president of the Central Circuit Cine Association for 1996-97 at the first meeting of the newly elected executive committee held on the evening of 24th September in Indore soon after the election of the committee. Vijay Rathi was elected vice president, and S.K. Surana, hon. secretary. Ramesh Surekha was elected hon. treasurer.
Earlier on the same day, a total of 719 votes were polled, of which 51 were invalid, and 668, valid. The following 16 members were elected to the executive committee:
C.P. Berar Distribution Section: Bharat Khajanchi (he polled 595 votes), Ramkisan Kasat (505), B.N. (Laloo) Kabra (504) and Dilip Mudliar (460).
Anil J. Rathi (345 votes) and G.E. Naik (263) lost the elections.
C.P. Berar Exhibition Section: Azad Laddha (612), S.K. Surana (582), Vijay Rathi (565) and Mahendra Jain (484).
H.D. Bagga and Gopal Ganeriwal were declared unelected with 321 and 108 votes respectively.
C.I. Distribution Section: Santosh Singh Jain (polled the highest number of votes, 617) and Vinod Malhotra (597).
Suresh Sharma bagged 122 votes and was declared unelected.
C.I. Exhibition Section: There were no elections as only two candidates were in the fray for two seats. Both, Uttam Nahar and Ramesh Surekha, were, therefore, declared elected.
Rajasthan Distribution Section: Mohan Godha (464) and Nandu Jalani (400).
Manjit Singh and Sandeep Bhandari were declared losers. They bagged 302 and 170 votes respectively.
Rajasthan Exhibition Section: Rajendra Mamoria and Kishanchand Jain with 339 and 314 votes respectively were declared elected.
Liyaqat Ali, with 299 votes, lost the elections. His defeat was the most shocking as also by the narrowest margin. Chandrashekhar Choudhary, with 266 votes, and Narendra Sharma, with 118 votes, were the other losers in this section.
Three young contestants — B.N. (Laloo) Kabra, Rajendra Mamoria and Nandu Jalani — made it to the CCCA executive committee. Of these, while Nandu Jalani had been a committee member in the past, the other two contested and were elected for the first time this year.
After all the withdrawals, there were only 26 candidates in the fray for 16 seats. As predicted, Santosh Singh Jain bagged the maximum number of votes.
Just a day before the elections, the ruling group, led by Santosh Singh Jain, and the opposition, led by Vijay Rathi, came to terms with each other and jointly declared their combined panel of 16 members. All the 16 won the elections. While some, like O.P. Goyal, were prevailed upon to withdraw from the contest, others who contested were defeated.
About 900 members of the CCCA attended its annual general meeting on 23rd September in Indore. When it was announced that there would be no elections in the C.I. Exhibition section, over a hundred voters from nearby areas left Indore after attending the AGM. They did not wait to cast their votes. Even otherwise, the AGM was a tame affair and the elections failed to generate much heat.
DO YOU KNOW?
* Suresh Wadkar has diversified — from singing to scoring music. His first film as music director, DIL CHURAYA AAPNE, was launched on 26th September at Mehboob Recording Theatre.
* It was a bit of bad luck when Govinda and Mamta Kulkarni, who reached Jodhpur on 18th September for the shooting of Vinay Sinha's NASEEB, contracted conjunctivitis during the schedule. But to the good naseeb (luck) of the producer, the two recovered quite fast. Again, Mamta got fever a few days later but recovered from it soon. The shooting schedule will go on upto 30th September.
* Hollywood actress-singer Madonna has sold her 7,800-square-foot home at Hollywood hills for around US dollars 5 million. A stalker last year had scaled the fence of her home and threatened to slit her throat. He was sentenced in March this year to 10 years in prison. Madonna, who is expecting her first child in November, has bought a smaller house in the Los Feliz area of Los Angeles for a reported US dollars 2.7 million.
* Among the 63 Foreign Direct Investment (FDI) proposals cleared by industries minister Murasoli Maran on 24th September is one of ABCL for the production and distribution of films and television software, worth over Rs. 2 crore.
* HMV plans to make film production its regular feature now. While SAPNAY, which it is producing in association with AVM, is progressing, another venture is on the cards. It will be a Tamil film, titled KALKI.
ANNOUNCEMENT & LAUNCHING
Feroz Khan Launches Son Fardeen In 'Prem Aggan'
In keeping with his tradition of showmanship, Feroz Khan, after a very long break, launched his new film in style at Hotel Leela Kempinski on 25th September. What lent excitement to the formal muhurt of Prem Aggan was that it also marked the launching of Feroz Khan's handsome young son, Fardeen Khan. Being introduced with Fardeen in the film is Meghna and another young boy, Sameer Malhotra.
Sanjay Dutt, whom Feroz Khan described as "mera chhota bhai", sounded the clapper-board for the muhurt shot. An elaborate shot, it featured Fardeen Khan, Meghna, Raj Babbar and Anupam Kher. Before the muhurt, the newcomers made brief speeches.
Post-muhurt, Feroz Khan called several celebrated guests on to the dais, all of whom wished him and Fardeen good luck. The guest-list was truly impressive. There were Rekha, Manisha Koirala, Shammi Kapoor, Randhir Kapoor, Rishi Kapoor, Vinod Khanna, Neelam, Tanuja, Kajol, Jeetendra, Anil Kapoor, Raza Murad, Shyam Shroff, Rakesh Roshan, U.A. Thadani, Tolu Bajaj, Dilip Dhanwani, Ketan Desai…
F.K. International's Prem Aggan has musical score by Anu Malik who has already recorded four songs. Screenplay by Feroz Khan and Sachin Bhaumick, cinematography by S.M. Anwar, dialogues by Sudarshan Fakir, art by Bijon Dasgupta, and lyrics by M.G. Hashmat, Rahat Indori, Santosh Anand and Sudarshan Fakir are the other major credits.
'SILK' SMITHA COMMITS SUICIDE
Actress 'Silk' Smitha, who starred in nearly 300 films mainly in South Indian languages, was found dead at her Saligram residence in Madras on 23rd September morning. Aged 33, the actress was found hanging from a ceiling fan. A note recovered from her bedroom points to suicide.
Mounting financial problems and frustrations in her personal life are believed to have driven the actress to this extreme step.
The police said, Smitha's death was reported by a member of her household, who found the actress hanging from the bedroom ceiling fan at around 8.45 a.m. Her body was moved to a nearby hospital where she was declared dead. The body was later taken to the government hospital for a post-mortem.
A native of Andhra Pradesh, the celluloid "dream girl", originally known as Vijayalakshmi, adopted the screen name Smitha when she entered films in the late 'seventies as a teenager. In her debut film, Vandi Chakram, she was cast as a glamour girl in a role that gave the promising 15-year-old her epithet. Since then, she was known in show business as 'Silk' Smitha.
Though Smitha played the lead role in some Telugu films, she came to be typecast as a sex-symbol and excelled in cabaret dance sequences. Five years ago, film distributors used to insist on the inclusion of Smitha's cabaret dance, whether or not the storyline warranted it.
'Silk' Smitha built up a considerable fan following among Tamil filmgoers for her performance in films such as Moondram Pirai, Sakalakalavallavan, Moondru Mugam and Kozhi Kuvuthu.
Besides Tamil cinema, 'Silk' Smitha starred in her native Telugu, Kannada, Malayalam and a few Hindi films. Among her better known films in Malayalam was Spadigam, in which she was cast in a major character role. Those in the film trade attributed Smitha's reported financial plight to her entry into film production.
'DDLJ' GOLDEN JUBILEE
Yash Chopra's Dilwale Dulhania Le Jayenge, directed by Aditya Chopra, entered 50th week in Bombay at New Excelsior and Gemini (combined) and in Hyderabad on 27th September. This is the first golden jubilee at New Excelsior and Gaiety-Galaxy-Gemini cinemas of Bandra, Bombay. The film stars Shah Rukh Khan, Kajol, Amrish Puri and Farida Jalal. Music: Jatin Lalit. Lyrics: Anand Bakshi.
'SAAJAN CHALE SASURAL' SILVER JUBILEE
Mansoor Ahmed Siddiqui's Saajan Chale Sasural entered 25th combined week at Naaz (matinee), Bombay on 27th September. Directed by David Dhawan, it stars Govinda, Karisma Kapoor, Tabu and Satish Kaushik. Music: Nadeem Shravan. Lyrics: Sameer.
K.C. NAHAR BEREAVED
Saraswati Nahar, mother of K.C. Nahar, managing director of Maratha Mandir, Gaiety, Galaxy and Gemini cinemas of Bombay, expired on 26th September in Delhi. She was 90.
3-E
Education-Entertainment-Enlightenment
Keeping CBI As Watchdog To Keep
Mandi House Image Clean
If you don't want to get involved in any scam, the best way is to be associated with the Central Bureau of Investigation (CBI). That seems to be the strategy being adopted by the I & B minister, C.M. Ibrahim. In a bid to avert any allegation of corruption or favouritism either against him or against officials of Doordarshan during his tenure as the I & B minister, Ibrahim has suggested the setting up of a special expert committee to select and slot serials for the various channels of DD. According to him, at least one official of the CBI and the I & B ministry each should be on this committee which must be headed by a high court judge. The suggestion of C.M. Ibrahim is being given serious consideration. While the I & B minister hasn't said so, it is believed that he feels, the earlier officials, who held important posts in DD, were corrupt and partial to certain producers. Because of this, there was no standard system followed in the selection of serials. Ibrahim is believed to have been shocked at the fact that DD had earned only Rs. 430 crore from sale of time slots etc. from its several channels, whereas Zee Telefilms earned Rs. 300 crore from the same business. Anyway, if the proposed expert committee does come about, DD may be able to clean up its image.
Vishal: Lighting Up The Music Scene
Gulzar's Maachis should bring to the fore a talented music director, Vishal Bhardwaj. The young music director has composed some truly melodious tunes which should soon become very popular. The best of his compositions is the Chappa chappa charkha chale which has the germs of becoming a hit. Chhod aaye hum woh galiyan and Paani paani re are two more soulful numbers. A screening of these three songs was held for the guests at the party to release the music of Maachis on 21st September at Hotel Sun N Sand. The picturisations are rustic and very natural, even the dance steps of the lead artistes are restrained, never too loud. The Kulu Manali locations look spectacular, courtesy cameraman Manmohan Singh.
Incidentally, Lata Mangeshkar was to have released the music cassette but she couldn't make it to the function due to a minor accident at home.
Failure In Love Drove Them To Death
Spurned in love, given to death. Perhaps, that's what sums up the suicide by South films' actress Silk Smitha on 23rd September in Madras. Although, besides failure in love, Smitha's heavy financial losses are also stated as a likely cause of her suicide, there have been instances earlier of actresses in Madras committing suicide because of failure in love. Years ago, Shobha, the National award-winning actress for her role in Pasi, committed suicide on the day the film was to celebrate its 100th day. She was married to a director who was already reportedly married. According to Anandan, an authority on films and film personalities, Shobha resented her husband's visit to his first wife. On the day she died, she had called a television crew to give an interview but when the crew arrived, she asked them to come another day. In order to put to rest gossip about their relationship, Shobha and her husband had decided to invite journalists for a get-together which was being organised by Anandan. The latter had asked them to sign the invitation letters. When he telephoned Shobha to ask her whether he could visit her house to have the letters signed, Shobha had reportedly told him to ring up later as her husband was out. When Anandan rang up a few hours later, he was shocked to be told that Shobha had killed herself. Three years after the actress' death, her mother also allegedly committed suicide.
Another actress, Jayalakshmi, allegedly killed herself only because a phone call of her influential lover was not put through to her by her relatives. Her lover was going out of station and she had wanted him to make a telephone call to her before he left. He did call but Jayalakshmi's parents, who were against the relationship, did not pass the call to her, says Anandan. She reportedly died consuming an overdose of sleeping pills.
Vijaya Sri, a Malayalee by birth, had signed up a film with a Malayalam film producer in Madras. The producer left her house after having dinner, and within hours of that, she was found dead in her house, according to Anandan. Another actress, Laxmi Sri, was in love with an already married film producer. According to Anandan, she insisted that he should marry her. They were together one night. And the next morning, when he opened his eyes, she was hanging dead from the ceiling fan.
Then there were a couple of actresses like Kumari Padmini and Kalpana, whose causes for suicide/death are not known.
To The Point
The Maharashtra film industry should not take this extension of reduced entertainment tax in the state for just three-and-a-half months lying down. If it does not plan a proper strategy to revolt, the government can be expected to definitely increase the draconian tax after 31st December, 1996. No thanks, this is the last thing the industry would want as new year's gift from the government. Yes, what it definitely wants is the complete abolition of entertainment tax — not just in Maharashtra but in the rest of the country too. While the industry can think of the ways in which it would draw the government's attention to its demand and — more importantly — plan everything properly, it would also do well to seek opinions of learned lawyers on the point of its demand for tax abolition. And let me say, there's not much time left.
* * *
Yet another problem thrust upon the producers is the increased welfare cess for cine workers, collected at the time of censorship of films. Why can't the industry be entitled to know what happens to the cess collected? And what is the logic in charging Rs. 10,000 per film? For God's sake, no cine worker is so poor today. In fact, workers have never had it so good, what with a boom in production of serials and films. If the government cannot simply do without charging the enhanced cess, I'd suggest that it also collect a like amount from the workers, towards producers' welfare cess. No, it had better be called 'producers' survival cess'.
* * *
Rajesh Roshan is pleased as punch these days. After his music in Mahesh Bhatt's Papa Kahte Hain took the nation by storm, he expects the same to happen in Dastak, again a Mahesh Bhatt film. His confidence is born out of the assurance given to him by an HMV official that it would sell at least 50 lakh cassettes in just a month of the release of the film's music cassettes. The Jaadu bhari aankhen song is already becoming popular.
* * *
If it's Shastra, there must be tension. The film is due for release next week but its censor certificate has not yet been signed. The cuts, though submitted by the producers to the CBFC, have yet to be verified. The delay is because the regional officer, who is to verify the cuts and sign the censor certificate, is out of station and will return only on Monday. Delivery for Overseas circuit will have to wait till then.
* * *
There's praise for the dialogues of V.K. Kaushik in Zindagi, a film which deals sensitively with AIDS.
* * *
– Komal Nahta