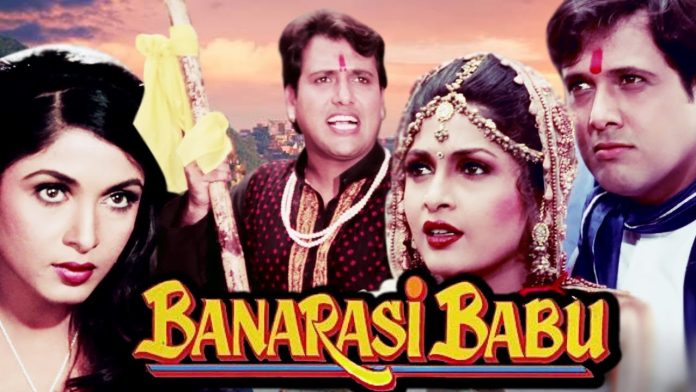 BANARASI BABU
Sapna Arts' Banarasi Babu (UA) is a comedy film with Indian sentiments thrown in in good measure. It tells the story of an Indian boy, staying in Banaras, who gets married to an Indian girl settled abroad. The girl's mother is against the match and when her daughter cannot adjust in her new home, the mother is the happiest. With a view to get the two divorced, she takes her daughter back abroad. But not the one to give up so easily, the guy follows his wife abroad and teaches his mother-in-law and wife such a lesson that they turn over new leaves.
The story idea may not be new but it is, nevertheless, good as it offers a lot of scope for fun and laughter. But the screenplay writer has not really done a good job as several scenes either look contrived or are predictable. The second half, in which the guy teaches his wife and mother-in-law a lesson for their ill-mannered behaviour and lack of values, should have been much more exciting than it is. But since several incidents have been seen in films earlier, the impact is diluted. Moreover, giving too much footage to the mother-in-law and lesser to the wife is a mistake committed by the writer. Dialogues are punch-packed but only at places.
Govinda is excellent as usual. The guy's sincerity is absolutely praiseworthy and so is his sense of timing. Ramya fails to impress as the heroine. She looks too over-weight and her costumes are bad. Kader Khan is humorous but doesn't get scope for being hilarious. Bindu is good at times and loud at other times. Shakti Kapoor's comedy is half-baked so that he manages to evoke laughter only occasionally. Asif Sheikh does well. Reema lends good support. Sanam, Shagufta Ali, Upasna Singh and the others are average.
David Dhawan's direction is good but the magic of his earlier films with Govinda is missing here mainly due to a less competent script. The contribution of music is also not much. 'San sana san sai sai' is the only exciting number but its picturisation is ordinary. 'Meri gori gori baahein' and 'Susri garam garam' are fairly good songs. However, the absence of a couple of hit numbers is sorely felt. Cinematography is very good. Production values are appropriate.
On the whole, Banarasi Babu does not have enough hilarious moments and since it is not a laugh riot for viewers, it cannot be expected to keep its distributors smiling. Rather, its high price may see them in the red in some circuits.
Released on 30-1-'98 at Maratha Mandir and 22 other cinemas of Bombay thru Pinky Films. Publicity: very good. Opening: good but not up to the mark (despite Idd holiday). …….Also released all over except in West Bengal and Nizam.
VINASHAK
Mark Films International's Vinashak (A) is about an Indian's obsession for his motherland. It is the story of a police officer for whom duty is everything and who upholds law even in the most adverse of circumstances. He is sent on a mission to investigate the illegal activities being carried out by the jailor of the central jail, but once inside, he is shocked to find that his supporters have been killed and he is now in the clutches of villains including the jailor, a corrupt police officer and a minister. How he escapes from the jail and kills the villains one by one is narrated in the latter part.
The film, unlike many action films, has a definite story-line and a well-written screenplay (Rajkumar Santoshi). The first half is tight and effective but the drama becomes a bit too tense after interval as there's not much relief then. Further, some sequences look too far-fetched to believe. In this class falls the blowing up of a car by a bomb planted in a toy car operated by a remote control, in full view of the public. Dialogues (Naeem-Ejaz) are good at several places.
Sunil Shetty lives the role of the patriotic police officer and impresses a great deal with his acting, action and dances. Raveena Tandon looks pretty and performs ably. Her dances are graceful. Danny Denzongpa is brilliant as the villainous jailor. Tinnu Anand makes an effective minister. Alok Nath evokes much hatred due to his lovely performance. Mohan Joshi leaves a mark, his facial expressions being remarkable. Om Puri does well but he deserved better scope. Mukesh Rishi is ferocious. Harish Patel wins the audience's hearts with a lovable performance. Satyen Kappu, Shivaji Satam, Disha, Jassi, Dipti and the others give very good support. Pinky's dance is truly sexy.
Action director Ravi Dewan makes an impressive debut as a director. His shot compositions and takings are nice. He should have, however, balanced the heavy second half with some light scenes. Viju Shah's music is good. 'Godna god mohe godariya' and 'Moriya moriya' are the best songs. Picturisations of 'Godna' and 'Rooba rooba' songs are fantastic and truly eye-filling. Nitin Desai's sets are rich and beautiful, but it must also be added here that the set of the central jail is too beautiful and tidy to look like a jail! Peter Pereira's camerawork is extraordinary. The Dalhousie locales have been captured beautifully. Action scenes (Ravi Dewan) have novelty and have been excellently composed, especially in the first half. Technical and production values are of a high standard. Sound effects (mixed in Dolby) are lovely.
On the whole, despite less relief, Vinashak has the entertainment value to keep its distributors smiling.
Released on 29-1-'98 at Metro and on 30-1-'98 at Minerva and 20 other cinemas of Bombay thru Dilsa Distributors Combine. Publicity: excellent. Opening: good but below expectations despite Idd holiday. …….Also released all over.
HAFTA VASULI
Seven Mountain Movies' Hafta Vasuli (UA) attempts to reflect what goes on in society today due to criminalisation of politics. A young police officer joins hands with a corrupt politician and a criminal to make fast money. An upright municipal officer (inspired from Khairnar's character) comes on the scene, and his job of demolishing unauthorised constructions on government land brings him in conflict with the criminal who is a builder too. The get-rich-quick police officer realises the folly of his policy when his childhood friend, now a professor, takes law into his hands and lands in jail. The police officer, now a changed man, alongwith the municipal officer succeeds in getting the professor freed from prison. The three of them then unite and humiliate the politician and the criminal by supporting a eunuch in the elections. While the politician repents for his misdeeds, the unrelenting criminal is killed by the trio.
The story is the usual revenge and good-versus-evil drama. The screenplay provides some interesting situations, especially in the second half. The scathing attack on today's government, corrupt politicians and officials is enjoyable. The election scene of the eunuch is a highlight. Some dialogues are very good.
Jackie Shroff does truly well. Aditya Pancholi lives his character. Ayub Khan is fair. Madhoo and Saadhika are alright. Gulshan Grover's villainy with a touch of comedy is not very menacing. Hemant Birje, as the criminal builder, is good. Rohini Hattangady is very effective. Sr. Balraj Vij, Anand Balraj Vij, Laxmikant Berde (as the eunuch), Aroon Bakshi and the other cast provide fair support.
Deepak Balraj Vij's direction is quite good. Music is alright, the 'Family mein lafda' and 'Vote for' songs standing out if only for their comment value. Action scenes are ordinary, save a few. Photography is of a nice standard.
On the whole, Hafta Vasuli lacks the excitement of a political action drama and, therefore, remains an average fare. It is likely to result in losses for some distributors.
Released on 30-1-'98 at Dreamland and 17 other cinemas of Bombay thru Mahalakshmi Film Distributors. Publicity: fair. Opening: average. …….Also released all over except in East Punjab and C.P. Berar.
YOU ASKED IT
Have the cast and credits of Subhash Ghai's Taal been finalised?
– The story is Subhash Ghai's and the screenplay is being written by Sachin Bhaumick, while dialogues are by Javed Siddiqi. It is a two-hero-one-heroine subject but so far, only Akshaye Khanna has been finalised. A.R. Rahman will score the music. Lyrics by Anand Bakshi and art direction by R. Verman are the other major credits.
Is it true that music director Shravan's sons are also turning music directors?
– Yes the team of Shravan's two sons, Sanjiv and Darshan, has been signed by producer Vimal Kumar to compose the music for his next film which will be directed by Kuku Kohli and which stars Sunil Shetty and Juhi Chawla.
Who do you recommend as the safest hero today?
– Nobody and everybody. Nobody is safe at unrealistic film prices. Everybody can be safe if films are sold at reasonable prices.
DO YOU KNOW?
* Vinod Khanna was given a tumultous welcome at Gurdaspur on 27th January when he reached his constituency in Punjab to file his nomination papers for the forthcoming elections to the Lok Sabha. Several film stars have agreed to visit Gurdaspur to canvass for Vinod Khanna.
* Producer Tutu Sharma and director David Dhawan are using the services of different cameramen for the various songs in their GHARWALI BAHARWALI to bring in variety and beauty. Kabir Lal picturised a song at Ramoji Film City (near Hyderabad) in a 10-day spell till January 30. Before that, the film's cameraman, K.S. Prakash Rao, picturised the other songs. The last song will now be canned by a third cameraman. Truly, beauty lies in the eye — sorry, lens — of the beholder.
* Salman Khan, Sanjay Dutt, Govinda and Karisma Kapoor have joined hands with Wizcraft to open theme restaurants in India. The formal announcement was made on 29th January in Bombay.
Subhash Ghai's Triple Celebrations
The Party In Perfect Sur & Taal
How just a new venue and an unusual time can change the flavour of a party was evident at the triple celebrations of Subhash Ghai on 25th January. Usually, filmland parties are held in the evenings but these celebrations were held in the afternoon. Rather than in one of the many 5-star hotels, the function took place at the picturesque Royal Palms at Goregaon, Bombay.
The three celebrations were — Subhash Ghai's birthday, silver jubilee of his Pardes and the launching of his new film, Taal. Ghai's birthday actually falls on 24th January but it was celebrated a day later, alongwith the other two events.
There wasn't any formal muhurt or the customary muhurt shot for Taal. The banners simply announced 'Subhash Ghai's Taal – The beat of passion'. Nor was there the customary cake-cutting to mark Ghai's birthday. But yes, the silver jubilee of Pardes was celebrated with the customary distribution of jubilee trophies to the film's cast and crew.
The top brass of the industry including Sunil Dutt, Dilip Kumar, Yash Chopra, Boney Kapoor, Sreedevi, Anil Kapoor, Jackie Shroff, Manisha Koirala, Aishwarya Rai, Satish Kaushik, Manmohan Shetty, Govind Nihalani, Laxmikant, Govinda, Indra Kumar, Ashok Thakeria, Smita Thackeray, Sultan Ahmed, Gaffarbhai Nadiadwala, Bharat Shah, Kiran Shantaram as well as Raj Thackeray and many others attended the party that was, all said and done, different — as different as the title of Ghai's new film. Whether it was the new venue or the triple events or the Ghai brand of warm hospitality that made the invitees have triple the usual fun, one doesn't know.
CONTROVERSY CORNER
'Banarasi Babu' Released Even As…….
West Bengal Distributor Obtains Stay Order On All-India Release
Nandu Tolani's Banarasi Babu almost did not release on Friday, January 30. West Bengal distributors, PMD Entertainments (P.) Ltd., Calcutta, on 29th January obtained a stay order on the film's all-India release, from a division bench of the Bombay high court. More specifically, PMD Entertainments were granted ad interim reliefs in terms of prayer clauses (a) and (b) of their draft notice of motion, by the division bench comprising Justice V.P. Tipnis and Justice N. Arumugham.
Clauses (a) and (b) of the draft notice of motion were:
(a) that pending the hearing and final disposal of the suit, the 1st and 2nd respondents (Nandu Tolani and Sapna Film Distributors, Calcutta, respectively) by themselves, their servants, agents and representatives be restrained by an order and injunction of this hon'ble court from in any manner releasing and/or distributing and/or exhibiting the said picture in any part of India including in the said territory till such time that the 1st respondent effects delivery of release prints of the said picture to the plaintiffs (PMD Entertainments) for simultaneous release in the said territory, viz. West Bengal.
(b) that pending the hearing and final disposal of the suit, the 1st and 3rd (Filmcenter Laboratories) respondents by themselves, their servants and/or agents be restrained by an order and injunction of this hon'ble court from in any manner either directly or indirectly delivering or causing to be delivered prints of the said picture in any territory of India until such time the prints of the said picture for release in the said territory are first delivered to the appellants.
The dispute began when producer Nandu Tolani towards the end of December '97 sold the West Bengal distribution rights of Banarasi Babu to PMD Entertainments and faxed a letter to the Eastern India Motion Picture Association (EIMPA), asking the latter to cancel the registration of the film from the name of Sapna Film Distributors and register the film in the name of PMD Entertainments (P.) Ltd. instead. The letter was irrevocable but it is alleged that after receiving monies from PMD Entertainments, Nandu Tolani sought to withdraw his irrevocable letter and asked the EIMPA not to register Banarasi Babu in favour of PMD Entertainments. Interesting to note that (i) Sapna Film Distributors was to have released the film in West Bengal from Billoo Bakliwal's office, and (ii) Billoo Bakliwal's father, L.C. Bakliwal, is the vice president of the EIMPA.
Anyway, sensing fraud, PMD Entertainments on 23rd January obtained a stay order from the Bombay high court, restraining Filmcenter from delivering or causing to be delivered the prints of Banarasi Babu for West Bengal circuit. PMD Entertainments were directed to deposit a sum of Rs. 30 lakh in court on or before 28th January. The said amount was deposited on 28th when the Bombay high court stayed the delivery of prints for West Bengal to both, Sapna Film Distributors and PMD Entertainments. During arguments, it was pleaded on behalf of Nandu Tolani that if the film was released all over but not in West Bengal, the said territory (West Bengal) would become worthless after 30th January, the day of all-India release.
Aggrieved by the order not granting it delivery of prints despite the deposit of monies in the court, PMD Entertainments preferred an appeal on 29th January before the division bench and obtained reliefs in terms of prayer clauses (a) and (b). PMD Entertainments took the same plea that if the film was allowed to be released all over except in West Bengal, the West Bengal territory would become worthless, an argument put forward by Nandu Tolani himself.
Consequent to the court order obtained around 4.15 p.m. on 29th, there was high-tension drama at Filmcenter, which went on till after 3 a.m. on 30th. U.A. Thadani, Lala Damani, Girdhar Hinduja and others tried to intervene and bring about a reconciliation between Nandu Tolani and PMD Entertainments but their efforts failed. Ramesh Patel, Arun Patel, N.C. Hira and others of Filmcenter were engaged in hectic meetings till 3 o'clock in the morning of 30th.
Luckily for the Bombay and Nizam distributors of the film, their deliveries were effected just before the court order restraining Filmcenter from giving deliveries was obtained.
It is to be seen now whether PMD Entertainments uses this order to stop the film's screening all over India. Banarasi Babu opened in U.P. on Thursday morning, and in the rest of the country, on Friday morning. One feels, contempt of court proceedings could be filed against Nandu Tolani for permitting the film's release or, in other words, not preventing its release.
A similar incident had taken place in the case of Sultan Ahmed's Dharam Kanta, the screening of which was discontinued from Nizam territory on a court order obtained by Sultan Ahmed. Interestingly, Ranjit & Co. were the advocates for Sultan Ahmed then and they are also the advocates for PMD Entertainments now.
In the meanwhile, insiders reveal that Nandu Tolani tried to have the film released (thru Sapna Film Distributors, of course) in a cinema of Calcutta on Wednesday/Thursday and even had his advocate (!) carry two prints for the purpose to Calcutta, but could not succeed in his mission.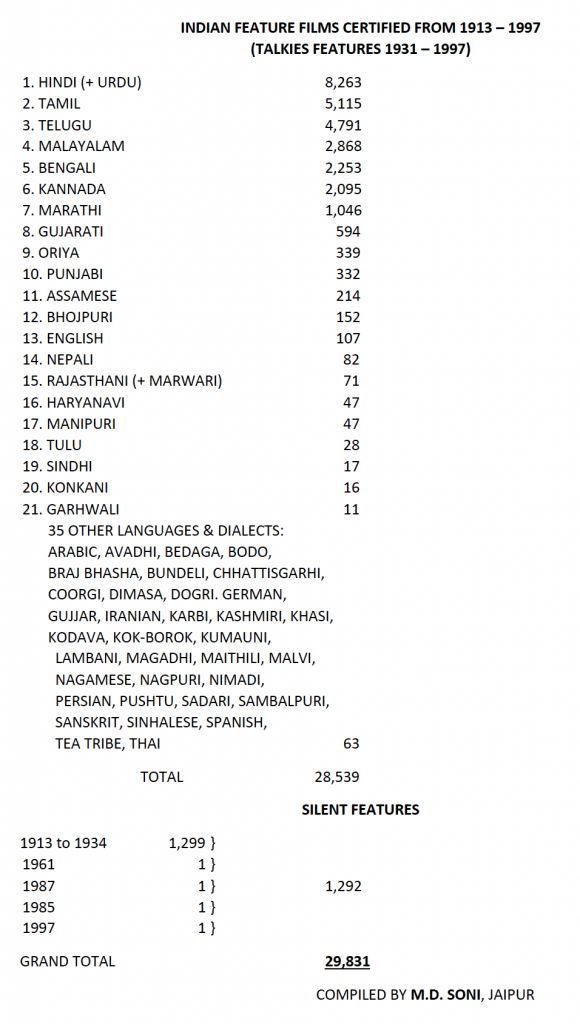 3-E
Education-Entertainment-Enlightenment
David Dhawan And Bengal Territory
David Dhawan had better visit Calcutta and do some havan/pooja there. For, his films seem to be getting embroiled in delivery controversies in the West Bengal territory only. Mr. & Mrs. Khiladi could not be released in West Bengal simultaneously with the rest of India because of the delivery drama. And likewise, this week's Banarasi Babu, too, did not open in West Bengal. Although his Deewana Mastana was released in West Bengal with the rest of the country, there was, nevertheless, a problem in finalising the distributors (as deals were struck with two distributors).
Delivery Dramas
There were delivery problems in two of the three releases this week. And the cause in both the cases was the same: finance. Shortage of money to meet the liens on the films resulted in untold tension and hardships to the persons involved. The West Bengal distributor of Banarasi Babu obtained a stay on the all-India release of the film (read story elsewhere in this issue), so that it almost appeared as if the film wouldn't be released. A lien of 40 lakh against the Bombay territory caused tension in the case of Hafta Vasuli. Of this, 15 lakh was payable to Jackie Shroff. The hero's lab. letter against Bombay circuit created a problem and it also appeared in the case of Hafta Vasuli that the film would not be released in Bombay. But the Bombay distributors, Mahalakshmi Film Distributors, co-operated and made the release possible. So luckily, both the films were finally released (except Banarasi Babu in West Bengal).
Terrific Trailers
New trailers of Zor have been made and they are being played in cinemas from Idd day, to thunderous applause. Distributors of the film should now rest assured as the suspense about its release date is over because the trailers announce its release date of 13th February. Distraught distributors have complained that the producers never bothered to either confirm or deny the release date, which led them to play their own guessing games. Anyway, the film has been cleared by the CBFC, and the censor certificate should be in the producers' hands next week.
If the theatrical trailer of Zor is winning applause, so is the television trailer of Salaakhen, which shows Sunny Deol banging his head against the grills (salaakhen) of the jail (lock-up) door till his head bleeds. Both, Zor and Salaakhen, are presented by Sanjay Tolani.
Welcome The New Kapoor Girl
It can be told now. Karisma Kapoor's younger sister is the latest to become a part of the world of heroines. Yes, Kareena Kapoor has been signed by ……. Shall we give out the name of the producer? No, we'd rather involve you in a guessing game. The one, who has signed her, is a producer and director. And he has cast her opposite his son who also will be launched in the film. The producer-director is …… No, there's simply no need to spell out the name. You all have already guessed it.
Neelam Bhi Saath Hai
Neelam, who has been doing pretty well for herself on television these days, has bagged a plum role in Sooraj Barjatya's Hum Saath Saath Hain. She plays the only sister of the three brothers viz. Mohnish Bahl, Salman Khan and Saif Ali Khan. With the three heroines (Tabu, Sonali Bendre and Karisma Kapoor) also having been finalised, Neelam is the seventh star to have been announced by the Barjatyas. So the film could, as of now, as well be called Hum Saat Saat Hain (We Are Seven Seven)!