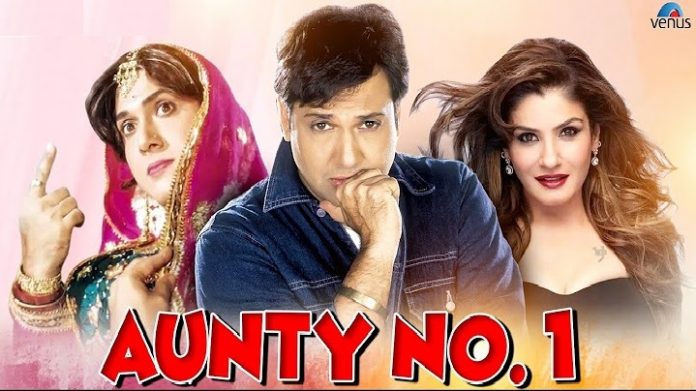 AUNTY NO. 1
Lata Films' Aunty No. 1 is the story of an aspiring film actor who has to don the get-up of an aunt of his friends to not only help them but also save his skin from the villains whom he has seen murdering someone. The story is quite childish and the comic situations are not really funny because most of them are contrived. The writer and director seem to have decided to offer a funny fare to the audience and, in the process, dish out sub-standard comedy. Screenplay is so routine that one wonders whether any serious effort has gone into the film at the scripting stage. Even the dialogues lack the punch of a comedy.
Govinda is the only one who tries to rise above the script and he succeeds. His performance is consistently good, whether as the aspiring hero or the aunty. Raveena Tandon gets limited scope and is average. Raza Murad and Mohnish Bahl come up with ordinary performances. Kader Khan, too, is not in his elements. Sadashiv Amarapurkar passes muster. Harish and Rohit Kumar are so-so. Karina Grover and Mitra Joshi are insignificant. Bindu does a fairly good job. Reema and Saeed Jaffrey are okay.
Kirti Kumar's direction is hardly any better than Sachin Bhaumick's script. No attempt has been made to provide hilarious situations or even something that would keep the audience in good spirits. Rather, the feeble comedy begins to jar after a while. The title song and 'Bul bula re bul bula' are well-tuned numbers and their picturisations are quite nice. A couple of songs are weak. Action scenes look forced. Camerawork is average.
On the whole, Aunty No. 1 will neither make the audience laugh nor the distributors smile. Despite its reasonable price, it cannot be expected to turn out to be an earning fare.
Released on 1-5-'98 at Minerva and 19 other cinemas of Bombay thru VIP Enterprises. Publicity: quite good. Opening: very good (due to Maharashtra Day holiday on 1st May). …….Also released all over. Opening was satisfactory at some places but below the mark at others.
THE OTHER SIDE OF ARJUN
On 10th April, a musical night with Arjun (of Mahabharat fame) was organised at Birla Matushri Sabhagriha, Bombay. The show was a tribute to the legendary singer, Mohd. Rafi, and was attended by a number of celebrities like Jackie Shroff, Namrata Shirodkar, Shahbaaz Khan, Ranee Mukerji, Milind Gunaji, Ayub Khan, producer Sudhakar Bokade, producer-director Ravi Chopra and Naushad Ali. Arjun impressed the audience with a soulful rendition of a number of Rafi hits.
During the programme, Athar Nabi, chairman of Avadh Ratan Committee, announced that Madhuri Dixit would be honoured with an Avadh Ratan very soon. He also mentioned that they had earlier decided to felicitate her during a Kumar Sanu nite, but Arjun's voice had so impressed him that they had now decided to have a musical nite with Arjun instead.
Past recipients of Avadh Ratan include Kaifi Azmi, Naushad Ali, Lata Mangeshkar and Dev Anand, who were felicitated during musical nites with Jagit Singh, Asha Bhosle, Mohd. Aziz and Udit Narayan.
DTS CINEMAS TO DOUBLE IN 3 YEARS
A total of 300 cinemas in India have been installed with DTS sound system in the last two-and-a-half years. This was revealed by Jim Murray, director of worldwide sales and exhibitor relations, Digital Theater Systems, at an informal get-together hosted by him on 30th April at Ramada Inn Palm Grove. Murray also said that it was the target of Digital Theater Systems to instal the sound system in 300 more cinemas in the next three years. He was especially happy about the maintenance and sound system of Cinemax in Bombay.
PHALKE BIRTH ANNIVERSARY
The birth anniversary of Dadasaheb Phalke was celebrated by the Western India Film Producers' Association on 30th April at Citizen Hotel. Dev Anand was the chief guest and he released an informative directory brought out by the WIFPA.
WIFPA president G.P. Shirke, Sultan Ahmed, Santosh Singh Jain, Shakti Samanta, Yash Chopra, Janki Dass, actress Nimmi, Gaffarbhai Nadiadwala, Chandrashekhar, Ramanand Sagar, S.K. Kapur, K.D. Shorey and Anil Ganguly made speeches, paying tributes to Phalke.
It was decided that the industry should ask the Maharashtra government to give it land in Bombay for constructing a huge Dadasaheb Phalke Film Bhavan in memory of the late filmmaker. The Film Bhavan would house a laboratory, recording rooms, preview theatres and even rooms for lodging and boarding of distributors who come to Bombay from other parts of the country.
Vrinda Pusalkar, the 75-year-old daughter of Phalke, was also present at the celebration function, alongwith her son. She is the only living child of Dadasaheb Phake, all the others having expired.
Dinkar Chowdhry compered the function. The vote of thanks was proposed by Mahavir Jain.
ASHIM BHATTACHARJII'S SON TO WED

Sanjay (UTV), son of director Ashim Bhattacharjii, will wed Geetanjali on 4th May. A reception to celebrate the marriage will be held the same evening at Khar Gymkhana, Khar, Bombay.
YOU ASKED IT
You always complain that stars are charging exorbitantly but when it comes to your reviews of non-star cast films, you write that the film has dim chances due to lack of face value. Why this contradiction?
– A non-star cast film has dim chances if the content is not good. But a strong script can offset lack of face value. The bottomline is, good scripts always work — something which I've always been writing about. Besides, look at the fate of some big star-cast films which flop because of their high prices (which, in turn, are due to sky-high star prices).
Which was the first colour film of India?
– Imperial Film Company's KISAN KANYA, produced in 1937. Minerva Movietone's JHANSI KI RANI (1953) was the first technically perfect Technicolor film. SAIRANDHRI, made in 1933 by Prabhat Film Company, was also a Technicolor film but its colour quality was not satisfactory.
When will Sooraj Barjatya commence the shooting of Hum Saath Saath Hain?
– On 18th June, 1998. The film will be released in 1999-end.
PRODUCTION NEWS
'Bade Dilwala' Complete
Action and climax scenes were picturised for Noorani Film Corporation's Bade Dilwala in the film's last week-long spell till April 29 at a cafe, Churchgate, Mantralaya and other locales of Bombay. Sunil Shetty, Priya Gill, Archna Pooran Singh, Ranjeet, Satish Kaushik, baby Erum, Raju Kher, Guddi Maruti and Paresh Rawal participated. The entire shooting is now complete. Dubbing is in progress at Anand. The film is written, produced and directed by Shakeel Noorani. Music: Aadesh Shrivastava. Action: Raam Shetty.
MUSIC INFORMATION
Rajshri Launches Music Company With Love Album
The Barjatya family has added one more dimension to its Rajshri empire by launching a music company — Rajshri Music. The first non-film album of the new company is 'Yeh Hai Prem', containing ten songs penned by Shyam Anuragi and composed by Milind Ingle. They've been rendered by Milind Ingle and Shikha.
The unique feature of the album is that a whole love story is sought to be narrated through the ten songs. A video of the first song has been shot by Kunal Kohli. Abbas (Tamil film hero) and Preeti are the lovers in the song choreographed by Saroj Khan and cinematographed by Basha Lal.
Rajshri Music has entered into a manufacturing and distribution arrangement with Sony Music.
Rajshri has also tied up with Hallmark Cards & Gifts which will manufacture and distribute 'Yeh Hai Prem' posters, greeting cards, coffee mugs, letter pads and several other stationery items.
The 'Yeh Hai Prem' album is the baby of Rajat Barjatya, son of Ajit Kumar Barjatya. The young boy addressed the press conference on 27th and fielded the questions from the press, with maturity. He revealed that it was his late grandfather, Tarachand Barjatya's dream to start a music company. He also informed that the 'Yeh Hai Prem' team had worked on the album for a year-and-a-half.
IN & OUT OF BOMBAY
Producer-director Subhash Ghai left for Khandala on 1st May and will be back on 4th.
Mr. Pramod K. Gupta of Rangbhumi and Jyoti Publicity, Delhi, will be in Bombay from May 5 to 9 at Hotel Kings International (618-4381/82/83, office no.: 646-4055).
Producer Yash Johar left for Delhi on 1st May and will return this evening (2nd May).
Producer Tutu Sharma is in Delhi.
Madhuri's Gratefulness & Goodwill
Rarely, if ever, does a heroine throw a party where the who's who of the industry is invited. Hosting parties has long been the domain of film producers. If not film producers, it is always the male species in the industry that spends money on lavish parties.
Madhuri Dixit's party then on 30th April at Holiday Inn came as a surprise. Even more surprising was the fact that the super-successful heroine didn't have any specific reason to throw a party. She was neither announcing a film nor celebrating her birthday nor even planning to get married. Since 1997 has been a particularly good year for Madhuri, what with the runaway success of Dil To Pagal Hai and her bagging all the awards, it, perhaps, could have been her reason for celebrating.
And celebrate she did but even as every one of the invitees asked Madhuri what the occasion was, the girl simply smiled and said, "There's no occasion."
Very thoughtfully, Madhuri and Rikku, her meticulous secretary right from the time she entered the industry almost 15 years ago, had extended invitations to all Madhuri's producers, directors and co-stars — right from her first film to the ones she is currently acting in. Some producers/directors have almost retired from the industry and even their whereabouts was not known, but Madhuri and Rikku managed to trace them and yes, they were there at the party.
The attendance was solid proof of the goodwill Madhuri has built over the years in the industry. Everybody had a great time celebrating….. well, nothing actually! It was just Madhuri's way of saying "thank you" to all those who've been responsible for her rise to the no. 1 position. And her timing couldn't be more correct. After all, Madhuri's dil to khush hai…..
– Komal Nahta
3-E
Education-Entertainment-Enlightenment
Mithun Film Festival
Believe it or not, Mithun Chakraborty has been giving sleepless nights to many a distributor and exhibitor. Reason: three Mithun-starrers viz. Mard, Hatyara and Hitler have been announced for release on the same day, 15th May. Common sense would convince anyone that three Mithun starrers cannot hit the screens on the same day, but the question that is being asked is: which of these three will come and which won't? Exhibitors all over have distributors of all the three films booking the films at their cinemas but they (exhibitors) don't know whom to oblige and whom to refuse. The position this week is no better than it was last week, with producers and distributors of all the three films claiming that irrespective of the other films, their film is "definitely coming on 15th May". The copies of Hitler and Hatyara should be out in a day or two at Vijaya Vauhini Lab in Madras. The copy of Mard will take three to five days to be out. All the films are yet to be censored.
Century For 'Duplicate'
That Shah Rukh Khan is the hottest hero in the Overseas territory is common knowledge. But how hot? Well, the number of prints of Shah Rukh's Duplicate being taken out by ABCL and Arjan Lulla, the Overseas distributors of the film, should give an indication of how very hot the guy is with the 'phoren' world. A total of 97 prints are being taken out for Overseas alone. With one more week still to go for the release, the figure of 97 may go up further as the craze continues to mount. You never know, the number of prints finally taken out could be 100 or even more! Earlier, DTPH and Ishq have had over 90 prints of theirs taken out.
Similarity Breeds Contempt
The recent failures of Salaakhen, Zor, Aflatoon and Keemat once again underscore the fact that people want to see Sunny Deol and Akshay Kumar do something different, for a change. That Sunny still suffers from the hangover of his earlier films like Arjun and Ghayal is amply evident from his recent releases viz. Ghatak, Ziddi, Ajay and, now, Salaakhen. The question being asked is, how long can one go on performing the same kind of roles in film after film? More importantly, how long will the public tolerate an actor doing this? Sunny's recent failures (Zor and Salaakhen) make the public verdict crystal clear, and he must take note of it. Being a talented actor, it shouldn't be difficult for him to convincingly portray roles that are at least a bit different from his trademark one-man-taking-on-the-big-bad-world roles. Remember Damini?
Another star who is sailing in the same boat is Akshay Kumar. Insaaf, Tarazu, Aflatoon, Keemat and even his earlier films, all depict him performing the same old dance-routines and wearing (or rather, taking off) the same type of costumes. Action has always been Akshay's strong point, but now, you cannot help but notice that a dull routine has crept in even in his action sequences. These being the main reasons for his recent failures, Akshay, too, needs to take stock of the situation and introduce a great deal of freshness in his performances.
Punjab Government Harassing Producers
Although producer-director B.S. Shaad's Punjabi film, Laali, has been released and has also done well, Shaad has no laali on his face these days. Reason: the Punjab government is playing games with him. Shaad had applied for Punjab government's subsidy for his film and had also completed all the required formalities in this regard. Since the script of Laali had been approved by the committee set up for the purpose, Shaad thought, he would have no difficulty in getting the subsidy amount from the government. Although he was sanctioned a subsidy of Rs. 12 lakh, months have passed since the release of his film in January this year, but the government has not paid him the money. An exasperated Shaad has now served the Cultural Affairs department of the government a legal notice, claiming the subsidy due to him. It also appears that his is not a solitary case. Dalwinder Sohal (Ishq No Poochhe Jaat) and Priti Sapru (Muqaddar) are two more producers who are contemplating similar action against the Punjab government.