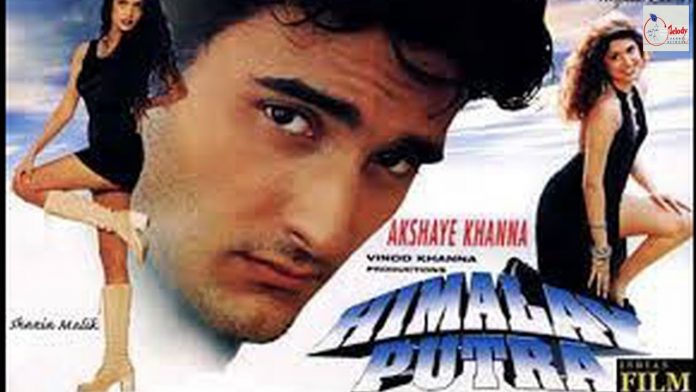 'Himalaya Putra' Audio Released
With Pomp And Show
The music release function of Vinod Khanna and HMV's Himalay Putra on 31st October at the Turf Club was a grand affair indeed. The occasion was special for Vinod as he introduces his son, Akshaye Khanna, in the film.
It was a 'Himalayan' welcome which was accorded to the invitees that evening as Himalay Putra's dad, Vinod Khanna himself, stood at the entrance, personally welcoming the large number of guests who came to wish both, father and putra, the very best.
Sunil Dutt had thoughtfully been invited as the chief guest for the function. It may be recalled that it was none other than Sunil Dutt who had introduced Vinod Khanna in films. At the cassette release function, Dutt Sahab recalled how he had had to convince Vinod's father to allow him to come into films. "When I first saw Vinod Khanna, I thought to myself that here was the Kirk Douglas of India," recalled Sunil Dutt. "Vinod Khanna's father had wanted to send him abroad for training because he wanted him to look after his factory," continued Sunil Dutt. "But I told his father that Vinod should be given one chance to try his hand at acting. If he failed, the factory would, of course, be there. I was confident that Vinod would make a place for himself in this industry and I told so to his father."
After Sunil Dutt's speech, Vinod Khanna introduced Akshaye to the gathering. He also introduced the film's new leading ladies, Anjala and Shazia. Thereafter, Sunil Dutt released the music cassette of Himalay Putra.
Excerpts from four songs of the film were screened. It must be said that Anu Malik has done a wonderful job and it can safely be predicted that the music of Himalay Putra will soon become extremely popular. Director Pankaj Parashar and the choreographer have done a fantastic job of the picturisation of some of the songs. In particular, the 'I'm a bachelor' song will be widely discussed for its unique picturisation.
The dinner and decoration at the function made it appear like a wedding reception. The giant-sized statue of Lord Shiva, which has been used in the film, was put up at the Turf Club. There were any number of varieties of dishes for dinner and dessert.
TOLU BAJAJ RECUPERATING
Bombay distributor Tolu Bajaj underwent a minor surgery earlier this week at Jaslok Hospital (and not Breach Candy Hospital, as mentioned in our issue last week). He is recuperating at the hospital and is likely to be discharged from the hospital shortly.
BABY GIRL FOR ATUL AGNIHOTRI
Atul Agnihotri's wife, Alvira, gave birth to a baby girl on 27th October at Breach Candy Hospital, Bombay.
YOU ASKED IT
What do you think of the decision of the producers of Raja Hindustani to postpone its release by a week?
– It is a sensible decision to not come in opposition of two big action films even though it is the Diwali week.
What is your opinion about the new trend of music directors taking contracts for song recordings from producers?
– It isn't a very good trend because music directors invariably try to cut corners in song recordings when they are paid for the entire recordings, and all outgoings for the same are borne by them.
Who is the most in-demand newcomer?
– Seems to be Sharad Kapoor. He reportedly has over 20 films on hand.
'MAACHIS' TAX-FREE IN M.P.
Gulzar's Maachis has been grated tax exemption by the Madhya Pradesh government for a period of six months with effect from 1st November.
PRIYA VILLAGE TO BUILD MULTIPLEXES
The joint venture between Delhi-based Priya Exhibitors and Village Roadshow Ltd. of Australia, Priya Village Roadshow (PVR), has nearly completed the first multiplex situated in south Delhi's Saket area. It intends to set up more such complexes in Bangalore, Calicut and Bombay in the next couple of years. The Delhi multiplex, which houses four cinemas, will open on 15th December. While one cinema has a capacity of 380 seats, another has a seating capacity of 320, and the remaining two have 150 seats each.
'GHATAK' DISPUTE SETTLED
The dispute between the producers of Ghatak and its distributors of Eastern circuit (excluding Orissa) — Musical Films Pvt. Ltd. — over the issue of price has been settled out of court. The film will be released in West Bengal, Bihar and Assam by Musical on Diwali.
MIX MASALA
ANU JACKSON?
The whole of Bombay was in the grip of a Michael Jackson fever this week when the great singer performed live (on 1st November) at the Andheri Sports Complex at Andheri, Bombay. Music director Anu Malik made no effort to hide the fact that it's not just tunes that he can copy, it's music-minded people, too, who can inspire him to ape them, at least as far as dressing up goes. For, the music director came dressed quite like Michael Jackson at the music release function of Vinod Khanna's Himalay Putra on 31st October at the Turf Club, complete with a black hat. But the trademark curls of hair that fall on Michael's face were missing on Anu's face.
DO YOU KNOW?
* C.I. distributor J.P. Chowksey, who has a penchant for releasing art films, has proved lucky with MAACHIS. It has yielded a share of 1.75 lakh in the first week in C.I. Chowksey also left no stone unturned to publicise the film extensively. He sent letters to teachers, doctors and engineers ten days before the film's release. Handbills, printed in Hindi and Gurmukhi, were distributed outside all gurudwaras in Indore. A special show was held in Bhopal, which was attended by ministers and IAS officers, besides the film's director, Gulzar.
* Although Shringar Films was exploiting MAACHIS in Bombay, it dissociated itself from the film from the second day of its release itself. The film is now being exploited by the producers themselves from their Andheri office.
* Producer Rajan Sharma, Bombay distributor Vinod Kakkar and Gujarat distributor Devendra Shah are all praise for CBFC regional officer Sanjeevani Kutty and members of the examining committee, who saw their SAPOOT, for going out of their way to speedily hold discussions, verify cuts, etc. and issue them a certificate. Incidentally, both the Diwali releases, GHATAK and SAPOOT, were issued certificates on the same day (1st November).
* DDLJ, being screened at tax-free rates, drew all shows full in its first week at Maratha Mandir (matinee), Bombay, in spite of the dull pre-Diwali days.

3-E
Education-Entertainment-Enlightenment
Censor Coincidence
It's a strange coincidence that all the three films which had been planned for release on Diwali had to face some censor trouble or the other. Ghatak was offered many cuts, which prompted the producer to go to the revising committee. Although the revising committee did waive some cuts, they weren't enough to satisfy producer-director Rajkumar Santoshi. It is presenter Bharat Shah who prevailed upon Santoshi to not go in for further appeal and that's how the revising committee's cuts were finally accepted by Rajkumar Santoshi.
The examining committee also offered very heavy cuts — 17, to be precise — to Sapoot, the maximum in the climax action, but the film's producers were saved the trouble of going to the revising committee because the examining committee agreed, after personal hearing with the makers, to reduce/modify the cuts. The film will get its 'A' certificate on 4th November, and its Diwali release, alongwith Ghatak, is now confirmed.
The examining committee also offered several cuts to Raja Hindustani, which sort of shocked its makers who had expected a clean 'U' certificate for the film. Anyway, when the examining committee did not see reason in director Dharmesh Darshan and hero Aamir Khan's arguments, the two decided to refer the film (after effecting some voluntary cuts) to the revising committee which saw the film on 1st November and has reportedly cleared the film for universal exhibition almost without cuts. In any case, Raja Hindustani has been postponed and will now hit the screens on 15th November — actually, it is available for screening on and from 12th November (New Year's day).
Aamir's New Residence
Aamir Khan, who lives at Bandra, Bombay, has purchased another flat in another block of the same building in which he stays. He is thrilled with the buy because it was in this flat that his "favourite director", Raj Khosla, used to live before he passed away. The new flat of Aamir is being done up, after which the hero will shift there. The flat in which Aamir presently resides, will be converted into his office then.
Ten And Still Going Strong
Govinda and director David Dhawan have already worked in seven films together —Taaqatwar, Swarg, Shola Aur Shabnam, Aankhen, Raja Babu, Coolie No. 1 and Saajan Chale Sasural. Their under-production films together are Hero No. 1, Banarasi Babu and Deewana Mastana, which takes their total to 10. With several other projects in the pipeline, the hit team is poised to create a record of sorts, it seems.