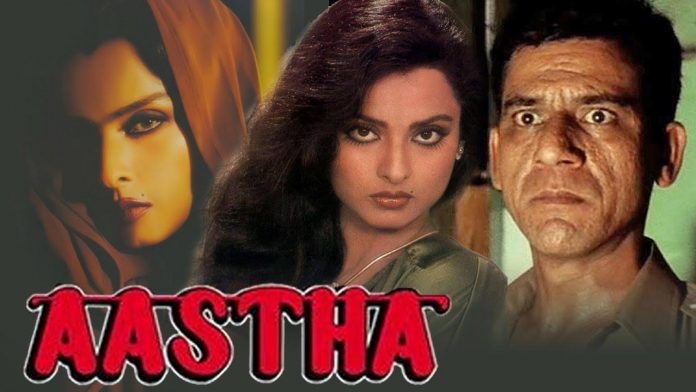 AASTHA
Released this week all over except in C.P. Berar, Aarohi's Aastha (A) is the story of a lady and her professor-husband. The young lady gets entrapped in the world of sleaze and finds herself sleeping with rich men, a fact which her husband is completely unaware of. Although she feels guilty about the life she is leading, she carries on with it till one day she finds herself exposed by her husband's student. Together, she and the student plan to confess to her husband, but not directly, only by innuendo. This, she feels, is her only chance to pick up the threads of her shredded life.
By its very nature, the story is one which would appeal only to the elite audience. The treatment of the subject is also of the kind which makes the film hold interest only for a section of the audience. The wife's guilt and yet her unwillingness to give up sleeping with other men would confuse the general audience. The ending is also too 'class' appealing because the husband is not told about the wife's extra-marital affairs in plain and simple words. There isn't much titillation too for the front-benchers. In short, the story is neither of the kind which one could identify with or would want to identify with nor of the kind which a layman could comprehend and enjoy.
Rekha does well. Om Puri gives a restrained performance as her husband. Dinesh Thakur is average in a brief role. Anwesha Bhattacharya does a fair job. Daisy Irani is quite effective. Navin Nischol is okay. Sagar Arya does reasonably well.
Basu Bhatttacharya's direction is in keeping with the mood of the story. He seems to be not very concerned about the mass audience. Music is very good for the genre of the film which Aastha is. 'Labon se choom lo' and 'Kaanch ki boonde' are truly melodious songs. Dialogues are ordinary. Photography is good.
On the whole, Aastha neither has universal acceptance nor sex scenes to lure the masses. As such, it will remain a fare for select cinemas in selected cities only. …….Opening was dull almost everywhere due to poor publicity.
LATEST POSITION
Barring the cinema closure in Maharashtra, it was a normal week in the rest of the country.
Ajay 1st week Bombay 37,81,450 (91.65%) from 13 cinemas (9 cinemas for 5 days, 9 on F.H.); Ahmedabad 6,93,178 from 5 cinemas, Baroda 1,19,116, Padra 1,12,326, Rajkot 2,13,683 from 2 cinemas, Jamnagar 1,28,450; Delhi 38,57,282 (78.19%) from 13 cinemas (2 on F.H.); Kanpur 3,77,494 from 2 cinemas, Lucknow 2,15,116, Agra 2,50,000, Allahabad 1,40,000, Meerut 100%, Dehradun 1,58,000, Gorakhpur 1,61,000 (87.97%); Calcutta 23,49,244 from 20 cinemas (14 on F.H.); Raipur 1,39,000 (70.14%), Bhilai 1,33,000; Indore 91,774 (3 on F.H.), Bhopal 2,95,927 from 2 cinemas (1 on F.H.); Jaipur 7,05,439 from 4 cinemas, Bikaner 2,82,424; Hyderabad 22,67,598 from 12 cinemas.
Tere Mere Sapne 4th week Bombay (5 days) 11,87,044 (88.89%) from 7 cinemas (1 on F.H.); Ahmedabad 2,55,327 from 3 cinemas, Baroda 89,409, Rajkot (matinee) 16,859; 1st Solapur (matinee, 5 days) 28,819; 4th Delhi 7,56,850 from 3 cinemas; Kanpur 55,593, Lucknow 1,68,345, Agra 71,425, Allahabad 41,325, Dehradun 74,342, Gorakhpur 11,500; Nagpur (6 days) 1,62,578, 3rd week Akola (6 days) 67,330, total 2,05,567, 4th Bhilai 37,255, 3rd Jalgaon 64,252; 4th week Indore 2,40,280, Bhopal 1,10,810; Jaipur 1,46,717; Hyderabad 5,39,984 from 4 cinemas (2 in noon).
Raja Hindustani is still doing wonders all over India. 7th week Bombay (5 days) 25,79,148 (93.73%) from 10 cinemas (9 on F.H.); Ahmedabad 6,02,037 from 5 cinemas, 1st Himmatnagar 1,87,039, 5th week Bharuch (gross) 2,64,140, 7th Jamnagar 1,14,051 from 2 cinemas (1 in matinee); Solapur (5 days) 1,66,167 from 2 cinemas (1 in matinee); Delhi 27,58,794 from 9 cinemas (1 unrecd. and 1 on F.H.); Kanpur 3,17,082 from 2 cinemas, Lucknow 2,11,098, 8th Allahabad 1,20,300, Meerut 1,66,516, 7th Dehradun 1,52,274, 8th Gorakhpur 1,18,000; 7th week Calcutta 15,34,556 from 17 cinemas; Nagpur (6 days) 3,78,831 from 4 cinemas, Akola (6 days) 1,22,731, Raipur 1,19,007, Bhilai (6 days) 1,06,090, Jalgaon 1,60,580 (100%), 5th Wardha (26 shows) 77,860, 7th Chandrapur 1,21,783; Indore 2,31,931 (100%), Bhopal 3,55,142 from 2 cinemas; Jaipur 4,81,886 from 2 cinemas, Jodhpur 2,47,300, 6th week Bikaner 1,44,544; 7th Hyderabad 9,89,286 from 5 cinemas (1 unrecd., 1 in noon).
……..
Film Weather: 1996
125 RELEASES
A total of 125 films were released in 1996. Of course, 29 were dubbed films. As against this, 129 films were released last year, of which 30 were dubbed.
HITS & MISSES
Of the 125 films released, only 16 proved to be successful/hits/mega hits. The remaining 109 ranged from average to disastrous.
THE HITS
Dharmesh Darshan's Raja Hindustani emerged as the biggest blockbuster of the year. It is still doing record-shattering business and is poised to exceed the business of last year's mega-hit, DDLJ. Among the other super-hits of the year were Saajan Chale Sasural, Agni Sakshi and Bandit Queen.
ENTERTAINMENT TAX 100% AGAIN
The Maharashtra government discontinued the benefit of 50% entertainment tax in the state after 31st December, 1996. This prompted the cinemas in the state to down shutters from 1st January, 1997, in protest.
NEWS MAKERS
If it was Shekhar Kapur's Bandit Queen at the start of '96, which was involved in a censor controversy, it was Mira Nair's Kama Sutra that hit the headlines as the year came to an end, again due to censorship problems. Like the former, the latter film is also likely to be cleared by the Film Certification Appellate Tribunal.
MUSIC MAHARAJAS
The year undoubtedly belonged to Nadeem Shravan whose names were associated with three blockbusters viz. Raja Hindustani, Agni Sakshi and Saajan Chale Sasural. Jeet, another major success, had Nadeem Shravan's music.
ALL-TIME HIGH
Film prices touched a new high and so did star prices. Now, it is normal to speak of film prices in crores of rupees as against lakhs a couple of years ago.
EYEWASH, BIHAR STYLE
The Bihar distributors decided to put a ceiling on film prices and resolved to pay not more than 35% of a film's ratio, for their territory. But this has led more to dealings in cash than anything else.
PRICE HIKES
Price hike at the time of a films' delivery has become the in-thing. In 90% of the cases, producers increased their film prices at the time of release. Distributors cribbed but, all the same, paid the increased prices in most of the cases.
BIG B'S BIG COMEBACK
Amitabh Bachchan staged a comeback to acting by launching a film to be produced by his ABCL and directed by Indra Kumar, on 9th February. But while that film is yet to roll, his Mrityudaata is almost complete. He has also signed several other films, some of which are already on the floors.
ELECTION BLUES
The Lok Sabha election results in May were not exciting for the industry as several industry folks lost the elections. Among the losers were Rajesh Khanna, Raj Babbar, Revathi, Ramesh Deo and K.C. Bokadia. Shatrughan Sinha and Jaya Prada made it to the Rajya Sabha.
NATIONAL AWARDS FOR 'DDLJ', 'BANDIT QUEEN'
Aditya Chopra's Dilwale Dulhania Le Jayenge bagged the National Award for the best popular film of 1995, providing wholesome entertainment. Seema Biswas bagged the best actress National Award for Bandit Queen which also won a National Award for the best Hindi film.
AMITABH'S DAUGHTER TO WED RAJ KAPOOR'S GRANDSON
Amitabh Bachchan's daughter, Shweta, got engaged to Nikhil, son of Rajan and Ritu Nanda of the Escort empire, in Delhi on 1st January. Nikhil Nanda is the grandson of late Raj Kapoor and is a director in Escorts Yamaha Motors Ltd.
DO YOU KNOW?
* A record number of 14 actors and 8 actresses made their debuts in films in 1996. The 14 actors are Arshad Warsi, Milind Gunaji, Mukul Dev, Sharad Kapoor, Chandrachur Singh, Nirmal Pandey, Abhishek Kapoor, Indra Kumar, Manik Bedi, Samrat, Faraaz Khan, Puru Raaj Kumar, Mohan Kapur and Shaadab Khan. The eight new actresses are Ranee, Sushmita Sen, Suman Ranganathan, Priya Gill, Mayuri Kango, Rambha, Koyal and Rupali.
* The Tolani brothers, Sanjay and Rajiv, who own the best (twin) cinemas of Indore, Sapna and Sangeeta, have jumped into distribution and how! They've acquired five films for C.I. The films they will be distributing are BADE MIYAN CHOTE MIYAN, ..AUR PYAR HO GAYA, VISHWA VIDHATA, OFFICER and DIL DEEWANA MANE NA. Besides this, Sanjay is presenting Vicky Kumar's ZOR (starring Sunny Deol and Sushmita Sen), and Rajiv is producing a film (also starring Sunny Deol) in association with Guddu Dhanoa.
CLASSIFICATION: 1996
(Total 125 films, including 29 dubbed films)
Movie Marvel Of The Year
RAJA HINDUSTANI
AA (Super Hit)
–
A1 (Hit)
SAAJAN CHALE SASURAL
AGNI SAKSHI ('AAA' in Maharashtra)
BANDIT QUEEN
A (Semi-Hit)
GHATAK ('BB' in Eastern Circuit)
JEET ('B1' in Eastern Circuit)
BB (Overflow)
Hindustani (dubbed; 'AAA' in Maharashtra, losing in Rajasthan)
Jaan ('A' in Delhi-U.P. & East Punjab)
Khiladiyon Ka Khiladi
Commission To Overflow
Masoom ('A' in Maharashtra)
Loafer
Diljale (losing in some circuits)
Raja Ki Aayegi Baaraat (losing in some circuits; 'BB' in Bihar & C.P. Berar)
Tere Mere Sapne ('A' in Bombay & losing in Eastern Circuit)
Fareb ('A' in Maharashtra)
B1 (Commission Earner)
Antim Yudh (dubbed; 'BB' in South)
Coverage To Commission
Ek Bandar Hotel Ke Andar (dubbed)
Chaahat
Army
Mission: Impossible (dubbed)
Mita Doonga Naam-O-Nishan (dubbed)
TOP HEROES OF 1996
1. Aamir Khan – Raja Hindustani
2. Sunny Deol – Ghatak, Jeet
3. Kamal Haasan – Hindustani
4. Nana Patekar – Agni Sakshi
5. Govinda – Saajan Chale Sasural
TOP HEROINES OF 1996
1. Karisma Kapoor – Raja Hindustani, Jeet, Saajan Chale Sasural
2. Manisha Koirala – Agni Sakshi
3. Seema Biswas – Bandit Queen
4. Rekha – Khiladiyon Ka Khiladi
5. Tabu – Jeet, Maachis, Saajan Chale Sasural
TOP SONGS OF 1996
1. Pardesi pardesi – Raja Hindustani – Nadeem Shravan
2. Ghar se nikalte hi – Papa Kahte Hain – Rajesh Roshan
3. Latka dikha diya humne – Hindustani – A.R. Rahman
4. Pyaar karna mushkil hai –Agni Sakshi – Nadeem Shravan
5. Yeh teri aankhen – Fareb – Jatin Lalit
6. Chappa chappa charkha chale – Maachis – Vishal Bhardwaj
7. Chhota bachcha samajh ke – Masoom – Anand Raaj Anand
8. Aankh maare o ladka – Tere Mere Sapne – Viju Shah
9. Aaj main ooper – Khamoshi – Jatin Lalit
10. Jhanjharia – Krishna – Anu Malik
11. Telephone – Hindustani – A.R. Rahman
12. Kya ada kya jalwe – Shastra – Aadesh Srivastava
13. Yaara o yaara – Jeet – Nadeem Shravan
14. Shaher ki ladki – Rakshak – Anand Milind
15. Ho nahin sakta – Diljale – Anu Malik
16. Banno teri ankhiyaan – Dushmani – Anand Milind
As Govt. Fails To Extend 50% Ent. Tax Concession
MAHARASHTRA CINEMAS DOWN SHUTTERS FROM 1ST JANUARY
Bandh Not 100% * Action Committee Meets CM
˜˜Cinemas in Maharashtra closed down indefinitely from 1st January, 1997, in protest against the state government's refusal to continue the concession of 50% entertainment tax beyond 31st December, 1996. The rate of tax had been brought down from 100% to 50% in September '94 and renewed further in September '95 for a year, and again in September '96 for three-and-a-half months till 1996-end. With the Shiv Sena-BJP government having refused to continue the concession from the new year, cinemas all over the state downed shutters from 1st January. Had they continued to conduct shows, the old rate of 100% entertainment tax would prevail from the new year's day. The closure entered the fourth day today (4th January).
The cinema bandh call has been given jointly by the Cinematograph Exhibitors' Association of India (CEAI), the Theatre Owners' Association (TOA), Central Circuit Cine Association (CCCA), Indian Motion Picture Distributors' Associatoin (IMPDA) and Kinematograph Renters Society (KRS). Despite the joint call, the bandh is not 100% as cinemas in Marathwada region (Nizam circuit) are operating and have not closed down. The Marathwada region includes cities like Aurangabad, Latur, Parbhani, Nanded etc. Cinemas in this region did not heed the bandh call because of an assurance given by the local MP, Chandrakant Khaire, that some relief would be given to the cinemas. According to a cinema owner of Aurangabad, two more reasons have prompted them to refrain from joining in the closure: one, the exhibitors' associations of Bombay did not take them (cinemas of Marathwada) into confidence and did not even consult them before taking the extreme step of closure and secondly, it is felt by Marathwada cinemas that the government is sore about the high admission rates charged by some Bombay cinemas and since they (Marathwada cinemas) do not have high admission rates, they are unnecessarily being made to suffer because of the handful of Bombay cinemas. In fact, the cinemas of Marathwada have suggested to the government that it should retain the rate of 50% entertainment tax for admission rates upto, say, Rs. 25 or 30 and fix it at 100% for rates above that.
A delegation of the Marathwada Film Exhibitors Association, headed by its president, Ravi Machhar, met Chandrakant Khaire on 31st December. The minister assured the delegation that he would discuss the demands of the cinema owners of Marathwada region with the Maharashtra chief minister and since he appealed to the delegation not to close the cinemas, the latter decided to honour his request. The delegation included Atul Save (secretary), Jugalkishore Tapadia, Amin Sayeed Khan, Sadanand Pande, Noor Khan, Shaikh Salim and Quaisar Khan. They presented a memorandum of demands to Khaire.
Although cinemas of Marathwada are in operation, leaders in Bombay are prevailing upon them to fall in line and down shutters. Foreign film companies, in response to the bandh call given by KRS, have since withdrawn their films which are running in cinemas of Marathwada.
The state has approximately 1,300 cinemas, including a little over 100 in Bombay.
On its part, the government until 3rd January seemed to be adamant about the 100% tax rate. It seemed to be in no mood to reconsider its decision of levying 100% tax with effect from 1st January, 1997. It had not been convinced by the industry's argument that its revenue from entertainment tax increased from Rs. 80 crore in 1994-95 to Rs. 88 crore in 1995-96 because of the 50% tax concession. In the six months from April '96 to September '96, the total entertainment tax collected is said to be Rs. 54 crore.
The government argued that had the tax rate been 100%, it would have earned Rs. 176 crore (double of Rs. 88 crore) in 1995-96. It, therefore, viewed the concession as having caused the exchequer a loss of Rs. 88 crore.
But when the action committee met Maharashtra chief minister Manohar Joshi and cultural affairs minister Pramod Navalkar on 3rd January, the two ministers seemed to be in a mood to heed the industry's demands. Although no concrete assurance was given to the action committee members, the latter felt, the government would reconsider its stand and offer some relief, at least.
The bandh is supported by distributors who have stopped supplying films to cinemas in the state. Since Bombay (in Maharashtra) is the nerve centre of the film industry, all releases of new films have been indefinitely postponed as producers would not like to release their films in other circuits without releasing them in Bombay territory, for fear of video piracy. As a result, the shortage of films has started to be felt by cinemas of other circuits too. Only Aastha has been released this week all over except in C.P. Berar. No other film is scheduled to hit the screens next week or in the week following that. One or two small, non-star cast films like Ganga Maange Khoon and Maun may be released in the coming week or two outside Maharashtra to take advantage of the lack of oppositions. Besides these, no other film is being announced for release till Idd (Feb. 7) by which time it is hoped, cinemas would reopen.
INDUSTRY TO SUBMIT PROPOSALS TODAY
The action committee of the film industry, which met the chief minister and the cultural affairs minister of Maharashtra on 3rd January, is preparing proposals asked for by the government. The action committee met on 3rd itself and is likely to submit some proposals today (4th).
If the government approves of any proposal submitted by the industry or offers a counter-proposal agreeable to the industry, the possibility of the cinemas reopening from Sunday, January 5, is not ruled out. It is being whispered in trade circles that a two- or three-tier system of entertainment tax may be introduced, that is to say, there will be different rates of taxation for different admission rates, the tax rates increasing with the increase in admission rates. Different tax rates may also be fixed for air-conditioned and non-air-conditioned cinemas, it is learnt from reliable sources.
Don't Rejoice Today To Repent Tomorrow
The cinema closure in Maharashtra in protest against the state government's refusal to extend the concession of 50% entertainment tax in the new year has not come a day too soon. In fact, a protest against the very levy of entertainment tax should have been made, and remedial action in the form of complete abolition of the tax, sought.
In today's times, when cinema has to compete with television and satellite channels, entertainment tax on films makes no sense. After all, why should the industry pay tax to show films when the same films are shown by Doordarshan and all satellite channels without the need to pay any tax? It is discrimination at its worst.
It is rather strange that the government blatantly resorts to discrimination as above on the one hand and objects to price discrimination in the cinema industry. The state government is reported to have expressed displeasure over the trend of cinemas increasing admission rates after getting a concession in entertainment tax rate. What is the logic of the government's displeasure? All cinemas do not increase their admission rates. Only those which provide first-class amenities like air-conditioned auditoria, latest sound system etc. charge higher rates. Doesn't price discrimination exist in other industries that it should be looked down upon in our industry?
It is also strange that the state government can completely exempt the recent Michael Jackson show held in Bombay and yet sell tickets at Rs. 1,000 and Rs. 5,000 but frown upon cinemas pricing their tickets at Rs. 50 or Rs. 100, that too, after having to pay entertainment tax.
And if this trend of hiking admission rates to what the government feels is an "unaffordable level" is what has prompted it to withdraw the 50% tax rate and revert to the 100% rate, the following statistics need to be pointed out to the government: Of approximately 1,300 cinemas in the state, just 7 cinemas have admission rates of Rs. 50 or more, that too, for one or two small classes in the said cinemas. Put differently, of the 8 lakh and odd seats in the 1,300 cinemas, just about 3,000 seats are priced at the government's "unaffordable" level. That is to say, only about 0.375% of the total seats in the state come in the government's objectionable category. To penalise the entire industry for the action of less than half a percent of the total cinema seats is ridiculous. Only a non-thinking government can do such a thing. And mind you, the action of this 0.375% is not incorrect, it is only considered wrong by the government. No court has branded the admission rates of these 0.375% cinema-seats as wrong, inappropriate, objectionable or unaffordable.
Yet another grouse of the government is that its entertainment tax revenue has not increased from Rs. 80 crore to Rs. 88 crore in one year, but has rather decreased by 50% because of the 50% concession given in tax. The government could as well have said that had the tax rate been 150%, it would have collected Rs. 264 crore. Suffice it to say that tax collection and rate of tax don't move upward simultaneously. So, such misleading comments by the government serve only to expose its ignorance of knowledge about basic economics.
Lastly, a word for the Maharashtra film industry. The Marathwada exhibitors committed a grave mistake in not supporting the bandh and instead keeping their cinemas open. There can be no excuse good enough to pardon their lapse. It is likely that the leaders in Bombay may accept a compromise solution offered by the government (as is being rumoured) for fear that there is no complete unity (Marathwada exhibitors not supporting the exhibitors in the rest of the state). If they do so, they will be committing a mistake more grave than what the Marathwada exhibitors have committed by not joining the bandh. Today, these words of caution may not seem to have much meaning. But the time ahead will prove that if the industry acts in haste today, it will repent tomorrow.
– Komal Nahta
Dream Merchant
The Dream Marriage
Maybe because it is the season of marriages and I've been attending a lot of them that I dreamt of a beautiful wedding card I received.
The card mentioned that the daughter of Guddi and Coolie would wed the grandson of Awara Shri 420. I liked the style of the card as much as I liked the words used. So I decided to probe further into this marriage which promised to be the best in Bollywood and the corporate world. Bollywood, because the bride-to-be was the daughter of a legendary superstar, and corporate world, because the bridegroom-to-be was the son of a multi-millionaire industrialist, besides being the grandson of a late legendary filmmaker and actor.
I learnt that the baaraat would come not on foot, as is customary, but on motor-cycles. Why, the bridegroom himself would not ascend a ghodi, as is the Hindu custom, but would also come riding a motor-bike manufactured by his own company. At the reception, I was told, the bridegroom's family had made arrangements for every guest to be 'Escort'ed to the dais which was being erected in filmi style for the couple.
I learnt from the common dress designers of the girl and boy that the two had been meeting chupke chupke since quite a few months. Which means, the silsila wasn't new and the love story had a filmi tinge. Which also means, it isn't a case of do anjaane meeting for the first time. What is more, the parents of both, the girl and the boy, were also hoping that the wedding bells would toll for the two. So, when the boy did finally propose to the girl, the latter's father told the former's mother, "Oh, this is the realisation of tere mere sapne!"
About the boy and the girl, people say, they are both Indians at heart, although they've lived abroad and even studied there. That's because the girl is the daughter of a true desh premee, one of the prominent saat hindustanis, and the guy is the first cousin of the new rani hindustani. Talking of relations, the boy's youngest maama (maternal uncle) has decided to write a granth on his nephew's prem story. But the eldest maternal uncle of the groom-to-be lovingly scoffs at the enthusiasm of his brother as he feels, all love stories are the same since jawani is always diwani, whoever the love birds.
Coming to the pre-marriage functions, the bridegroom's family will hold an evening of sargam, to be hosted by another maternal uncle of the groom. The girl's father will not have the run-of-the-mill ladies' sangeet programme. Instead, he has opted for an all-mard, aalaap recital only, which is expected to be held in his favourite city, Bangalore. This recital will have the patronage of the Karnataka government too and although the participants will be only males, it will, nevertheless, be attended by beauties from all over the world. Lest the not-so-beautiful ladies revolt in opposition, the bride's father has decided to also have some special invitees from among them.
A joint dandiya nite will be organised by the families of the boy and the girl in Delhi, a day before the marriage. No liquor will be served at this nite as the groom's father wants no people dancing under the influence of alcohol. No entry for sharaabis then! At this dandiya nite, the girl's mother is expected to present a special dance item, 'Pallo latke'. Not to be left behind, the girl's father will dance to the tune of 'Hey sabse bada tera naam, O Sheranwali'. Entry to this function as to all the other functions too will be strictly by invitation only and gate-crashers will be checked, because they will be a congregation of all big names from all corners of the world. No place for benaams then.
The baaraatis will receive gifts from the girl's father, in the form of 100 shares of his new company. The groom's gracious parents have also decided to gift a cooking range to each and every guest from the girl's side. But the two families have decided not to accept any wedding uphaars. Presents in blessings only, you see.
For the reception, the best bawarchis of every state in India have been hired by the groom's maternal uncles so that they can live up to their reputation of being descendants of the showman. On his part, the girl's father has hired the services of internationally acclaimed cooks so that his shaan remains intact. While the girl's father will receive the guests on the dais, her only brother will stand at the entrance with folded hands. Bade miyan and chote miyan sharing responsibility.
For their honeymoon, tips will be taken from the bridegroom's maternal uncle who insists, he has become an expert at honeymooning after having worked in a film called Honeymoon.
Gosh, what have I been letting you readers into. I was supposed to keep all this a closely guarded secret till the D-Day. But when will I get over this habit of writing in my dream? Anyway, I'm happy, I haven't let out the names of the groom and the bride.
No, please don't ask me: "Naam kya hai?"
– Komal Nahta
GRAFFITI
The film industry and the
government share a
give-and-take relationship…….
The industry always gives
and the government only takes.