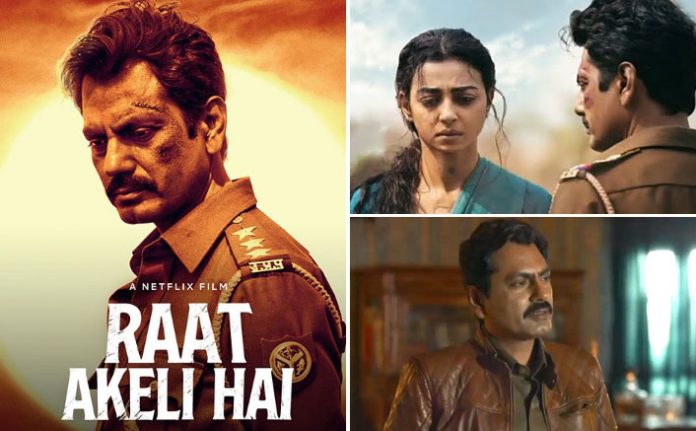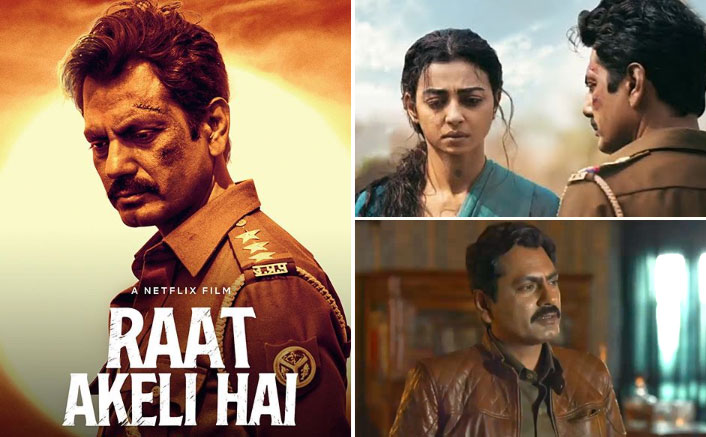 RSVP and MacGuffin Pictures' Raat Akeli Hai is a murder mystery. Thakur Raghubeer Singh (Khalid Tyabji) is murdered soon after he weds his mistress, Radha (Radhika Apte), who is probably less than half his age. Raghubeer Singh's first wife (Natasha Rastogi) had died in a car accident. The driver had also died in the same road accident which was of the nature of a head-on collision between the car and a truck. The driver's daughter, Chunni (Riya Shukla), works as a maid in Thakur's house and lives with her grandmother who has lost her mental balance after the demise of her driver-son.
Police inspector Jatil Yadav (Nawazuddin Siddiqui) is investigating the murder. In the palatial home are Raghubeer Singh's son, Karan (Nitish Tiwari), daughter Karuna (Shweta Tripathi), son-in-law, Ravi Sisodiya (Gyanendra Tripathi), nephew, Vikram (Nishant Dahiya), niece, Vasudha (Shivani Raghuvanshi), sister-in-law, Pramila Singh (Padmavati Rao), the first wife's brother (Swanand Kirkire), maid, Chunni and, of course, new bride Radha. Jatil is aided by his deputy, Nandu (Shreedhar Dubey), and is working under the guidance of SSP Lalji Shukla (Tigmanshu Dhulia). Local MLA Munna Raja (Aditya Srivastava) does not approve of Jatil's ways of investigation and complains to the SSP. Is Jatil Yadav allowed to solve the murder mystery? Who is the killer? And how is his name revealed?
Smita Singh has penned an interesting story which is full of intrigue. Her screenplay is fast-paced and very interesting as also engaging. There is not a single dull moment, at least till the last around 45 minutes. However, boredom does creep in at places once the pieces of the mystery start getting put together. The solution of the murder mystery appears a bit far-fetched and, therefore, robs the drama of the thrill and excitement of the earlier part. Some scenes towards the end of the drama seem warped and will not be easily digested by the majority of the viewers. The logic for the behaviour of some characters is also unconvincing. Having said that, it must be aded that the entire pre-interval part and the first half of the post-interval portion are very entertaining and intriguing and they keep the audience guessing about what may have happened. Smita Singh's dialogues are very natural.
Nawazuddin Siddiqui is fantastic as Jatil Yadav. Not in a single scene does he overact or go overboard. He is in character all through and delivers a first-rate performance. Radhika Apte is natural to the core and lives the role of Radha. Aditya Srivastava stands his own as MLA Munna Raja. Nishant Dahiya is quite effective as Vikram Singh. Shreedhar Dubey makes a fantastic impact as Jatil's deputy, Nandu. Shweta Tripathi leaves a fine mark as Karuna. As her husband, Gyanendra Tripathi is wonderful. Shivani Raghuvanshi does a very good job as Vasudha. Padmavati Rao makes her presence amply felt as Pramila Singh. Ila Arun is very endearing and effective as Jatil's mother. Swanand Kirkire has his moments as the brother of Raghubeer Singh's first wife. Tigmanshu Dhulia is very good as the SSP. Riya Shukla (as Chunni) lends lovely support. Khalid Tyabji evokes hatred among the viewers, with a natural performance. As Chunni's grandmother, Balvinder Kaur is alright. Natasha Rastogi is fair as Raghubeer Singh's first wife. As her driver and Chunni's father, Vinod Rawat is okay. Ravi Bhushan is suitably terrifying as the de facto owner of the tannery. Nitish Tiwari is so-so as Karan, son of Raghubeer Singh. Others provide decent support.
Honey Trehan's direction is nice. His grip on the audience does become loose in the last about half an hour but that's more because of the far-fetched part of the drama than his narrative style. Sneha Khanvilkar's music is not of the popular variety but even then, the music is melodious. Lyrics (Swanand Kirkire and Raj Shekhar) are meaningful and weighty. Karan Kulkarni's background music is wonderful. Pankaj Kumar's camerawork is superb. Harpal Singh Pali's action scenes and fights are appealing. Production designing (by Rita Ghosh) and art direction (Rajesh Choudhary and Madhumita Sen) are of fine standard. A. Sreekar Prasad's editing is super-sharp.
On the whole, Raat Akeli Hai is a well-made and well-enacted whodunit. However, the last about half an hour seems rather implausible and, therefore, is not as exciting as it should've been. It, therefore, has its limitations in spite of being an entertaining thriller in the first half. It will do ordinary on the streaming platform but its chances in the cinemas would've been much lesser.
Released on 31-7-'20 on Netflix.