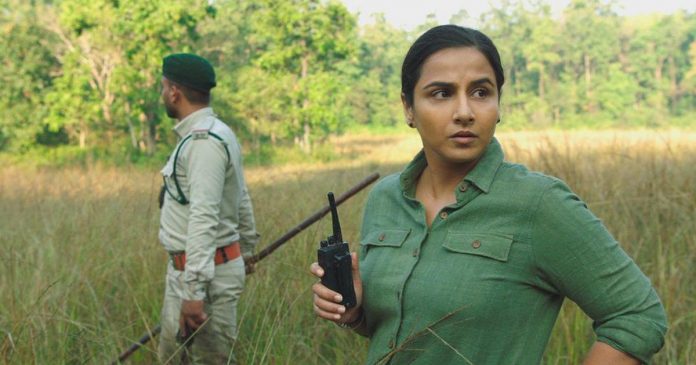 Amazon, T-Series Films, Abundantia Entertainment and Critical Mass Films' Sherni (V/U) is the story of a lady forest officer, Vidya Vincent (Vidya Balan), who moves heaven and earth to save a tigress, T12, which has been on the prowl in the jungle and has been killing people. There is a conservationist, Pintu (Sharat Saxena), who is bent upon killing the tigress in a bid to win brownie points among the villagers. Some villagers, however, are on the side of Vidya Vincent. Vidya's senior, Akhil Nangia (Neeraj Kabi), is finally put in charge of leading the mission to capture T12. Whom does he side with? Does Vidya Vincent accomplish her mission?
Aastha Tiku's story holds appeal for a very thin section of the audience because it deals with jungles and animals. Moreover, it moves on a single track and is, therefore, devoid of the usual ingredients of a masala film. Aastha Tiku's screenplay leaves a lot to be desired as it is sketchy. The writer has assumed that the viewers are well-versed with forest officers, their duties, tigers, how they are tracked etc. But the fact remains that the audiences are not well-versed with the above. Even otherwise, repetitive scenes further bore the viewers who often get the feeling that the drama is simply not moving forward. Hence, instead of involving the audience, the screenplay makes the majority of them silent spectators who often get bored because the drama moves at a snail's pace. Even the face-off between the protagonist (Vidya Vincent) and the antagonist (Sharat Saxena) lacks fire. All in all, the story and screenplay are not at all of the kind which would be liked by viewers of Hindi films. Dialogues, penned by Amit Masurkar and Yashasvi Mishra, are routine and don't stand out at all.
An actress of the calibre of Vidya Balan hardly impresses in the insipid drama because the script offers her no really worthwhile scene. Sharat Saxena is ordinary as Pintu. Vijay Raaz seems to be miscast in the role of Hassan Noorani although his performance is fair. Neeraj Kabi is good as Akhil Nangia in a role that gives him very little scope. Brijendra Kala is quite entertaining as Bansilal Bansal. Ila Arun stands out in a tiny role as Vidya's mother-in-law. Mukul Chadda lends ordinary support as Vidya's husband, Pawan. Suma Mukundan is okay as Vidya Vincent's mother. Sampa Mandal has her moments as villager Jyoti. Prateek Pachori (as Babbal), Anoop Trivedi (as Pyarelal), Satyakam Anand (as P.K. Singh), Amar Singh Parihar (as G.K. Singh), Gopal Dutt (as Saiprasad), Lokesh Mittal (as Mohan), Shakul Singh (as contractor Manish), and Manoj Bakshi (as the minister at the jungle camp) provide fair support. Others fit the bill.
Amit Masurkar's direction is not half as impressive as it ought to have been. Had the film even been educative, there would've been a reason for the audience to watch it. But it is neither entertaining nor educative. Hussain Haidry's lyrics are appealing and so is the music. Background music (by Benedict Taylor and Naren Chandavarkar) is so-so. Rakesh Haridas' cinematography is decent. Nishant Khan's action and stunt scenes are nice. Production designing (by Devika Dave) is fair. Dipika Kalra's editing is ordinary and leaves something to be desired.
On the whole, Sherni is dry and drab and is meant for a very thin section of the class audience.
Released on 18-6-'21 on Amazon Prime Video.