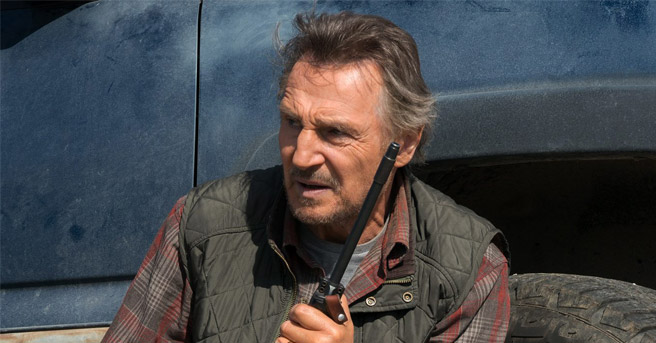 Sculptor Media, Zero Gravity Management and Stonehouse Motion Pictures' The Marksman (dubbed from the Hollywood film of the same name; UA) is the story of a retired US Marine, Jim Hanson (Liam Neeson), who makes it his mission to ensure that Miguel (Joe Perez) reaches his family in Chicago. Miguel is the son of Mexican citizen Rosa (Teresa Ruiz). The two were crossing over illegally when they were spotted by Jim Hanson on the Arizona-Mexico border. Rather than reporting them to the border patrol, he tries to save them from the Mexican Drug Cartel, led by Maurico (Juan Pablo Raba). While Rosa is killed by the Drug cartel, Miguel is saved.
As Hanson and Miguel are going to Chicago, they are chased by Maurico. What happens thereafter?
Chris Charles, Danny Kravitz and Robert Lorenz have written a story and screenplay which are far from novel. The drama appears like a normal chase story. The adventures are not of the kind which will shock the audiences. Even otherwise, the predictable screenplay is replete with ordinary scenes.
Liam Neeson is good in the role of Jim Hanson. Katheryn Winnick (as Sarah Pennington) is quite nice. Juan Pablo Raba does a fair job as Maurico. Joe Perez performs ably as Miguel. Teresa Ruiz lends decent support as Rosa. Dylan Kenin (as Randall Brennan), Luce Rains (as Everett Crawford), Sean Rosales (as Hernando) and Alfredo Quiroz (as Carlos) perform routinely.
Robert Lorenz's direction is ordinary. Sean Callery's background music is commonplace. Cinematography (by Mark Patten) is okay. Production designing (by Charisse Cardenas) and art direction (Gregory G. Sandoval) are of standard. Luis Carballar's editing is loose. Dubbing is quite good.
On the whole, The Marksman is an average fare and, therefore, will not be able to do much at the box-office.
Released on 26-2-'21 at Jai Hind Mukta A2 (daily 2 shows) and other cinemas of Bombay thru UFO Cine Media Network. Publicity & opening: dull. …….Also released all over. Opening was below the mark everywhere.