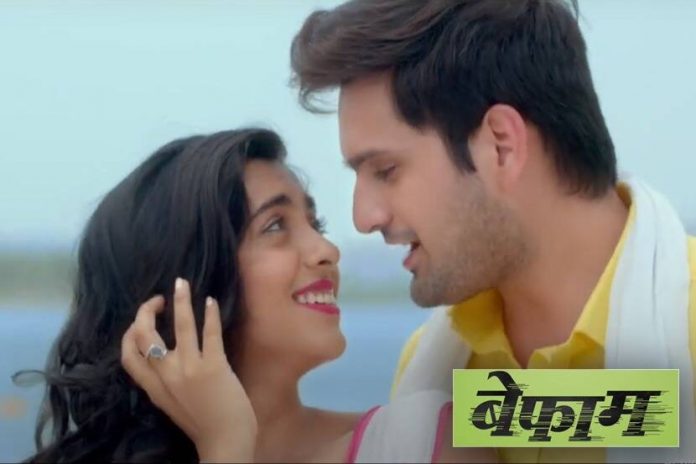 Amol Kagne Films' Befaam (Marathi) is the story of a man, Siddharth (Siddharth Chandekar), who has a slight defect in his eyes. He becomes a radio jockey. He is shattered when, one day, he learns that Nandita (Sakhi Gokhale), the girl he has a crush on, is engaged to be married. Siddharth quits his job. What happens thereafter?
Vidyasagar Adhyapak has penned a story and screenplay which are not very convincing. The drama, therefore, fails to engage the viewers much. There are some interesting moments, of course, but they are few and far between. His dialogues are so-so.
Siddharth Chandekar does well. Sakhi Gokhale is alright as Nandita. Vidyadhar Joshi is quite okay as Siddharth's father, Dr. Chinmay Sharangpani. As Siddharth's mother, Seema Deshmukh is ordinary. Shashank Shende, Kamlesh Sawant and Nachiket Purnapatre provide the desired support. Others are average.
Krishna Kamble's direction is okay. His narrative style is not of the kind which can camouflage the shortcomings of the script. Music (Amitraj and Mandar Khare) and lyrics (Kshitij Patwardhan) are functional. Umesh Jaadhav's choreography is fair. Aditya Bedekar's background music is commonplace. Prasad Bhende's cinematography is quite nice. Nitin Borkar's sets are ordinary. Editing (Rajesh Rao) should've been sharper.
On the whole, Befaam is too ordinary to make an impact at the turnstiles.
Released on 26-2-'21 at Carnival Sangam (daily 1 show) and other cinemas of Bombay thru Pickle Entertainment And Media Pvt. Ltd. Publicity & opening: dull.