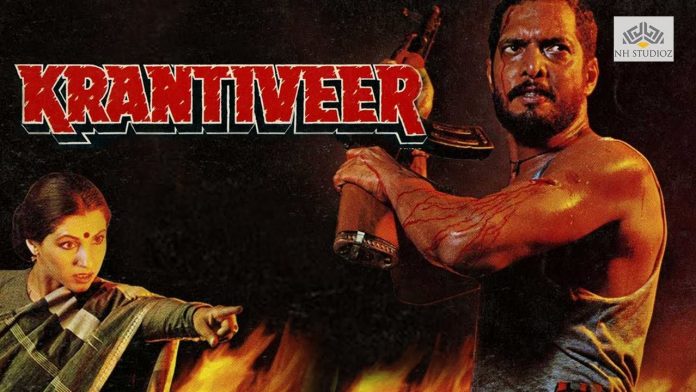 (From our issue dated 22nd October, 1994)
Producer-director Mehul Kumar's Krantiveer, a Dinesh Gandhi presentation, celebrates 100 days today (Oct. 22) all over. The film stars Nana Patekar, Dimple Kapadia, Atul Agnihotri, Mamta Kulkarni, Paresh Rawal and Danny. Written by K.K. Singh, it has music by Anand Milind, lyrics by Sameer, editing by Yusuf Shaikh and cinematography by Russi Billimoria.
Dream Merchant
Hawa Hawai
I may have been the only star-journalist who turned down the invitation to attend the famous Popley wedding on board an aeroplane earlier this week. Non-film folks do not interest me, I thought to myself, before faxing my inability to attend the hawa hawai marriage, to the bridegroom's pop at his jewellery showroom.
I decided to make a survey of what the film industry people had to say about the fancy marriage in mid-air.
I first bumped into Ajay Devgan. He was alternately pumping his muscles and rehearsing a difficult dance step. Mopping his forehead with a towel to wipe the sweat, he panted, "I am planning to tie the knot." "With whom?", I asked. "Oh, she is a swarg ki apsara," he replied and continued, "And so, the pheras will take place up in the air, close to the heavens." Ajay Devgan did not like it when I pointed out that he was, perhaps, inspired by the Popleys. He did not want to admit it.
Akshay Kumar snapped, "What marriage high up in the air? Look, when I get married, it will also be a flying-high marriage. You see, I'm flying high as far as my career goes and I'm sure, you understand what I mean by 'flying-high marriage." I gave him a confused look. His hi-fi language didn't make sense to me because I could only remember his latest releases like Ikke Pe Ikka, Amaanat and Main Khiladi Tu Anari. How was he flying high, I asked him. He gave me a very tu anari kind of look, but l looked the other way.
Giving up on Akshay, I went to meet Vinod Khanna. He was packing his suitcase and that of his son, Akshaye. He informed me that he was going to the Himalayas. I stared at him in disbelief. "So you are giving up the materialistic world and going to the Himalayas?" I said, trying to bring in a lot of emotion in my statement-cum-question. "Oh, shut up," Vinod howled. "I'm not settling on the Himalayas. I plan to launch my son's launching pad, Himalay Putra, on the Himalayas. If Popley can charter a plane for his son, Pop Khanna can charter a plane for Son Khanna, take the press to the Himalayas in it and launch Son on the mountain peak. It is not just marriages that are made in heaven, even star careers are made there." I nodded in agreement.
Even while I was in conversation with Vinod Khanna, I saw Boney Kapoor speeding in his car past the Khanna's house. My next stop had to be at Boney's office.
I was greeted by Boney who was ecstatic. "I have decided to effect deliveries of Prem in air," he declared. "And the aeroplane in which we give the deliveries will be studded with diamonds," announced Boney's friend-cum-distributor-cum-financier, Bharatbhai Shah, much to the joy of Boney. "That means, all the distributors of Prem will also be on board the flight," I concluded. "Yes, yes," Bharatbhai and Boney sang in unison, raising a toast to Prem and to their mutual prem. "So now, like marriages, Prem and deliveries can also take place in the air," I said.
"Don't change the order," Boney warned me. "What difference does it make?," I asked. "I may as well say that prem, marriages and deliveries take place in the air," I added. The disgust on the faces of Boney and Bharatbhai made me realise, the hitch was in the word 'deliveries' which followed love (prem) and marriage.
Finally, I came to Laxmikant Pyarelal. The two were sad about Subhash Ghai having opted for A.R. Rahman for his new film, Shikhar. "We will now record our songs in the air," said Laxmikant dejectedly. I asked him, if he had signed a TV serial and he replied in the affirmative. "The serial producer has told me, we will go on air next month," Laxmikant informed. "That's why I'm saying, we will record in air." I didn't know where to look, so I looked up — in the air.
On my way back home, I chanced to meet Raveena Tandon. She was cribbing about the 'liar' title given to her by the media. When I asked her what she thought of the hawa-mein-shaadi, she shot back, "It's not just the jewellers, even we do things in the air." "What things?", I asked her. "Why, hum sab hawa mein hi to baatein karte hain!", she replied. Before I could say anything to that, Raveena had vanished — into thin air!
– Komal Nahta
PEOPLE
Are Talking About
** Sanjay Kapoor, the pace at which he is signing films and the careful planning of his career by brother Boney Kapoor. Without a single release, Sanjay has about 10 films under his belt.
** Whether it was the film that the public rejected or Sanjay Dutt's presence in Amaanat that they resented. Actually, the film has not been liked. Its failure has nothing to do with Dutt acting in it.
PEOPLE
Are Wondering About
** Whether Akshay Kumar did take a hasty step in increasing his price after Mohra and Yeh Dillagi. They talk about the fate of Amaanat and the opening of Ikke Pe Ikka. Yeh price badi hai mast mast or yeh price baddhee hai fast fast?
** The future of the industry with so many satellite channels being started.
PEOPLE
Are Irritated About
** The move of the Andhra industry to not permit technicians from Bombay and Madras to shoot in Hyderabad even if the producer is from Bombay/Madras.
** The disadvantages of the star ceiling system. It may have made the stars more disciplined, but it has also been responsible for the stars hiking their prices. People are more critical of the improper implementation of the ceiling system.
YOU ASKED IT
What will be the exhibitors' move in Bombay following the high court's judgement striking down the Maharashtra government's circular restricting change in net admission rates?
– Most of the exhibitors would like to revise admission rates and increase the nett.
Which will be the first film to be released, which will be covered by the FMC-FDC resolution to delay video cassettes by two weeks from the date of theatrical release?
– N.N. Sippy's TEESRA KAUN? which has been scheduled for release on 23rd December.
Like films are sold piecemeal for West Bengal, Bihar-Nepal, Assam and Orissa, why are they not sold for Bombay city-suburbs, Maharashtra, Gujarat, Saurashtra and Karnataka?
– Producers sometimes do get offers directly from sub-distributors of Gujarat.
SNAPSHOTS
CHANGE OF DISTRIBUTOR
Satluj Dheer's Ikke Pe Ikka had a last-minute change of Bombay distributors. The original distributor — one Pandey who is reportedly a bank employee — pleaded inability to make payment for delivery. He stepped out and Sharad Doshi (Hira Films Pvt. Ltd.) stepped in. The latter has released the film in Bombay in the producer's account. Due to the last-minute hassles, the matinee (12 noon) shows in some cinemas of Bombay city and suburbs could not be conducted, thanks to late arrival of prints.

* * *
CINEMA SHARING
Thanks to the release rush on Diwali, there is a virtual shortage of cinemas — main and side. Suhaag has been slated for release at Bombay's Novelty cinema but it will have to share the running time (daily 3 shows) with Main Khiladi Tu Anari which is showing there currently. The cinema is screening Mohra in matinee shows. So, from 4th November, Novelty, Bombay will screen three films. Incidentally, Suhaag has also been booked at New Excelsior, Bombay for an open run.
* * *
POSTPONED
K.C. Bokadia has postponed the release of his Aao Pyar Karen from Diwali to 25th November. The obvious reason is lack of cinemas. Likewise, the release of Hum Hain Bemisal has also been postponed by a week, to 11th November. Udhaar Ki Zindagi, however, will definitely come on Diwali, even if that means releasing it in a very limited number of cinemas in Bombay.
SONA-KANDIVLI BOMBAY TO BE DEMOLISHED
Sona cinema at Kandivli, Bombay, downed its shutters on 14th October. Reportedly, it will give way to a commercial complex and a mini cinema.
'BAAZIGAR' GOLDEN JUBILEE
Venus' Baazigar entered 50th golden jubilee week on 21st October. Directed by Abbas-Mustan, the film stars Shah Rukh Khan, Kajol and Shilpa Shetty in the lead roles. Music: Anu Malik.
U.P. CINEMAS TO COLLECT RE. 1 PER TICKET
The Uttar Pradesh government has increased maintenance charges allowed to cinemas with effect from 19th October. The cinemas are now entitled to collect Re. 1 per ticket instead of the earlier 25 paise.
'YEH DILLAGI' SILVER JUBILEE
Aditya Films' Yeh Dillagi entered silver jubilee week on 21st October all over. The film stars Akshay Kumar, Saif Ali Khan, Kajol, Saeed Jaffrey and Reema. It is produced by Uday Chopra and edited and directed by Naresh Malhotra. Music: Dilip Sen Sameer Sen. Lyrics: Sameer. Yash Chopra presents the film.
DO YOU KNOW?
'HUM AAPKE HAIN KOUN..!': RECORD-BREAKING SPREE CONTINUES
Creates a city record by collecting 1,59,858/- in 2nd week at Dreamland, Valsad. Better than 1st week (1,54,753/-), which itself was a city record.
Creates a record in 11th week at Mangala, Pune by collecting 2,04,783/-.
Creates records by collecting 2,29,721/- in 11th week at Hind, Calcutta, 1,46,551/- in 11th week at Menoka, Calcutta, and 1,00,828/- (full) in 1st week at Talkie Show House, Calcutta.
Creates a record by drawing all shows full in 1st week at Sringar, Hubli. Collection: 1,85,431/-.
It is the first film to be shifted from noon to regular shows at Santosh, Bangalore in 12th week (from 21st October).
GOVT. ASSURES REDUCTION IN COMPOUND TAX
A delegation of exhibitors of Maharashtra, led by Pranlal Doshi and Gunwant Desai, called on the chief minister, Sharad Pawar, on 18th October to apprise him of the adverse effect the Maharashtra government's ordinance for reduction in entertainment tax had on cinemas under the compounded tax scheme. The chief minister assured the delegation that an amendment would be made soon so that compound tax was also reduced by about 50%. Others in the delegation were Vikram Sinh Patankar (exhibitor and MLA), Kanhaiyalal Navandhar and Kanchan Sathe.
The early meeting with the CM was possible due to the efforts of Vikram Sinh Patankar, owner of Ranjeet Talkies, Patan (district Satara).
AKOLA EXHIBITORS PERMITTED TO ROUND OFF ADMISSION RATES
On an application by exhibitors of Akola (Maharashtra), the collector of Akola has permitted the rounding off of gross admission rates from 13thh October onwards. The inability to round off the rates under the Maharashtra government's ordinance and circular was creating a problem of small change, it was alleged.
Nett Admissions Rates
GOVERNMENT CIRCULAR STRUCK DOWN
The division bench of the Bombay high court on 17th October struck down the Maharashtra government's circular, restricting the right of cinemas to increase their nett admission rates, as inoperative. The interim order was passed in the writ petitions filed by Liberty cinema, Bombay and New Excelsior cinema, Bombay. The bench comprised Justices Mr. Pendse and Mr. Jhunjhunwala.
The effect of the aforesaid interim order is that cinemas in Maharashtra can increase their nett admission rates to the post-August 12 level or any other level.
3-E
Education-Entertainment-Enlightenment
Music Magic
Some musical notes now. The 'Rishta tera mera' song of Sultan Ahmed's Jai Vikraanta is not only rich in melody but also in lyrical content. It has the potential to become a tear-jerker in the film.
Upcoming singer Sonu Nigam has the versatility to strike it big. The young lad has sung beautifully for Mohan Kumar's Aazmayish.
'Jaati hoon main' from Rakesh Roshan'sKaran Arjunshould soon become a street song. The music is sweet.
Big Plans For Small Screen
Anupam Kher is not only busy entertaining people on the big screen but on small screen too. Kher's The Entertainment Company is speeding ahead, producing serials for television. His Imtihan serial is nearing the golden jubilee mark. Boxoffice, another programme produced by The Entertainment Company, went on air on the Money channel of JAIN Television earlier this week. It deals with the film industry, new releases, trends in the industry, interviews etc. Another serial, Vapsi, produced by Kher, should be on air soon. Two more serials, Saath Saath and Anupam Kher Show – Zero Se Hero, are being readied for Zee's L-TV. So, when Anupam's not facing the movie camera, you can be sure, he must be making somebody else face the video camera!
Facing The Camera
Saroj Khan, who has choreographed umpteen hit numbers, will be seen in a different role in Nadeem and Nadir Irani'sShastra. From behind the camera, the dance director has come in front of it. Yes, Saroj Khan has participated in a dance number of Shastra.