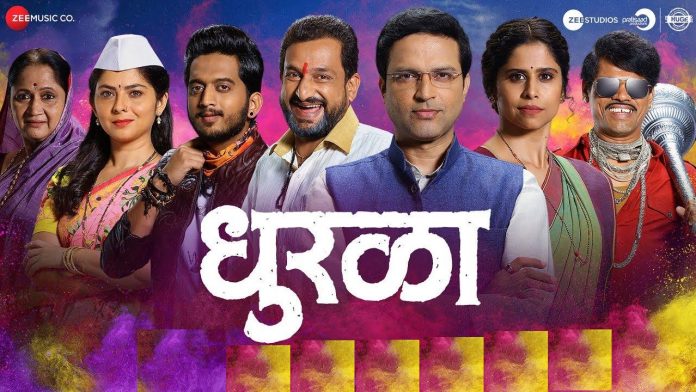 Zee Studios, Pratisaad Productions and Huge Productions' Dhurala (Marathi; UA; meaning 'Election fever') is about a family divided by politics.
The village sarpanch, Anna Ubhe, has died. He has left behind his widow, Jyoti (Alka Kubal-Athalye), three sons and two daughters-in-law. Navnath (Ankush Chaudhari) is the eldest son, and his wife is Harshada (Sai Tamhankar) who is pregnant with their first child. Hanmanta (Siddharth Jadhav) is the second son, and his wife is Monika (Sonalee Kulkarni). The youngest son is Nilesh (Amey Wagh), and he is a bachelor.
While Navnath wants to become the new sarpanch, the ladies of the village and the local MLA, Pruthviraj Shinde (Uday Sabnis), want Anna's widow to contest the sarpanch elections. This doesn't go down well with Navnath. Once Jyoti stands for elections, opposition leader Harish Gadhave (Prasad Oak) asks his wife to contest instead of him. But when Harish's wife refuses to get dragged into the political arena, Harish gets Nilesh on his side by instigating him against brother Navnath. On his part, Nilesh seeks the support of Hanmanta's wife, Monika. So now, Monika is fielded by Harish with the support of Nilesh. Seeing two women in the fray, Navnath also drops the plan of contesting the election himself and instead fields wife Harshada . Hanmanta is so loyal to Navnath that he supports Harshada's candidature rather than his own wife's.
So, it is Jyoti as one candidate, Harshada as another candidate, and Monika as the third candidate. The rivalry is all in the family. What happens thereafter? Who wins the elections? Does the family, torn apart by elections, unite again?
Kshitij Patwardhan's story is interesting but his screenplay lacks consistency. It is funny in parts but the comedy becomes tame at places. The battle lines drawn between the family members seem far-fetched because there are three candidates in the fray from one single family. Kshitij Patwardhan's dialogues are good.
Ankush Chaudhari does a fine job as Navnath. Sai Tamhankar performs ably as his wife, Harshada. Siddharth Jadhav acts ably as Hanmanta. Sonalee Kulkarni is good as Monika. Alka Kubal-Athalye leaves a fine mark with a lovely performance in the role of Jyoti Ubhe. Amey Wagh is effective as Nilesh. Prasad Oak does his villainy with flourish. Uday Sabnis has his moments in a brief role as MLA Pruthviraj Shinde. Priyadarshan Jadhav and Umesh Kamat are okay.
Sameer Vidwans' direction is alright. A.V. Prafullchandra's music and background score are quite nice. Lyrics (Kshitij Patwardhan) are in synch with the film's mood. Akash Agrawal's camerawork is good. Nilesh Wagh's art direction is appropriate. Editing (Faisal Mahadik and Imran Mahadik) is quite sharp.
On the whole, Dhurala has average merits but a good star cast to see it reach the average mark.
Released on 3-1-'20 at Bharatmata (daily 4 shows) and other cinemas of Bombay by Zee Studios. Publicity: very good. Opening: fair.