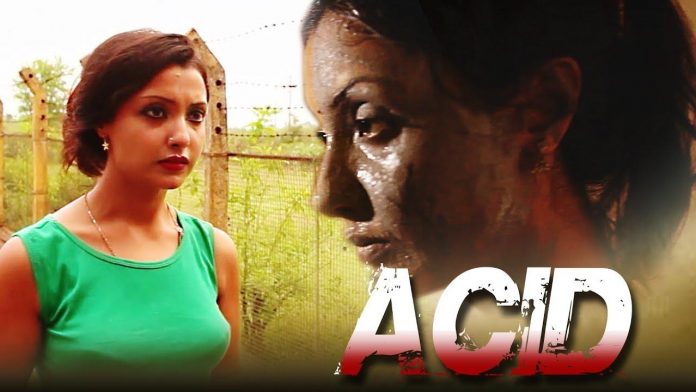 PS Film Craft International and Sourya Music International's Acid is the story of a jilted lover seeking revenge by throwing acid on his beloved's face. In this case, the beloved is the niece of the jilted lover.
Ruhana (Priyanka Singh) is a smart college student who is also good in athletics. Her father (Rangeela Rahi) dies in a road accident. She now lives alone with her widowed mother, Shabana (Mamta Verma).
Ruhana's paternal uncle, Bilal (Maan Singh), lives in Dubai but comes to India sometimes. In one such visit, he develops feelings for Ruhana and even proposes marriage. When Ruhana spurns his offer, he takes his revenge by throwing acid on her face.
Pankaj B. Uniyal's story is so miserable that it's a wonder, it could be used to make a film. His screenplay is full of holes. Even his dialogues are nothing to shout about.
Priyanka Singh is average as Ruhana. Maan Singh does an ordinary job as Bilal. Mamta Verma lends routine support as Shabana. Indu Prasad lends good support as Ruhana's friend, Madhu. Pankaj Uniyal is okay as sports teacher Abhishek. Rangeela Rahi is so-so as Ruhana's father.
Priyanka Singh's direction is as poor as the script. Ashish Mohanty's music and background music barely pass muster. Lyrics (Prashant Kumar, Rahul Chakrovarty and Jamil Ahemad) are fair. Shrikant Pattnaik's cinematography is commonplace. Sandeep Sethy's editing leaves plenty to be desired.
On the whole, Acid is a non-starter which will not make any mark at the box-office.
Released on 3-1-'20 at Gem (daily 1 show) and other cinemas of Bombay thru Screenshot Media Entertainment Group. Publicity & opening: very weak. …….Also released all over.