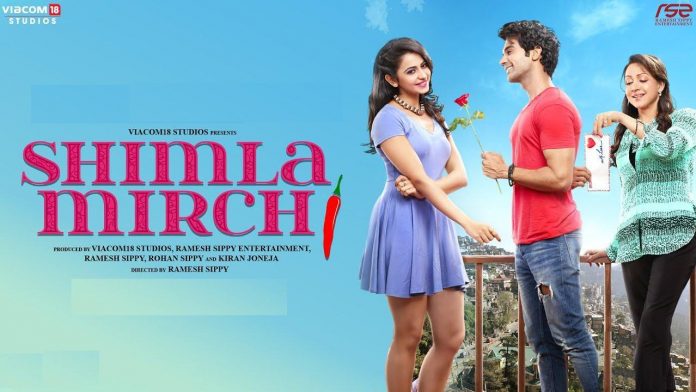 Viacom18 Studios and Ramesh Sippy Entertainment's Shimla Mirchi (UA) is a rom-com full of confusion and misunderstandings.
Avinash (Rajkumar Rao) falls in love with the hot-headed Naina (Rakul Preet Singh) in Shimla. But Naina, keen on making her single mother, Rukmini (Hema Malini), happy in life, uses the love letter written by Avinash to mislead the mother. So Rukmini starts believing that Avinash is in love with her, prompting her to approach her wayward husband (Kanwaljit Singh) and grant him divorce as he had wanted.
What happens when Rukmini realises that Avinash actually loves Naina?
The film is based on the French film, De Vrais Mensonges, and has a silly story, going by the Indian perspective. Even this comedy may have worked in the Indian context had the screenplay been funny and engrossing. But the screenplay, written by Kausar Munir, Rishi Virmani, Vipul Binjola and Ramesh Sipy, is so pathetic that it bores the audience to the core. The comedy more often than not falls flat on its face. Resultantly, the drama irritates the viewers when it should have entertained them. Frankly, the structure of the screenplay is such that the audience can easily predict what's in store. Even the predictability may not have been such a problem had the comedy been funny enough to make the viewers laugh but that doesn't happen. The dialogues, penned by the four writers, are good at places only.
Hema Malini looks beautiful but often overacts. Rajkumar Rao is average as Avinash. Rakul Preet Singh is so-so as Naina. Shakti Kapoor lends routine support as Captain Uncle. Kanwaljit Singh is fair as Rukmini's estranged husband. Kiron Juneja makes her presence felt. Dharmendra and Ramesh Sippy are ordinary in special appearances. Kamlesh Gill, Tarun Wadhwa, Priya Raina, Jagriti Sethi, Nita Mohindra and Zoya Khan are so-so.
Ramesh Sippy's direction is weak. Music (by Meet Bros. Anjjan and Meet Bros.) is not at all of the popular variety. Kumaar's lyrics are commonplace. Pony Verma's choreography is nothing to shout about. Background music (by Rohit Kulkarni) is not impactful enough. Jitan Harmeet Singh's camerawork is quite nice. Salaam Khan's action scenes are functional. Saini S. Johray's production designing is okay. Vijay Venkataramanan's editing could've been sharper. The film has taken too many years to release – and the staleness shows.
On the whole, Shimla Mirchi is not at all the entertaining comedy it should've been. It will, therefore, fail to make any mark at the box-office and it will rather meet with a disastrous fate.
Released on 3-1-'20 at Sterling (daily 1 show) and other cinemas of Bombay by Viacom18 Studios. Publicity & opening: terribly weak. …….Also released all over.