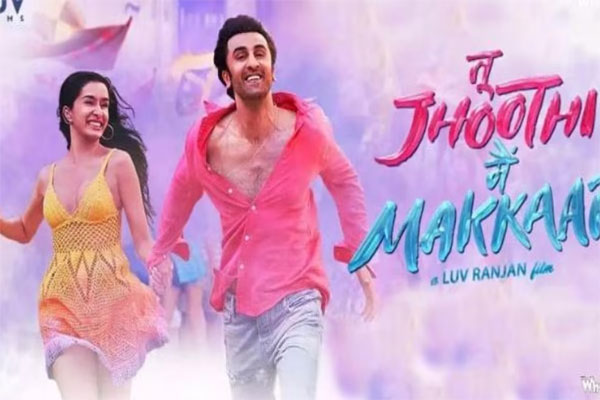 All the five releases of this week — MRS. CHATTERJEE VS NORWAY, ZWIGATO, SHUBH NIKAH, KABZAA (dubbed) and SHAZAM! FURY OF THE GODS (dubbed) — opened poorly yesterday/on Thursday.
Tu Jhoothi Main Makkaar did well in the first week but not well enough to justify its heavy cost and its star cast. Although the film will cross the average mark, its heavy cost (due to the Coronavirus lockdowns) and its mixed public reports will be the main cause for its limited profits. The film has been loved by one section of the audience, but another section did not find the first half interesting while liking the second half. The film also suffered quite a lot initially because of its release on a 'fractured' holiday. It opened on 8th on account of the Holi festival but, unfortunately for the film, the festival of colours was celebrated in some states the previous day (7th), because of which there was no holiday on the release day in such states. An odd-day release without a holiday can prove to be detrimental to the box-office interests of a film, and that's what happened to TJMM. It netted Rs. 14.25 crore on the first day (partial holiday on account of Holi). Collections reduced to Rs. 9.50 crore on the second day, and further to Rs. 9.25 crore on the third day. Collections showed a surge on Saturday (Rs. 14.50 crore) and again on Sunday (Rs. 15.75 crore). In this way, the film's first 5-day weekend closed at Rs. 63.25 crore. Collections on the weekdays were on the lower side: Monday – Rs. 5.50 crore, Tuesday – Rs. 5.20 crore, Wednesday – Rs. 4.85 crore, Thursday – Rs. 4.02 crore. With the total for the weekdays being Rs. 19.57 crore, the first week closed at Rs. 82.82 crore. The second weekend started with a take of Rs. 3.50 crore on Friday.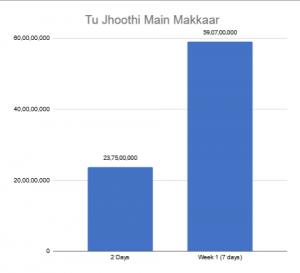 Lohardaga bombed miserably in its first week.
65 (dubbed and the original English versions) fared poorly in the first week.
Pathaan added Rs. 2.97 crore to its kitty in its 7th week. Of this, Rs. 2.90 crore came from the Hindi version whereas the dubbed versions accounted for Rs. 0.07 crore. Grand total for 7 weeks: Rs. 540.98 crore (Hindi Rs. 522.40 crore; dubbed Rs. 18.58 crore).