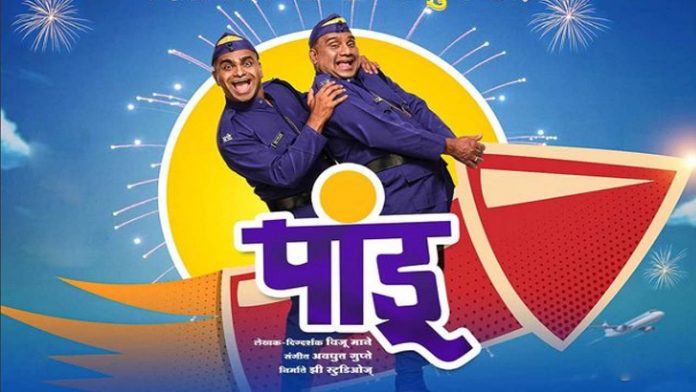 Zee Studios' Pandu (Marathi; UA) is the story of an honest police hawaldar, Pandu (Bhau Kadam). He and his friend, Mhadu (Kushal Badrike), are actually stage artistes who join the police force, thanks to politician Babasaheb Pathare (Pravin Tarde). Pandu marries Usha (Sonalee Kulkarni) but he soon learns that she has accepted the contract to kill Babasaheb Pathare.
Who has assigned Usha the job of killing Pathare? And why? Is Pandu able to save Pathare?
Viju Mane and Kushal Badrike have written a story which may lack novelty, but is still engaging. Their screenplay, with additional screenplay by Sameer Choughule, is fast-paced and more engrossing than the story. The twists and turns keep the interest of the viewers alive all through. Dialogues (Rajesh Deshpande; additional dialogues by Sameer Choughule) abound in double entendres and are very entertaining.
Bhau Kadam does a fine job in the title role. Kushal Badrike is fair as Mhadu. Sonalee Kulkarni performs quite well as Usha. Pravin Tarde shines in the role of Babasaheb Pathare. Prajakta Mali is alright as Babasaheb Pathare's daughter, Karuna. Uday Sabnis is so-so as the minister. Hemangi Kavi lends average support as Mhadu's wife, Sangeeta. Anand Ingale and Shahbaaz Khan provide good support. Others are okay.
Viju Mane's direction is upto the mark. He has narrated the drama in a manner that will be appreciated by the youth. Avadhut Gupte's music is very good. Lyrics (Avadhut Gupte, Viju Mane, Sameer Samant and Vaibhav Joshi) are appropriate. Song picturisations (by Vitthal Patil, Ganesh Raut and Demolition Group) are eye-filling. Anurag Godbole's background music is effective. Camerawork (by Shabbir Naik) is of a good standard. Sets (Bhushan Raut and Rakesh Kadam) are nice. Pratik S. Patil's editing is sharp.
On the whole, Pandu is an entertaining fare.
Released on 3-12-'21 at Plaza (daily 3 shows) and other cinemas of Bombay by Zee Studios. Publicity: good. Opening: fair.