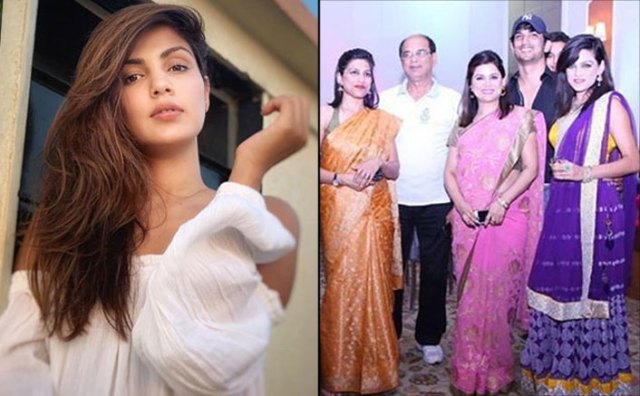 A Mumbai Mirror report today mentioned a source from the Enforcement Directorate (ED) saying that Sushant Singh Rajput's family had no clue whatsoever about his finances. The immediate question that arises is: So why the bloody hell did the family waste crores of rupees of public money to find out what in the first place they should've known as a family. And if the son did not want to confide in his father, or the brother did not take his sisters into confidence about how much he was earning and how much out of that he was spending and on whom and where, too bad for them. But how on earth could they have asked the government to do the dirty work for them — that too, after accusing his live-in girlfriend, Rhea Chakraborty, of siphoning off his funds! Inhuman, barbaric, absolutely horrific.
This was a clear case of getting back at Rhea because, obviously, they did not approve of her as his girlfriend. Again, too bad for the family if they did not like the girl whom Sushant loved. But who ridicules a son/brother's girlfriend after the son/brother is dead and gone? It's not even as if he had willed his property in her name. She was his girlfriend for the time she was and, of course, he would spend money on her. It's the Indian way — males spend on their girlfriends and shower them with gifts. So what did Sushant's dad and sisters think? That he should have gifted her a Rs. 500 pen or a Rs. 2,000 dress or a Rs. 3,000 pair of jeans on her birthday? He was an A-list actor, and his gifts would have, obviously, matched his status and his earnings. Some psychologist must do a case study on the minds of the father and sisters who, instead of mourning, got after an innocent girl and accused her of 'stealing' their son's/brother's money. Of course, nothing of the sort had happened — and so, the ED drew a blank. But after wasting public money, precious time (of more than two months) and tarnishing several reputations. The way the media went hammer and tongs after Rhea and her family, they (Rhea and her family) could have either died of heart attacks or killed themselves. Who would have been responsible then? And, more importantly, which TV news channel would then have asked for #JusticeForRhea just like channels had demanded #JusticeForSSR? Anything for TRPs, right?
The ED source's revelation, backed by the statement of the Rajput family lawyer, raises more questions than it answers. Vikas Singh, lawyer of the Rajput family, is reported to have said, "Yes, Sushant's family was not aware about his finances. That is because the family never interfered with his finances or tried to control him." What kind of ridiculous statement is this? Of course, the world got to know long back that Sushant's family was unaware about his finances. Otherwise, his family would not have filed the ridiculous complaint of money siphoning. But isn't the family now answerable to the public, the court and the government for having filed a baseless complaint DESPITE, as the lawyer himself states, not being aware about his finances? Isn't this a terrible precedent? Tomorrow, some industrialist's family, after his death, can level a similar charge against his friend or relative, and then wait for the government, the ED and the court to unearth the mystery for it. Is there no law against people who instigate a criminal waste of public money? Can they go absolutely scot free, that too, after admitting that they were clueless about their son's financial matters? Did they not have the common sense to talk to his Chartered Accountant? Couldn't they have got access to his bank account details to know where his monies had been transferred, to which accounts they had been transferred? How difficult was it to know if he had issued cheques or made transfers to Rhea Chakraborty or her family members or to any suspicious bank accounts or companies? And if the family could have easily done all this by simply and merely contacting his bank, what was the big deal in having the ED come into this? The ED should have entered the scene if and only if the family had concrete proof of the wrongful transfer of funds.
Just an aside here: believe it or faint but the ED called some film directors and asked them if they had paid signing amounts to Sushant? The ED wanted to know how much money Sushant had received just so that it could then assess how much he had spent or transferred. Since when have film directors started paying signing amounts to stars? The fact, of course, is that producers pay stars. Directors themselves are also paid by producers. The ED is also said to have asked these directors if the late actor could've been paid Rs. 15 crore in cash! Good heavens!!!
Anyway, Sushant's family should be held accountable if only because they were dumb enough to admit that they did not have knowledge about his financial matters.