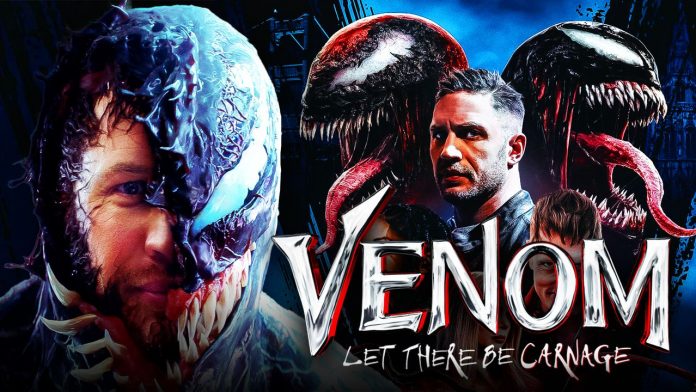 Columbia Pictures, Marvel Entertainment, Tencent Pictures and Pascal Pictures' Venom: Let There Be Carnage (dubbed from the Hollywood film of the same name; UA) is a superhero film and the sequel to Venom.
In 1996, a young Cletus Kasady (Jack Bandeira) watches helplessly as his girlfriend, Frances Barrison (Olumide Olorunfemi), is taken away by young police officer Patrick Mulligan (Sean Delaney). Barrison is shot in the eye by Mulligan who thinks that she is dead but she actually survives. Mulligan himself suffers an ear injury because of Barrison's deafening scream.
In the present times, Mulligan (Stephen Graham) contacts Eddie Brock (Tom Hardy) to speak to Kasady (Woody Harrelson), a serial killer who has been sentenced to death. Venom, Eddie's symbiote, is able to figure out where Kasady has hidden the bodies of the victims.
Kasady and Venom get into a fight in the prison, where the former bites Brock's hand. In this way, Kasady ingests a small part of the symbiote. Back home, Venom and Brock have a fight and the two go their different paths.
Meanwhile, Kasady's execution fails when a red symbiote emerges and blocks the lethal injection being used to kill him. The red symbiote is Carnage and it wreaks havoc in the prison. Kasady, with the help of Carnage, frees Barrison (Naomie Harris). Brock informs Mulligan, who has contacted him, that Venom has separated from him and hence he cannot fight Carnage. Soon, Brock's ex-girlfriend, Anne Weying (Michelle Williams), makes Venom and Brock patch up their differences. What happens thereafter?
Tom Hardy and Kelly Marcel have written an engaging story about a superhero. Kelly Marcel's screenplay moves at an extremely fast pace and, therefore, doesn't give the viewers any time to think. The drama involves the audience right from the word 'go'. In the action drama, Marcel has also infused several comic moments which are entertaining.
Tom Hardy is impressive as Eddie Brock/Venom. Woody Harrelson is effective in the role of Cletus Kasady/Carnage. Naomie Harris makes a mark as Frances Barrison/Shreik. Michelle Williams leaves a mark as Anne Weying. Stephen Graham has his moments as Patrick Mulligan. Olumide Olorunfemi (as young Frances Barrison), Reid Scott (as Dr. Dan Lewis), Sean Delaney (as young Patrick Mulligan), Jack Bandeira (as young Cletus Kasady), Peggu Lu (as Mrs. Chen), Sian Webber (as Dr. Camille Pazzo), Tom Holland (in a cameo appearance) and J.K. Simmons (also in a cameo appearance) lend very good support.
Andy Serkis' direction is impactful. Marco Beltrami's background music is wonderful. Robert Richardson's camerawork is splendid. Visual effects and computer graphics are of a high order. Oliver Scholl's production designing is lovely. Editing (Maryann Brandon and Stan Salfas) is crisp. Dubbing is excellent.
On the whole, Venom: Let There Be Carnage is an entertaining fare. It will do fair business, and could've done better if times were normal.
Released on 14-10-'21 all over (except in Maharashtra and Kerala) thru Sony Pictures Films India Pvt. Ltd. Publicity & opening: quite good. …….The original English version has also released simultaneously.