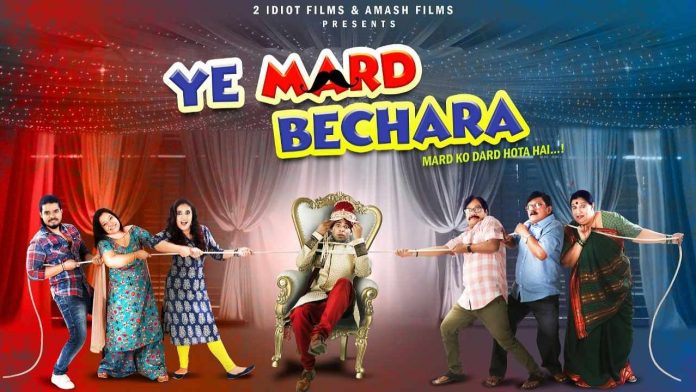 2 Idiot Films and Raw Entertainment's Ye Mard Bechara (UA) is about men and the societal norms that govern them everyday. Society attaches certain stereotypical attributes of manhood to men — and the story offers a different take on the same.
Anup Thapa's story and screenplay are terribly weak and fail to engage or involve the viewers. The drama progresses at a dull pace, further adding to the audience's boredom. His dialogues are routine.
Veeraj Rao is not impressive as Shivam Sharma. Manukriti Pahwa acts well as Shivalika Khanna. Seema Pahwa is first-rate in the role of Shantidevi. Brijendra Kala has his moments as Murli Prasad Sharma. Atul Srivastava makes his presence felt as Ramprasad Sharma. Sapna Sand (as Vanni Khanna), Chaudhary Manik (as Rudra Pratap Singh), Mahesh Gehlot (as Chaddha), Preeti Singh (as Jyoti), Saniya Nagdev (as Ranidevi), Rajat Bhalla (as Panditji), Vipin K. Sethi (as Pandey), Shashi Gola (as the mother), Richa Kalra (as Riya), Sunny Rathor (as the anchor), Sanjay Dhaundiyal (as Mishra), Pritika Chakraborty (as the danseuse), Priti Nath Guru (as the doctor) and Vijay Sehgal (as the doctor) lend the necessary support.
Anup Thapa's direction is as listless as his script. Even his music and lyrics don't really add much to the drama. His choreography is barely functional. Nikhil Kamath's background music passes muster. Shakil A. Khan's camerawork is dull. Ramen Das' art direction is below the mark. Sunder Pathuri's editing leaves something to be desired.
On the whole, Ye Mard Bechara will meet with a pitiable fate at the box-office.
Released on 19-11-'21 at PVR Citi Mall Andheri (daily 1 show) and other cinemas of Bombay thru Platoon One Films Pvt. Ltd. Publicity & opening: poor. …….Also released all over.