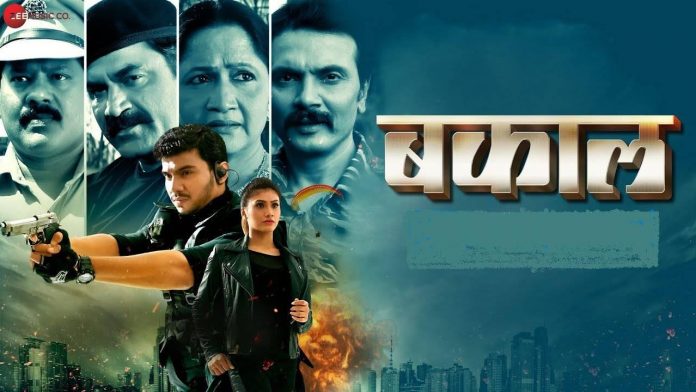 Shiv Om Visuals Pvt. Ltd.'s Bakaal (Mararthi; UA) is a usual good-versus-evil story.
Army officers Subhedar (Milind Gawali) and Tamba (Ashok Samarth) are asked by the police commissioner to finish dreaded gangster Bakaal. Both the army officers begin their mission but Subhedar dies while trying to save Tamba. Mrs. Subhedar (Alka Athalye) raises her son, Chaitanya, who grows up to be a handsome and brave young man (Chaitanya Mestry). Chaitanya falls in love with his college mate, Juhi (Jui Belkhande).
One day, Chaitanya's friend, Rupesh, dies suddenly. Dr. Lanjewar (Pradeep Velankar) explains to Chaitanya that the cause for Rupesh's death was drugs. He informs Chaitanya about how young girls and boys were being targeted by drug lords. Chaitanya and his friends decide to root out the evil of drugs in a bid to get justice for their deceased friend as the police refuse to lodge their complaint against the drug peddlers and drug lords. Dr. Lanjewar decides to help Chaitanya in his noble mission but the former soon dies. Meanwhile, Juhi has all the admiration for Chaitanya because of his stance against drugs. She introduces her paternal uncle, Balwant (Yatin Karyekar), to Chaitanya.
After Dr. Lanjewar's death, Juhi uses the CCTV footage of the hospital and tracks down the drug peddlers in the hospital. Chaitanya gives them chase and while doing so, he meets army officer and his dad's friend, Tamba. In fact, Tamba saves Chaitanya from the drug peddlers. Later, Chaitanya's mother introduces Tamba to him as his late father's friend. Tamba now gives Chaitanya commando training. Meanwhile, the police officer (Ganesh Yadav) informs the media that Chaitanya is dead. Tamba, Chaitanya and their commandos decide to kill Bakaal. But before that, the gangster's men kidnap Chaitanya's mother and their neighbour, Pari. Chaitanya and the commandos free the kidnapped ladies from the clutches of the gangster's men. Meanwhile, Juhi gets the plan of the gangster to carry out bomb blasts. That's when Chaitanya, Tamba and the commandos foil the plan and reach Bakaal. Who is Bakaal?
Vinod Deshpande and Milind Save have penned a routine story which tries to pack in everything by hook or by crook. Milind Save's screenplay is hotch-potch and does not have any novelty. That is why the drama becomes predictable and oft-repeated. Resultantly, it fails to keep the audience engaged or involved. Abhiram Bhadkamkar's dialogues are commonplace.
Chaitanya Mestry does a fair job as Chaitanya. Jui Belkhande is okay as Juhi. Alka Athalye lends good support in the role of Chaitanya's mother. Ashok Samarth shines as Tamba. Milind Gawali has his moments as Subhedar. Yatin Karyekar is alright as Juhi's paternal uncle. Ganesh Yadav leaves a fine mark as the police officer. Pradeep Velankar makes his presence felt as Dr. Lanjewar. Asit Redij (as Makkad), Ravindra Berde (as Banwari chacha), Jayant Savarkar, Suhasini Deshpande and Pooja Nayak are adequate.
Sameer Mukund Athalye's direction and camerawork are fair. Ashok Patki's music and Mandar Cholkar's lyrics are okay. Mahesh Naik's background music is functional. Andalib Pathan's action and stunt scenes are very good. Anil Wath's art direction is so-so. Editing (Pankaj Sapkale) ought to have been sharper.
On the whole, Bakaal is a flop fare.
Released on 8-11-'19 at Plaza (daily 1 show) and other cinemas of Bombay thru Pickle Entertainment. Publicity & opening: poor.