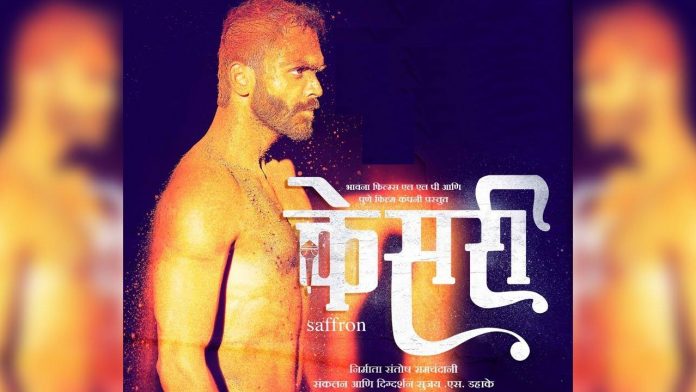 Bhavna Films and Pune Film Company's Kesari (Marathi) is the story of an aspiring wrestler.
Balram Jadhav (Virat Madake) dreams of becoming a wrestler like his grandfather (Vikram Gokhale). However, Balram's father (Umesh Jagtap) gets very angry when he learns that Balram has been secretly training to become a wrestler. The father wants Balram to concentrate on his milk business. Since Balram's grandfather had lost the Kesari wrestling competition many years ago, merely due to politics, Balram's father does not have faith in the wrestling competition.
Fed up of failing in dissuading Balram from quitting wrestling, his father throws him out of the house. Balram then contacts wrestler Mehman (Mahesh Manjrekar) who trains him for the Kesari wrestling competition. What happens thereafter?
Niyaz Mujawar has penned a routine story and a clichéd screenplay. As a result, the entire drama is predictable. Even his dialogues lack fire.
Virat Madake is not at all impressive as Balram Jadhav. Mahesh Manjrekar is alright as wrestler Mehman. Umesh Jagtap lends fine support as Balram's father. Vikram Gokhale delivers a sensitive performance as Balram's grandfather. Chhaya Kadam leaves a mark as Balram's mother. Mohan Joshi (as Ambadas Patil) makes his presence felt. Nandesh Umap, Praveen Tarde, Jaywant Wadkar, Nachiket Purnapatre, Satyappa More, Rupa Borgaonkar and Padmanabh Bind provide decent support.
Sujay S. Dahake's direction is fairly nice. His editing could've been sharper. Music (A.V. Prafullchandra) is so-so. Lyrics (Kshitij Patwardhan, Vaibhav Joshi and Sanjay Sathe) are okay. Saket Kanetkar's background music is quite nice. Sandeep and G.N. Yadav's camerawork is fair. Amey Bhalerao's art direction is of a decent standard.
On the whole, Kesari lacks novelty and will, therefore, not be able to do much at the ticket windows.
Released on 28-2-'20 at City Light (daily 1 show) and other cinemas of Bombay thru AA Films. Publicity & opening: dull.