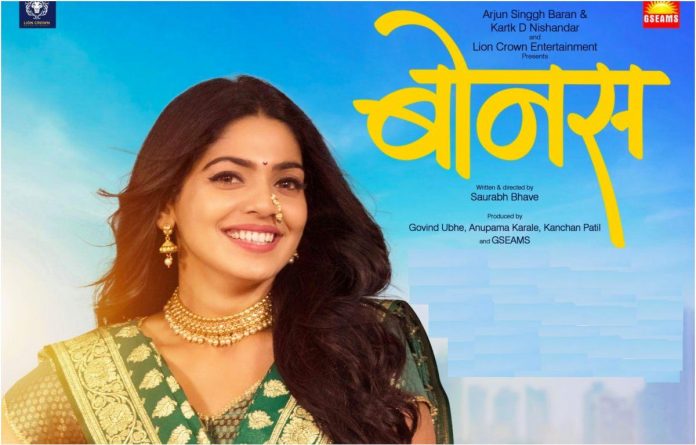 GSeams and Lion Crown Entertainment's Bonus (Marathi) is the story of a young man who changes his opinion about bonus payable to workers of his grandfather's factory.
Aditya (Gashmeer Mahajani) feels, the workers of his grandfather's (Dr. Mohan Agashe) factory should not be given Diwali bonus. This prompts his grandfather to tell him to lead the life of a commoner for just one month. Aditya, therefore, comes from Nasik to Bombay with only Rs. 10,000 in his pocket. He works as a salesman in a shoe store and realises how tough life can be for a common man with limited means. How his opinion on bonus changes is the crux of the story.
Saurabh Bhave's story is quite silly. Although the issue is poverty, it is unnecessarily linked to bonus — and it's not clear why. Saurabh Bhave's screenplay is interesting in the portions when Aditya learns life lessons in Bombay. But overall, the story and screenplay are not very engaging. Dialogues, also written by Saurabh Bhave, are ordinary.
Gashmeer Mahajani is okay as Aditya. Pooja Sawant is alright as Minal. Dr. Mohan Agashe is good in a brief role as the grandfather. Jaywant Wadkar lends fair support. Others provide routine support.
Saurabh Bhave's direction, limited as it is by his own script, is ordinary. Rohan Rohan's music is nothing to shout about. Lyrics (Rishikesh Jadhav, Mandar Cholkar and Arvind Mohite) are functional. Kruti Mahesh's dance hardly deserves special mention. Sanjay Memane's camerawork is eye-pleasing. Abhishek Redkar's art direction is alright. Devendra Murdeshwar's editing should've been sharper.
On the whole, Bonus is a very ordinary fare and will, therefore, not do well at the turnstiles.
Released on 28-2-'20 at Plaza (daily 1 show) and other cinemas of Bombay thru Panorama Studios International. Publicity: so-so. Opening: poor.