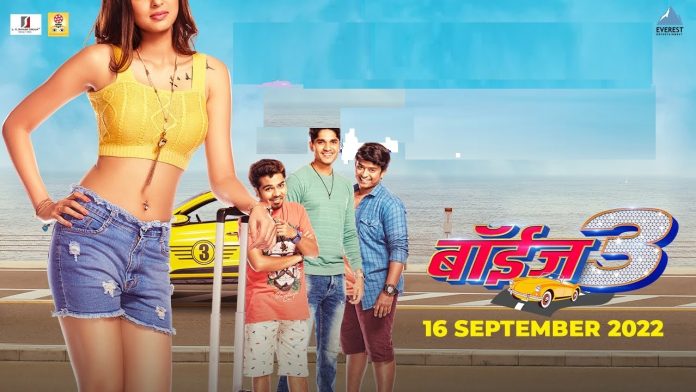 Everest Entertainment, Ekvira Productions Pvt. Ltd., L.V. Shinde Group and Supreme Motion Pictures Pvt. Ltd.'s Boyz 3 (Marathi; UA) is the sequel to Boyz 2. It is the story of three friends who are on their way to Karnataka.
Kabir (Sumant Shinde) has to go to Karnataka for some property matter. His friends, Dhungya (Parth Bhalerao) and Dhairya (Pratik Lad), accompany him. On the way, they meet Kirti (Vidula Chougule) who is a runaway bride. Kabir and Kirti fall in love. Does the love story have a happy ending?
Hrishikesh Koli has written a story which does not have much to offer. However, his screenplay is laced with interesting comic scenes which make people laugh. The climax has two interesting twists. Koli's dialogues are replete with double-entendres which evoke a lot of laughter.
Sumant Shinde is good as Kabir. Parth Bhalerao does well as Dhungya. Pratik Lad is fair as Dhairya. Vidula Chougule (as Kirti) does a very fine job in her debut role. Onkar Bhojane is alright as Naru Bhondwe. Girish Kulkarni lends nice support as Madan Bhondwe. Sameer Chougule (as Sunder), Snehal Shidam (as Kirti's cousin, Lata), Sharvari Jamenis (as Kabir's maternal aunt), Sameer Dharmadhikari (as Kabir's father) and Vidyadhar Joshi (as Kirti's uncle) lend routine support.
Vishal Devrukhkar's direction is good. He keeps the audience entertained all through the drama. Avadhoot Gupte's music is appealing and so are the lyrics (by Avdhoot Gupte, Sameer Samant and Jitendra Joshi). Song picturisations (by Rahul Thombare and Sanjiv Howaldar) are eye-filling. Aditya Bedekar's background music is effective. Yogesh M. Koli's cinematography is very good. Action and stunt scenes (by Pradyumna Kumar Swain and Chethan D'Souza) are functional. Nitin Borkar's sets are alright. Editing (by Guru Patil and Mahesh Kilekar) is sharp.
On the whole, Boyz 3 is an out-and-out entertainer and will, therefore, score well at the ticket counters.
Released on 16-9-'22 at Plaza (daily 2 shows) and other cinemas of Bombay thru August Entertainment. Publicity: good. Opening: very good.