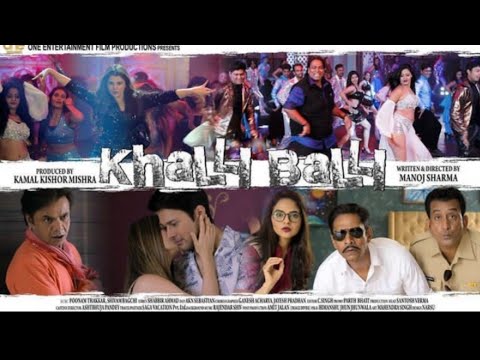 One Entertainment Film Production and Prachi Movies' Khalli Balli (UA) is a horror film.
Rohit (Rajneesh Duggal) sees strange things happening to his girlfriend, Sanjana (Kainaat Arora). At first, a spirit gets into her body as soon as she sleeps every night. Then the same spirit rapes her. During hospitalisation, Sanjana is raped once again by the spirit. Tantrik Anushka (Madhoo) is called in. She and police inspector Yugvendra Singh (Vijay Raaz) solve the mystery of the spirit.
Manoj Sharma has penned a lifeless story which is devoid of entertainment or novelty. His screenplay is so clichéd that it is difficult to believe, anyone could have written such a drama. The screenplay has no scope for emotions. Two comedy tracks (of Gopal and Rohit's assistant, Kalra) are at least a bit entertaining. The horror quotient fails to scare the viewers. Manoj Sharma's dialogues are ordinary.
Rajneesh Duggal does a fair job as businessman and filmmaker Rohit. Kainaat Arora is okay as Sanjana. Madhoo acts ably as tantrik Anushka. Vijay Raaz performs well in the role of police inspector Yugvendra Singh. Dharmendra adds star value more than anything else, in a brief role as Professor. Rajpal Yadav's (as Gopal) comedy appeals to front-benchers. Asrani leaves a mark as Kalra. Rohan Mehra gets hardly any scope as Aman. Hemant Pandey (as constable Pandey) and Brijendra Kala (as Kabir) provide routine support.
Manoj Sharma's direction is very dull. The title song is well tuned but the other two songs don't impress. Therefore, the music (Poonam and Shivam Bagchi) is a mixed bag. Shabbir Ahmed's lyrics are functional. Choreography (by Ganesh Acharya and Jayesh Pradhan) is ordinary. Rajendar Shiv's background music is poor. A.K.N. Sebastian's camerawork is functional. C. Singh's editing is very loose.
On the whole, Khalli Balli is a flop show all the way.
Released on 16-9-'22 at MovieMax Sion (daily 1 show) and one more cinema of Bombay thru Ashish Films. Publicity & opening: weak. …….Also released all over.