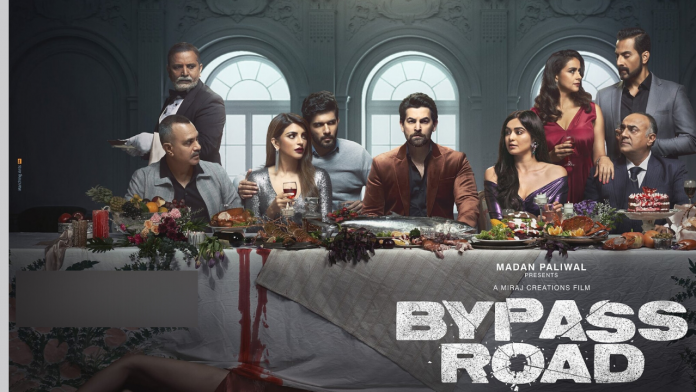 Miraj Group and NNM Films' Bypass Road (UA) is a suspense thriller.
Vikram Kapoor (Neil Nitin Mukesh) owns a clothing line and is a rich businessman who lives with his father, Pratap Kapoor (Rajit Kapur), and step-mother, Romila (Gul Panag). He meets with a terrible road accident one day and although he escapes death, he becomes wheelchair-bound. On the same day as Vikram's accident, his model, Sarah Braganza (Shama Sikander), commits suicide.
The investigating police officer, Roy (Manish Chaudhary), feels that there's a connection between the accident and the suicide. The suspects are Romila, Narang (Sudhanshu Pandey) who is close to Romila, and Jimmy (Taher Shabbir) who is Sarah's fiancé.
Is there a connection between the accident and the suicide? Is Vikram's accident the handiwork of somebody? If yes, who wants to kill Vikram — and why? Why did Sarah commit suicide?
Neil Nitin Mukesh has written a story which doesn't have too much to talk about simply because it's a routine thriller with a suspense angle thrown in. His screenplay is written in a predictable style and, therefore, it doesn't engage the viewers or keep them hooked like a suspense thriller should. The ending, when the final suspense is revealed, is actually boring when it should've been the most interesting part. The biggest drawback of the screenplay is that there is not a single moment which makes the audiences jump out of their seats. Also, there are no scenes of the kind which could offer the viewers a novel experience. Neil Nitin Mukesh's dialogues are fair.
Neil Nitin Mukesh does a fairly nice job as Vikram Kapoor. Adah Sharma is natural as Vikram's girlfriend, Radhika. But while her facial expressions and acting are good, her body language is stiff. Rajit Kapur is alright in the role of Pratap Kapoor. Gul Panag stands her own as Romila Kapoor. Shama Sikander lends average support as Sarah Braganza. Manish Chaudhary provides routine support as police inspector Roy. Sudhanshu Pandey is alright as Narang. Taher Shabbir is earnest in the role of Jimmy. Baby Pahal Mange (as Nandini), Bikramjeet Kanwarpal (as Dr. Kamlesh), Errol Peter Marks (as Rio Marks), Mukesh Bhatt (as the house help), Ram Sujan Singh (as constable Pandey), Vrushali (as Vikram's mother), Sudhanshu Kumar (as the watchman) and the rest are routine.
Naman Nitin Mukesh's direction is average. His narration lacks the excitement one associates with a suspense thriller. Music (Sharib-Toshi, Rohan-Rohan, Raaj Aashoo and Mayur Jumani) and lyrics (Shabbir Ahmed, Rohan Gokhale and Kalim Shaikh) are functional. Ranju Varghese's choreography is ordinary. Daniel B. George's background music is alright. Fasahat Khan's cinematography is suitably stylish. Javed Karim's action and stunts are okay. Production designing (by Jayshree Laxmi Narayan) and art direction (by Manish Kolte) are quite alright. Editing (by Bunty Nagi and Vinay Pal) is not sharp enough for a thriller.
On the whole, Bypass Road is a dull fare with bleak box-office chances because it lacks the thriller element.
Released on 8-11-'19 at Inox (daily 3 shows) and other cinemas of Bombay thru PVR Pictures Ltd. Publicity: not upto the mark. Opening: poor. …….Also released all over. Opening was dull everywhere.