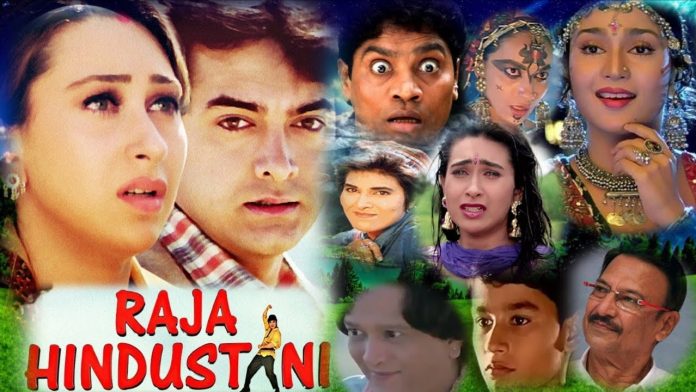 'Raja Hindustani' To Be Postponed?
So there may be just two Diwali releases after all. In all probability, Raja Hindustani may be postponed by a week. Instead of 7th November, it may now hit the screens on 14th November. The decision for postponement seems to have been taken in view of the fact that three major releases on Diwali may be a bit too much. Besides, of the three, only Raja Hindustani is the non-action film, the other two — Ghatak and Sapoot — being action fares. The first three or four days of the Diwali week are pre-Diwali days which record poor collections, and this also seems to have prompted the producers of Raja Hindustani to come a week later, on 14th November.
Although producers Karim Morani, Sunil Soorma and Aly Morani are not as yet committing the rescheduled release date, it is quite clear that the film will be postponed by a week if both, Ghatak and Sapoot, make it on Diwali. And the chances of Ghatak and Sapoot coming on 8th November are very bright. Ghatak has been cleared by the revising committee, and Sapoot is likely to be seen by the examining committee on 28th October. Its first copy came out on 25th.
Raja Hindustani was seen by the examining committee on 23rd and has been offered 'U' certificate, with some cuts.
MIX MASALA
DANCING TO WEATHER GOD'S TUNE
The bad weather forecast on 25th October resulted in the cancellation of HMV's audio release function of Vinod Khanna's Himalay Putra, which was scheduled for that evening in the open at the Turf Club, Bombay. Paradoxical, because although the Himalaya mountains are a symbol of strength, it was Himalay Putra (son of Himalaya) which had to feel threatened by the cyclonic weather forecast! Anyway, the function will now be held on 31st October at the same venue, the weather Gods willing!
'GHATAK' DISPUTE: MATTER ADJOURNED
The dispute between the producers of Ghatak and its distributors for Eastern circuit (excluding Orissa), Musical Films P. Ltd., Calcutta, over the issue of price, came up for hearing on 25th October in the Bombay high court. The counsel for the distributor sought adjournment of the matter to 29th October. In the meantime, it is likely that the matter may be settled amicably out of court. A meeting between the advocates of the two parties, Bharat Shah (who presents the film), producer Rajkumar Santoshi and Vijay Ladsaria of Musical Films was held on 25th after the hearing. Lalit Kankaria of Musical Films is expected in Bombay today (26th October) and the matter, in all probability, should be amicably settled soon. Bharat Shah told Information, "I am a businessman and am never in favour of litigation."
In the meantime, Bharat Shah dismissed rumours that the film was being referred by him to the Appellate Tribunal. "Rajkumar Santoshi was not willing to accept one cut offered by the revising committee but, I suppose, he is getting emotional since the film is his baby," said Bharat Shah.
YOU ASKED IT
When is an artiste justified in hiking his price?
– When the increased amount of his price does not prove to be a burden either for the producer or for the distributor and exhibitor.
Is the workers' welfare cess, collected at the time of film censorship, disbursed among cine workers?
– Yes, the CBFC disburses the amount to meet educational and other expenses of workers' family members.
Why have films not been faring well, of late?
– The period is generally dull. Rains have also been adversely affecting the box-office. Then, the films, which have been released in recent times, have also not been good.
NEW CINEMA AT BETUL
A new cinema, Shivshakti, opened on 2nd October at Betul (in Madhya Pradesh) in the campus of Kantishiva cinema. Both the cinemas are owned by the same people. The new cinema has 500 seats and is equipped with Photophone projector.
DO YOU KNOW?
* Producer Salim conducted free shows of his RAJA KI AAYEGI BAARAAT for ladies only on 24th October (12 noon) at three cinemas of Bombay and some other cinemas in different centres of India.
* Bappi Lahiri, who has completed 25 years as music director, was felicitated by Bangla Desh prime minister Sheikh Hasina, on 15th October in Dhaka.
* Well-known Tamil film villain Mansoor Ali Khan will be launching a Hindi film, GWALA, in which he will be handling eleven departments. He will be its producer, director, music director, lyricist, editor, cameraman, dance director, action master as well as story, screenplay and dialogue writer. He has signed Divya Dutta, Alok Nath, Johny Lever, Laxmikant Berde and Anupam Kher for the film which will be launched next month.
* Two Rang films — RANGBAAZ and RANGEELA RAJA — are being distributed in C.P. Berar by Harnam Films. While the former has been released this week, the latter will open next week.
* Rajshris will be reviving HAHK..! on Diwali on a grand scale. It has been booked at as many as 300 cinemas all over. Of these, 150 cinemas in Maharashtra (Bombay, C.P. Berar and Nizam circuits), where the film is tax-free, will screen the film.
3E
Education-Entertainment-Enlightenment
Dedicated Aamir
Aamir Khan is one hell of a dedicated actor. He treats the films in which he acts as his own production ventures. Why else would he go to the CBFC office on 25th October to discuss the cuts offered to his Raja Hindustani? Yes, the CBFC staff in Bombay had an exciting time when Raja Hindustani Aamir made a special appearance at their office on the afternoon of 25th.