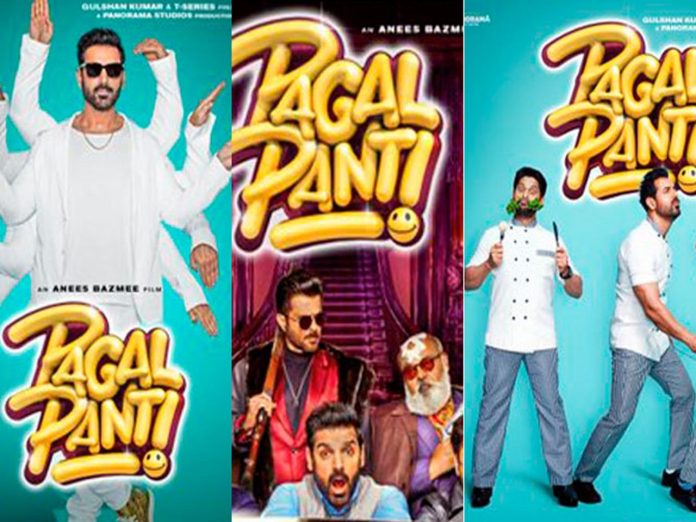 T-Series and Panorama Studios' Pagalpanti (UA) is a comedy.
Raj Kishore (John Abraham), Junky (Arshad Warsi) and Chandu (Pulkit Samrat) are friends who are failures in business. An astrologer (Jameel Khan) is convinced that they are unsuccessful because Raj Kishore is unlucky. In one such failed business enterprise, Raj Kishore makes Sanjana (Ileana D'Cruz) and her maternal uncle (Brijendra Kala) their partners. Sanjana and her uncle are now after the three friends to recover the blocked investment. Raj Kishore and Sanjana are in love with each other.
The trio messes up a delivery assignment of the expensive birthday gift of Raja Sahab's (Saurabh Shukla) daughter, Janvi (Kriti Kharbanda). Consequently, the three friends are forced to work for Raja Sahab and his brother-in-law, Wi-Fi (Anil Kapoor). As Raja Sahab and Wi-Fi fear that some people are trying to kill them, they make the friends taste the food before they eat, and ask them to travel in their car while themselves travelling in the car meant for their staff. Wi-Fi and Raja Sahab live in a palatial home in London and are very rich.
Wi-Fi and Raja Sahab can't see eye to eye with two businessmen-brothers, Tulli (Zakir Hussain) and Bulli (Ashok Samarth). Businessman Niraj Modi (Inam-ul-haq) wants the enmity to be buried and he makes peace between the two warring sides. Aiding Niraj Modi is Baba Jani (Mukesh Tiwari). Niraj Modi is a rich businessman who has settled in London after duping banks in India.
In a bid to impress their bosses, the three friends beat up Bulli so badly that he has to be hospitalised with injuries. But the timing is wrong — the trio beats him up soon after Raja Sahab and Wi-Fi have shaken hands with Bulli and Tulli. Taking this as an insult to his peace efforts, Niraj Modi demands the return of the Rs. 700 crore he had paid Raja Sahab for making peace. But Raja Sahab can't return the money as all the money has been reduced to ashes in a fire caused by the carelessness of the trio. As a last-ditch effort to make money, Raja Sahab and Wi-Fi bet the little money they are left with, on a horse in a horse racing competition. But even there, the trio botches up the plan and loses the money.
In a bid to escape the wrath of their bosses, the three friends run away from the home of their bosses. Accompanying them is Janvi who loves Chandu. Sanjana and her uncle are also with the three friends. All six of them spend some time in a haunted bungalow where they meet Kavya (Urvashi Rautela). Junky falls head over heels in love with Kavya.
Pressure is mounting on Wi-Fi and Raja Sahab to return Niraj Modi's money. Meanwhile, Raj Kishore chances upon a godown of cash which he steals. Does the trio make good the cash destroyed in Raja Sahab and Wi-Fi's home? Do Wi-Fi and Raja Sahab return the money to Niraj Modi? Whose money does Raj Kishore chance upon?
Anees Bazmee, Rajiv Kaul and Praful Parekh have penned an apology of a story which is co-written by Deepak Kingrani, Abhijit Ghatwari, Naresh Sharma and Meghna Singh. For one, there are too many characters and several tracks but even these may not have been a problem had the content been entertaining. However, the story is far from being funny. The screenplay, written by Rajiv Kaul, Praful Parekh and Anees Bazmee, and co-written by Deepak Kingrani, Abhijit Ghatwari, Naresh Sharma and Meghna Singh, is more like an assemblage of incidents and scenes. Of course, there is a common thread but the effort to make the viewers laugh is all too obvious. In other words, scenes seem to have been written specifically to evoke humour even if they appear to be contrived and forced into the narrative. The unfortunate part is that many of the scenes, designed as comical, don't create the comedy; their humour often falls flat on its face. Clearly, it seems to be a case of too many cooks (in this case, seven writers) spoiling the broth. The entire sequence of the haunted bungalow is far from funny. Likewise, many of the other comedy scenes will not appeal to the audience universally. For instance, naming the character Niraj Modi to sound like Nirav Modi may not be a funny idea if only because there's no comedy associated with the real-life Nirav Modi. All in all, the screenplay is not half as funny or entertaining as it ought to have been. Even the long-drawn climax is comical only in parts. The lions spring up from almost nowhere — and while Raja Sahab and Junky's portions in the lion sequence are entertaining, the rest aren't. The glue sequence is quite funny. Anees Bazmee's dialogues are good at places, just like the screenplay which is entertaining in parts only.
John Abraham does a fair job as Raj Kishore but he is unable to bring the house down with laughter in any scene. Anil Kapoor is earnest, as always, but the insipid script does not befit an actor like Anil Kapoor who is an ocean of talent. Arshad Warsi is very natural and evokes laughter because of his fine performance. Pulkit Samrat is easy in front of the camera and is okay. But he doesn't have any scene to call his own. Ileana D'Cruz is alright in the limited scope she gets as Sanjana. Kriti Kharbanda plays the slightly dim-witted Janvi with conviction. Urvashi Rautela gets very little scope to perform. Her dance is energetic and she exposes her body uninhibitedly. Saurabh Shukla is outstanding in the role of Raja Sahab. He gets into the skin of the character. Mukesh Tiwari makes his presence beautifully felt in the role of Baba Jani. Among all the crazy lines spoken by the other characters, Baba Jani's intense and philosophical dialogues create comedy by themselves. Inam-ul-haq leaves a mark as Niraj Modi. Zakir Hussain (as Tulli) and Ashok Samarth (as Bulli) lend good support. Brijendra Kala (as Sanjana's maternal uncle), Jameel Khan (as the astrologer), Jiten Mukhi (as Niraj Modi's uncle), Naresh Sharma (as Raja Sahab's butler), Kanchan Pagare (as Raja Sahab's driver), Satish Sharma (as the Indian Bank manager), Ehsaan Khan (as the Indian police inspector), Manoj Bakshi (as the statue man), Nidhiy Kharkar (as the truck driver), Sagar Arya (as the bank manager), Diljohn Singh Sidhu (as the lorry driver) and the others provide adequate support.
Anees Bazmee's direction is fairly nice. However, his narration is not good enough to make the shoddily written drama a laugh riot which the film ought to have been. Music (Sajid-Wajid, Yo Yo Honey Singh, Tanishk Bagchi and Naeem-Shabbir) is alright but there's not a single hit song — and that's a minus point. Lyrics (Yo Yo Honey Singh, Shabbir Ahmed, Arafat Mehmood and Danish Sabri) are alright. Song picturisations (by Ganesh Acharya and Shabina Khan) are fair. Sajid-Wajid's background score is good but it could've been better. Sunil Patel's cinematography is of a fine standard. Pradyumna Kumar Swain's action and stunts go well with the film's mood. Durgaprasad Mahapatra's production designing is appropriate. Prashant Singh Rathore's editing is sharp but could've been sharper. While on the point of editing, the film needed to be shorter by at least 20-25 minutes (in running time) but that's more a shortcoming of the script writers and director than of the editor.
On the whole, Pagalpanti is not at all the laugh riot it should've been. It will, therefore, prove to be a flop at the box-office.
Released on 22-11-'19 at Regal (daily 3 shows) and other cinemas of Bombay thru Anand Pandit Motion Pictures and Panorama Studios. Publicity: so-so. Opening: dull. …….Also released all over. Opening was below the mark everywhere.