Click https://bit.ly/komal311 if the above video does not autoplay.
Zee Studios, Salman Khan Films, Sohail Khan Productionz and Reel Life Productions Pvt. Ltd.'s Radhe (UA) is a story about the fight between law and the drug mafia.
Suspended police officer Radhe (Salman Khan) is called in to eliminate the drug mafia which is claiming lives of young and innocent people in the city, giving the police a bad name. Radhe is a super-efficient cop but his way of working is very different. His senior is police officer Avinash Abhyankar (Jackie Shroff). Drug lord Rana (Randeep Hooda) is doing all under his command to expand his drug empire and is using all the resources at his command. Will Radhe be able to exterminate Rana and his empire? The story also deals with Radhe's romantic life. Radhe befriends a model, Diya (Disha Patani), who develops a soft corner for him.
The film is a remake of Korean film The Outlaws. Frankly, there isn't any novelty in the story because one has seen films about drug lords and police officers earlier too. But it must be said to the credit of screenplay writers Vijay Maurya and A.C. Mugil that they have written an engaging and entertaining screenplay which keeps the audience hooked on to the proceedings from the start till the end. The screenplay also does not boast of novelty but the way it has been penned, it makes the drama very interesting and engrossing. What's more, the two writers have tried to add all the elements of a commercial entertainer, including drama, action, emotions, melodrama, family sentiments etc. For instance, the scene in which Radhe takes senior Avinash Abhyankar to the drug rehabilitation centre and asks him (Avinash) what he would do if his sister were undergoing rehabilitation, brings a lump in the throat due to the underlying emotions. Likewise, the scene in which Radhe seeks the support of youngsters through their presence on social media will be loved by the youth. Azaan (Mitansh Lulla) and his grandfather's (Shaharyar Khan) track underlines the family emotional appeal.
The writers have kept a fast pace, leaving no time for the viewers to think. Yes, the pace does drop a bit for around 10 to 15 minutes but it picks up again soon thereafter. Perhaps, the biggest low point is the helicopter scene in the climax, which looks hurried and immature too. But overall, the screenplay is very well written, the minor aberrations notwithstanding. It must be added here that there are more than 10 scenes which would've drawn rounds of loud applause, claps and whistles from the public had the film been released in thousands of cinemas during normal times. Vijay Maurya does a fine job of the dialogues. The good part of his dialogue writing is that he gives dialogues as per the characters. For instance, Diya is shown to be a model and is street-smart but definitely not very intelligent. The dialogues mouthed by her suit her character and they are so entertaining that they often get a smile to the face. Likewise, the dialogues written for the other main characters suit them perfectly. Radhe's dialogues are weighty, Avinash Abhyankar's dialogues are often comical, Rana's dialogues are crisp.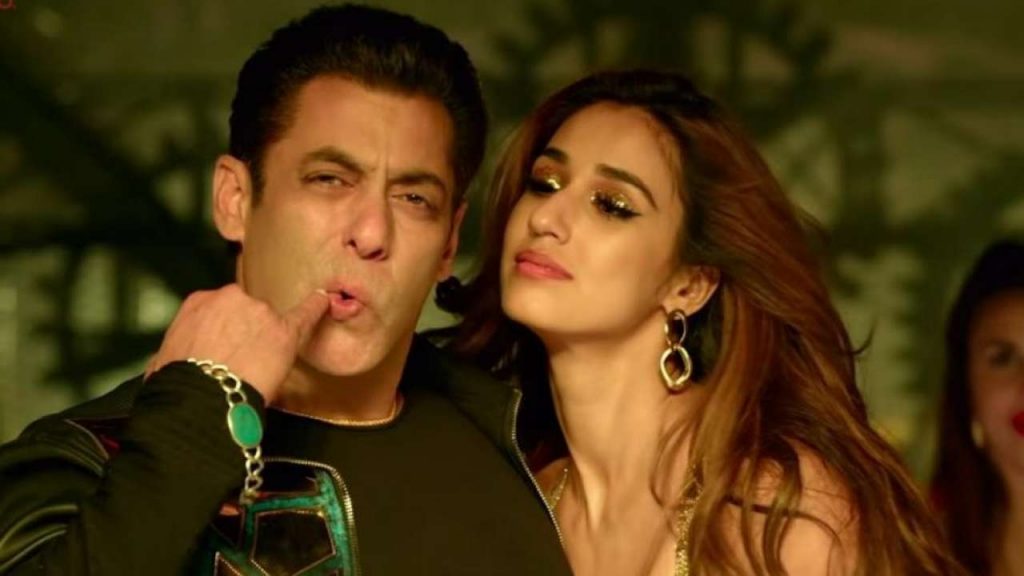 Salman Khan looks absolutely dashing, acts very well, dances gracefully and shines in action scenes. Overall, he plays to the gallery and gives paisa vasool entertainment with his performance. His millions of fans will, of course, adore him in the title role. Disha Patani looks ravishing and glamorous. She acts with effortless ease and also dances with a lot of grace. Her costumes are sexy. Jackie Shroff leaves a lovely mark with a free-spirited performance as Avinash Abhyankar. Randeep Hooda stands his own as drug lord Rana. He expresses his power through his eyes and body language. Arjun Kanungo is good as Mansoor. Sudhanshu Pandey stands his own in a brief role as Dilawar. Pravin Tarde makes a fine impression in the role of Dagdu. Siddharth Jadhav has his entertaining moments as Ranjeet Mawani. Gautam Gulati makes his presence amply felt as Girgit, aide of Rana. Sangay Tsheltrim has screen presence as Rana's other aide, Lota. Megha Akash leaves a mark as Radhe's team mate, Nikisha. Jyoti Rana has her moments as hotel manager Seema. Bharath Srinivasan is good as Radhe's team member Sarvesh. Mitansh Lulla is impressive as Azaan. In the role of Azaan's grandfather, Shaharyar Khan is good. Vishwajeet Pradhan makes a mark in a brief role as ACP Arjun. Shahwar Ali Khan is alright as Vipul. Ihana Dhillon is quite nice as Mansoor's wife. Darshan Jariwala (as the DIG of police), Micky Makhija (as the Bombay police commissioner) and Govind Namdev (as I.G. Patel) lend able support. Jacqueline Fernandez dances very well and adds star value in the 'Dil de diya' song. Aryan Arora (as Sumeet), Vijay Singh (as Ali), Pravesh Rana (as Heeralal), Shubhankar Tripathi (as Mannu), Andy Kumar (as the fashion photographer), Saniya Haq (as the girl in the drug rehabilitation centre), and the others are adequate.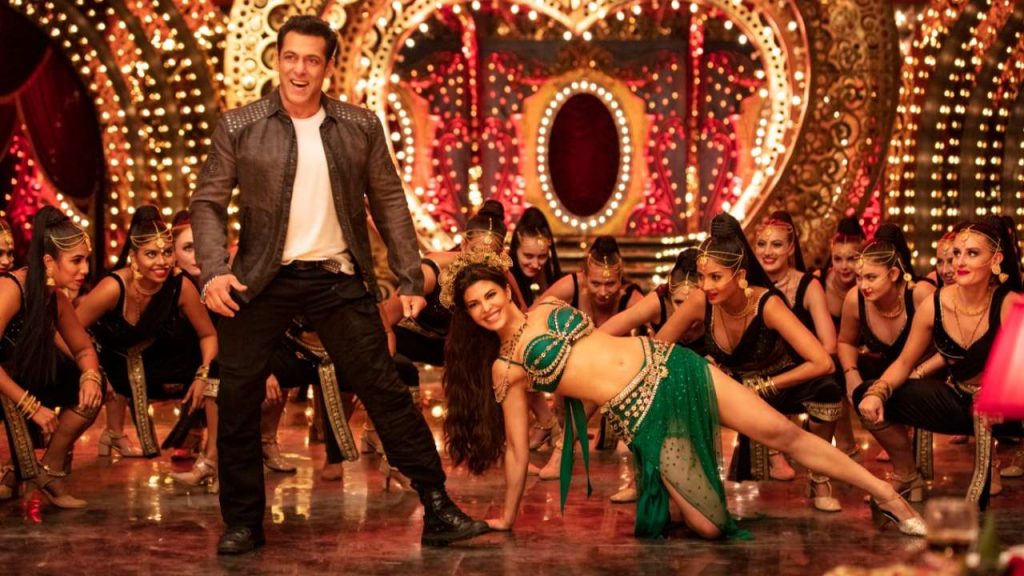 Prabhudeva's direction is impressive. He has kept the narrative pace even throughout and has made an entertaining film. Music is good. The 'Seeti maar' song (composed by Devi Sri Prasad, written by Shabbir Ahmed) is the best number and is a surefire hit. The title track (composed by Sajid-Wajid and penned by Sajid) is also very appealing. The 'Zoom zoom' number (music by Sajid-Wajid, penned by Kunaal Vermaa) is entertaining. The 'Dil de diya' song (set to tune by Himesh Reshammiya, penned by Shabbir Ahmed) is melodious. Song picturisations are lovely. Choreography of 'Seeti maar' (Shaikh Jani Basha) is superb. The picturisation of 'Zoom zoom' (Caesar Gonsalves) is also very interesting. Mudassar Khan's choreography in the title song, and Shabina Khan's choreography in the 'Dil de diya' number are eye-catching. Background music (Sanchit Balhara and Ankit Balhara) is very impactful. Ayananka Bose's cinematography is of a high order. Action scenes (by Myeonghaeng Heo and Anbariv) are pretty exciting and will be loved by the masses. Durgaprasad Mahapatra's production designing is good. Ritesh Soni's editing is sharp.
On the whole, Radhe is a good entertainer for the families and masses. Salman's fans will especially love the film. Had the film been released widely in the cinemas during normal times, it would've surely netted in the region of Rs. 200 crore.
Released on 13-5-'21 on OTT platforms ZeePlex and Zee5 and DTH platforms Tata Sky, D2H, Airtel and Dish TV. It could not be released in a single cinema in India because of the pandemic lockdown and consequent cinema closure orders everywhere. It has opened simultaneously in theatres in North America and the UAE, and will open in cinemas in the UK when they reopen on 17th May.