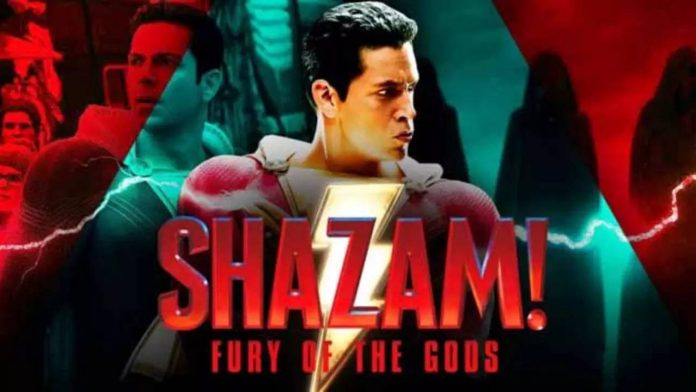 New Line Cinema, DC Studios, The Safran Company and Seven Bucks Productions' Shazam! Fury Of The Gods (dubbed from the Hollywood film of the same name; UA) is based on DC Comics character Shazam and is a superhero film. It is the sequel to Shazam! (2019).
Billy Batson (Zachary Levi and Asher Angel) and his foster siblings have the power to transform themselves into superheroes by saying "Shazam!". They are forced to don the mantle of superheroes and fight the Daughters of Atlas when the latter decide to use a weapon which could destroy the world.
Henry Gayden and Chris Morgan have written a fairly interesting story about the fight between the superheroes, led by Billy Baston, and the Daughters of Atlas. However, the first hour of the screenplay is very verbose and, therefore, gets a bit too much. The second half abounds in action and computer graphics and hence it engages the audience more.
Zachary Levi does a fine job as superhero Billy Batson/Shazam. Asher Angel is very natural as the regular Billy Batson/Shazam. Adam Brody is pretty endearing as superhero Freddy. Jack Dylan Grazer shines as the regular Freddy. Rachel Zegler makes a mark as Anthea, a daughter of Atlas. Ross Butler has his moments as superhero Eugene Choi. Ian Chen is okay as the regular Eugene Choi. Meagan Good performs ably as superhero Darla Dudley. Faithe Herman is effective as the regular Darla Dudley. Grace Fulton shines in the role of Mary Bromfield. D.J. Cotrona is natural as superhero Pedro Peña. Jovan Armand is good as the regular Pedro Peña. Lucy Liu leaves an excellent mark as Kalypso, a daughter of Atlas. Helen Mirren delivers a remarkable performance as Hespera, a daughter of Atlas. Djimon Hounsou makes a wonderful impact as Shazam. Marta Milans and Cooper Andrews provide remarkable support as Billy's foster parents, Rosa and Victor Vásquez. Gal Gadot (as Diana Prince/Wonder Woman), Rizwan Manji (as an unnamed character), Jennifer Holland (as Emilia Harcourt), Mark Strong (as Dr. Thaddeus Sivana) and Lotta Losten lend lovely support.
David F. Sandberg's direction is very good. His narrative style, especially in the second half, keeps the viewers hooked on to the drama. Christophe Beck's background music heightens the impact of the drama. Gyula Pados does a splendid job of the cinematography. Editing (by Michel Aller) is sharp. Dubbing is excellent.
On the whole, Shazam! Fury Of The Gods is an entertaining fare and should do well, especially in its original English version.
Released on 16-3-'23 at Jai Hind Mukta A2 (daily 3 shows) and more cinemas and will release on 17-3-'23 at Maratha Mandir (daily 1 show) and other cinemas of Bombay thru Warner Bros. Pictures (India) Pvt. Ltd. Publicity: so-so. Opening: dull. …….Also released all over.