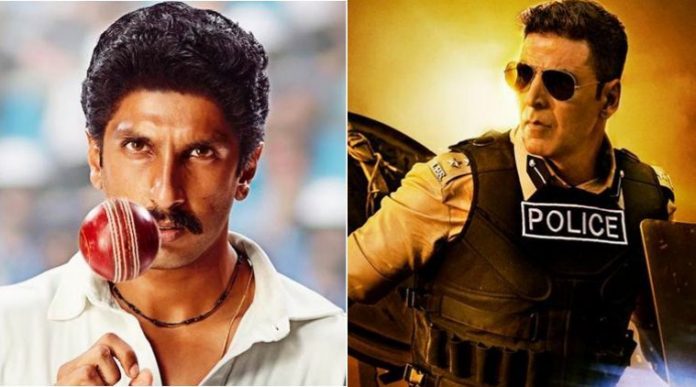 Social media this morning (30th June) was flooded with announcements that Rohit Shetty's Sooryavanshi would hit the screen — big screen, mind you, not the small screen which the public is now getting used to watching films on — on Diwali this year while Kabir Khan's 83 will be the Christmas release. For those who understand, this announcement didn't mean much. And there are several reasons for the same.
For one, an announcement about the release dates of two of the most eagerly awaited films coming before the finalisation of the date of reopening of cinemas looks a bit weird.
Secondly, even if one were to assume that cinemas will be permitted to reopen in August, how does anyone know if the public will frequent cinemas in such large numbers that the producers of Sooryavanshi and 83 will feel inspired enough to release their films in theatres?
Thirdly, if, God forbid, the audiences don't come in hordes to multiplexes and single-screen cinemas till Diwali, it is anybody's guess that the aforementioned release dates would go for a toss. In other words, the commitment, in that sense, means nothing. Frankly, the producers and stars of the two films must have told the multiplex chains to make the announcement on social media while they would be pretending that they weren't even aware — they would neither confirm nor deny the release dates. And just why must this have happened? Because Disney+ Hotstar yesterday (29th June) announced its slate of seven films (including big ones like Laxmmi Bomb, Bhuj: The Pride Of India, The Big Bull, Dil Bechara and Sadak 2) to be premiered on the platform from July to October. The exhibition sector must've got the jitters and in a bid to show its strength, it must have sought the support of the producers of the two big films, who so far have maintained that the films are big-screen entertainment and that they would wait for normalcy to return rather than premiering them on any OTT platform.
Fourthly, the announcement has come from the multiplex chains rather than from the producers or the A-list stars of these films. This is the biggest giveaway that the confirmation of the release dates is more to assuage the feelings of the shaken exhibition sector than anything else.
This is not to say that the multiplexes have erred in making the announcement. Anybody else in their place would have done the same or a similar thing. But for the more discerning among the public, this may not mean much. So there!