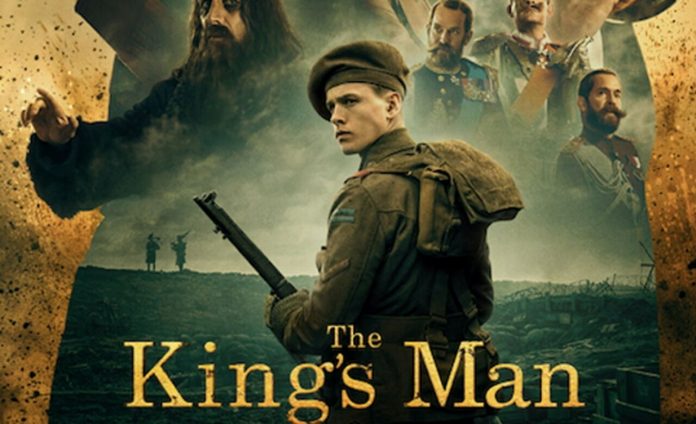 Twentieth Century Studios, TSG Entertainment, Marv Studios and Cloudy Productions' The King's Man (dubbed from the Hollywood film of the same name; A) is the third instalment in the Kingsman film series, which is based on the comic book The Secret Service. The film serves as a prequel to Kingsman: The Secret Service (2014) and Kingsman: The Golden Circle (2017). A spy action comedy, it is the story of one man's race against time to stop a war, plotted by tyrants and criminal masterminds, which could destroy humanity.
Matthew Vaughn has written a story which has so many characters that it confuses at many places. Besides, it lacks novelty as one has seen dramas of one or more persons trying to save humanity from annihilation. The screenplay, written by Matthew Vaughn and Karl Gajdusek, is engaging in portions only. It often gets confusing. Since it moves on a single track, monotony sets in at places.
Ralph Fiennes does well as Orlando, Duke of Oxford. Gemma Arterton is quite good as Polly. Rhys Ifans is effective as Rasputin. Harris Dickinson gives a good account of himself in the role of Conrad. Matthew Goode is alright as Captain Morton. Tom Hollander is natural as King George. Charles Dance (as Kitchener), Alexandra Maria Lara (as Emily, Duchess of Oxford), Joel Basman (as Princip), and the rest provide fair support.
Matthew Vaughn's direction is fairly good. Ben Davis' cinematography is lovely. Background music (by Matthew Margeson and Dominic Lewis) is quite effective. Editing (Jason Ballantine and Rob Hall) needed to be sharper. Dubbing is appropriate.
On the whole, The King's Man is a poor fare as it doesn't have much for the Indian audiences in general and the Hindi film audiences in particular.
Released on 14-1-'22 at Movie Time Goregaon (daily 2 shows) and other cinemas of Bombay thru UTV Software Communications Ltd. Publicity: dull. Opening: poor. …….Also released all over. Opening was weak everywhere.