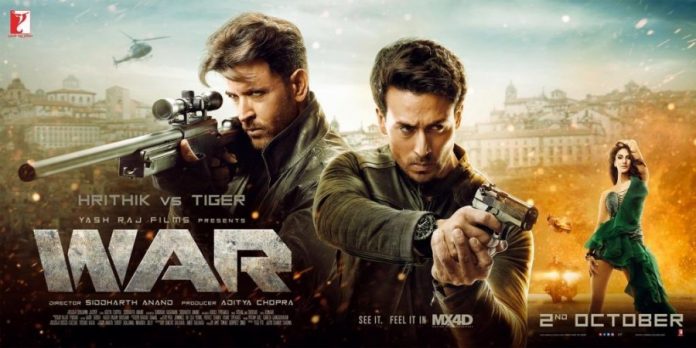 Yash Raj Films' War (UA) is an action suspense thriller. It is the story of secret service agents and terrorists.
Ace secret service agent Kabir (Hrithik Roshan) is presumed to have gone rogue after he shoots dead team member Naidu (Mohit Chauhan) instead of a dreaded terrorist. Defence minister Sherna Patel (Swaroopa Ghosh) orders the Colonel (Ashutosh Rana) to have Kabir eliminated.
Kabir's own protégé, Khalid (Tiger Shroff), is assigned the task of tracking down Kabir and eliminating him. For the love of his motherland, Kabir decides to kill his own mentor but not before understanding from him why he had gone rogue. It may be mentioned here that Kabir had been reluctant to take Khalid under his wings but had finally relented after a lot of coaxing and convincing.
Does Khalid manage to trace Kabir? What happens when the two meet? Does Khalid eliminate Kabir or does Kabir kill Khalid? Had Kabir truly joined hands with the enemy? If so, why? If not, why did he murder Naidu — and after that, some more people who weren't terrorists? Why was Kabir initially reluctant to mentor Khalid? What happens to Kabir and to Khalid in the end?
Aditya Chopra and Siddharth Anand have written an interesting and engaging story which is not very novel or wholesome but which has so many twists and turns that it keeps the audience's interest alive throughout. The story is also predictable at times but having said that, it must be added that the suspense element and thrill aspects of the story keep the viewers hooked on to the happenings on the screen. Shridhar Raghavan and Siddharth Anand have penned an exciting screenplay which doesn't let the audience's mind wander. The drama has so many twists and turns that the viewers dare not lose track of the proceedings lest they miss out on something. There are two major flashbacks and when each of them ends, the drama, obviously, returns to the present times. Since the oscillation of the drama from present times to flashback and back to present times happens twice over, it also makes the film more engaging because the audience has to be attentive all the time. The suspense comes as a shock to the unsuspecting audience and its revelation is pretty exciting. The climax is heartwarming. However, the screenplay is devoid of light moments, comedy, romance and also emotions. This prevents the film from becoming a wholesome entertainer with all the ingredients of a commercial fare. The missing ingredients will matter to that section of the audience which expects doses of all commercial ingredients in a commercial film of the scale of War. But the masses and youth will not really mind the absence of the aforementioned ingredients because they will love the abundant action. Of course, excessive action might be a dampener for a section of the ladies audiences but the masses and youngsters will love the exciting action, stunts and chase sequences. Abbas Tyrewala's dialogues are good but they should have been more punch-packed. The dialogues should have elicited huge rounds of applause.
Hrithik Roshan has done an excellent job as Kabir. He looks like he is in command, and his performance is superb. His physique is to die for. In fact, it would not be incorrect to say that Hrithik looks like a handsome international hero. His dances are par excellence as he is grace personified in both the song-dances. His action and stunts are breathtaking. Tiger Shroff shows marked improvement as an actor and this could rate as his best performance so far. He also has a physique which will be the envy of one and all. His dance is simply mesmerising. As for his action scenes and stunts, his mid-air somersaults are mind-boggling and there are plenty of them. Ashutosh Rana leaves a fine mark as the Colonel. His acting is mature. Vaani Kapoor has a brief role (as Naina) but her acting in nice. She has exposed her body uninhibitedly and tastefully. Sanjeev Vatsa looks like the terrorist (Rizwan Ilyasi) he plays; his acting is nice. Mashhoor Amrohi is effective in the role of Firoz Contractor. Anupriya Goenka makes her presence felt in the role of Aditi. Yash Raj Singh has his moments as Saurabh. Soni Razdan is lovely in a special appearance, as Khalid's mother. Arif Zakaria leaves a fine mark as Dr. Ujjwal Bhasi. Dipannita Sharma is okay as the plastic surgeon. Amit Gaur is alright as Shroff. Swaroopa Ghosh proves her acting prowess in the single scene she gets, as defence minister Sherna Patel. Her facial expressions and dialogue delivery are lovely. Mohit Chauhan is natural as Naidu. Baby Dishita Sehgal is cute and entertaining as Ruhi. Others lend the desired support.
Siddharth Anand's direction is very good. He has made a film with a huge canvas and with two big heroes, which in itself is no mean task. Besides extracting good work from out of his artistes, he has adopted a narrative style which keeps the viewers engaged right from the word 'go' and till the end. Music (Vishal-Shekhar) is very good but the songs are not of the kind which will last for months on end. The 'Jai jai Shiv Shankar' song is the better of the two; the 'Ghungroo' song is also appealing. Kumaar's lyrics are quite nice. Song picturisations (by Bosco-Caesar and Tushar Kalia) are heavenly. The picturisation of the 'Jai jai Shiv Shankar' song-dance (by Bosco-Caesar) deserves distinction marks as it brings two of the best dancers of Bollywood together — and in such a wonderful and energetic dance. It is sheer delight to watch Hrithik and Tiger dance together and it wouldn't be an exaggeration to say that their dance is worth the ticket price, everything else being a bonus. Sanchit Balhara and Ankit Balhara's background music is splendid and complements the drama wonderfully. Benjamin Jasper's cinematography is remarkable and eye-filling. Action and stunt scenes as also the chase sequences (all choreographed by Paul Jennings, Seayoung Oh, Parvez Shaikh and Franz Spilhaus) deserve full marks because they are extremely thrilling. The action choreography is of the kind one watches in international cinema. Rajat Poddar's production designing is superb. Aarif Sheikh's editing is very sharp.
On the whole, War is a sureshot hit. It has the magical chemistry of two handsome hunks, their superb action, and an outstanding dance picturised on both of them as its major plus points. The film will join the Rs. 100-crore club in no time; it will also soon become a part of the Rs. 200-crore club. It has the potential to even touch the Rs. 250-crore mark. It will do business at great speed. The film could prove to be the starting of a new franchise for the Yash Raj Films banner.
Released on 2-10-'19 at Regal (daily 4 shows) and other cinemas of Bombay by Yash Raj Film Distributors. Publicity: extraordinary. Opening: earth-shattering. …….Also released all over. Opening was superb everywhere; at many places, it was historic. The all-India opening will be one of the best ever initials for Bollywood films.