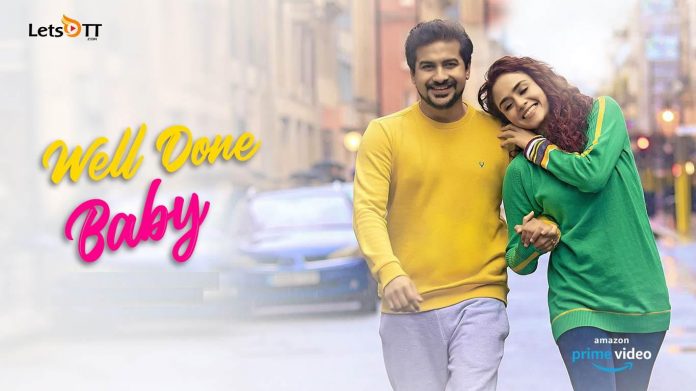 Anand Pandit Motion Pictures, Production Headquarters UK and Goosebumps Entertainment's Well Done Baby (Marathi) is a story about marital discord.
Aditya (Pushkar Jog) and Meera (Amruta Khanvilkar) are married and based in London. Their marriage is going through a rough patch, and partly responsible for this is Meera's mother (Vandana Gupte). The mother has come to stay with the couple and is extremely overbearing. Besides, Meera is inexperienced about handling daily chores. On the other hand, Aditya is a multi-tasker.
Things reach a point where the couple decides on filing for divorce. But suddenly one day, Meera realises that she is pregnant. Does that change the situation?
Marmabandha Gavhane's story and screenplay lack novelty. The story and screenplay appeal in parts only. The consistent emotional appeal of a drama revolving around a married couple's problems is missing in the script. Gavhane's dialogues are so-so.
Pushkar Jog acts very ably as Aditya. Amruta Khanvilkar does full justice to the character of Meera. Vandana Gupte lends good support as Meera's mother. Sanjay Jadhav makes his mark in a brief role as the marriage counsellor. Others lend routine support.
Priyanka Tanwar's direction lacks the sensitivity required for such a subject. Rohan-Rohan's music and Valay Mulgund's lyrics are quite appealing. Salil Amrute's background music is alright. Cinematography (by Santonio Terzio and Mohsin Khan Pathan) is of a good order. Foreign locations are eye-filling. Sandeep Francis' editing should've been tighter.
On the whole, Well Done Baby is a weak fare with dull chances at the box-office.
Released on 14-1-'22 at Gold Digital Dadar (daily 1 show) and one more cinema of Bombay thru Panorama Studios. Publicity & opening: poor. (The film was premiered on an OTT platform on 9th April, 2021.)