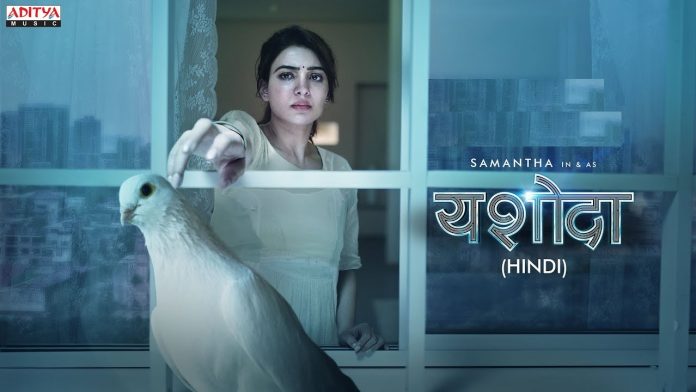 Sridevi Movies' Yashoda (dubbed from the Telugu film of the same name; UA) is an exposé on a surrogacy centre run by a politician, his wife, a doctor and a police officer.
Yashoda (Samantha) is in need of money and so agrees to bear a child by surrogacy. During her stay at the surrogacy centre run by four people, she realises that the surrogate mothers disappear soon after delivering the babies. Disturbed, she begins probing, and is horrified by what she gets to know.
Hari-Harish have written a story and screenplay, which are interesting in parts only. The drama is low on logic, because of which it becomes difficult to sustain the audience's interest. Emotions are very few. Even light moments are few and far between. Dialogues are quite good.
Samantha shines in the title role. Her acting is very good. She also impresses in action scenes. Unni Mukundan performs ably as Dr. Gautam. Varalaxmi Sarathkumar does a fine job as Madhubala, wife of politician Girdhar. Rao Ramesh is okay as politician Girdhar. Murali Sharma makes his mark in a brief role as corrupt police commissioner Balram. Sampath Raj lends average support as Vasudev. Shatru, Madhurima, Divya Sripada, Kalpika Ganesh, Priyanka Sharma and Rajiv Kumar Aneja are ordinary.
Hari-Harish's direction is fairly nice. Mani Sharma's music is average. Lyrics are commonplace. Background music is alright. M. Sukumar's camerawork is of a fine standard. Venkat and Yannick Ben's action and stunt scenes afford thrills. Ashok's production designing is appealing. Marthand K. Venkatesh's editing is up to the mark. Dubbing is good.
On the whole, Yashoda has some moments but they are not enough for the film to score at the box-office.
Released on 11-11-'22 at Galaxy (daily 2 shows) and other cinemas of Bombay thru UFO Cine Media Network. Publicity & opening: poor. …….Also released all over to dull houses.