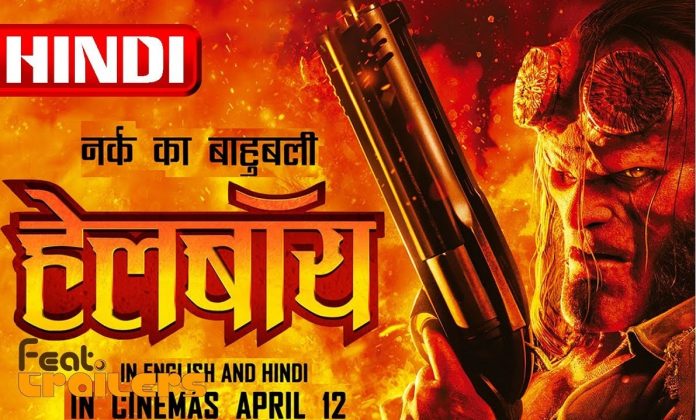 Summit Entertainment's Hellboy Aa Gaya Yamraaj (dubbed from Hollywood film Hellboy; A) is a superhero film based on a character of the same name from the Dark Horse Comics. It is the story of Hellboy (David Harbour) who is caught between the supernatural world and the human world. How he battles an ancient sorceress, Nimue, the Blood Queen (Milla Jovovich), who is bent on revenge, forms the crux of the drama.
The story is based on the character created by Mike Mignola. Andrew Cosby's screenplay is pretty confusing as there are too many characters. Yet, the action and stunts keep the audience's interest alive.
David Harbour does a fine job in the title role of Hellboy. Milla Jovovich is effective as Nimue, the Blood Queen. Sasha Lane is quite good in the role of Alice. Troy James has his moments as Baba Yaga. Ian McShane (as Prof. Broom), Daniel Dae Kim (as Major Ben Daimio) and Thomas Haden Church (as Lobster Johnson) lend able support. Stephen Graham's voice acting (as Gruagach) is effective. Others are alright.
Neil Marshall's direction is fair. The drama should have been narrated in a more simplified manner. Lorenzo Senatore's camerawork is very good. Benjamin Wallfisch's music is so-so. Production designing (by Paul Kirby) is of a fine standard. Martin Bernfeld's editing should have been sharper. Dubbing is quite nice.
On the whole, Hellboy Aa Gaya Yamraaj is an average fare and will do ordinary business. The English original, released simultaneously, will perform better at the box-office.
Released on 12-4-'19 at Maratha Mandir (daily 2 shows) and other cinemas of Bombay thru PVR Pictures Ltd. Publicity: ordinary. Opening: dull. …….Also released all over. Opening was below the mark at most places. The opening of the original English version was also not impressive.