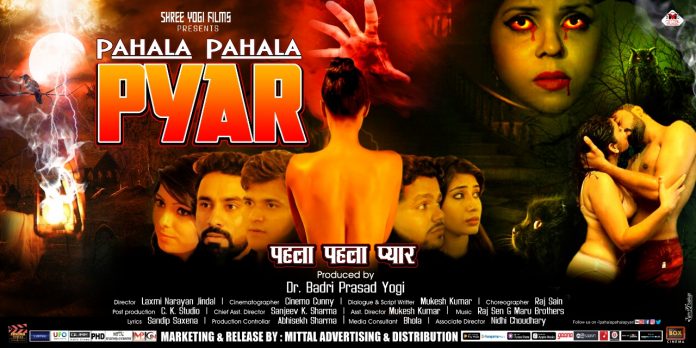 Shree Yogi Film's Pahala Pahala Pyar (A) is a thriller. It is the story of three friends.
David is an accomplished and busy artist. One day, he goes on a picnic with his friend and the friend's girlfriend. Their car has a breakdown in a lonely spot and the three friends are forced to spend the night in a secluded house. The caretaker warns them to keep away from one particular room.
However, David erroneously enters that very room. Inspired, he starts sketching while sitting in the room. This brings alive a ghost which terrifies the three friends. Does the spirit kill anybody? Why and who does the ghost want to kill? Who dies and who is alive in the end?
Mukesh Kumar's story is strange and extremely predictable. Hanuman Ratan has written such a half-baked and predictable screenplay that it bores the audience. The thrill element is almost completely missing from the drama. Mukesh Kumar's dialogues are dull.
Performances of the artistes are below the mark. Manoj Kumar is ordinary. Raj Sharma fails to impress. Rohit Sharma is dull. D.P. Singh, Dilip, Nikita Sharma, Suman Yadav, Puja Sharma, Vikas Sharma and Kamlesh Sharma are barely passable.
Laxmi Narayan Jindal's direction is weak. Music (Raj Sen and Maru Brothers) and lyrics (Sandip Saxena) are merely functional. Raj Sain's choreography is commonplace. Cinema Sanny's camerawork hardly deserves separate mention. Editing leaves a lot to be desired.
On the whole, Pahala Pahala Pyar will go largely unnoticed as it has precious little to offer to the audience.
Released on 6-12-'19 at Imperial (daily 4 shows) and other cinemas of Bombay thru Mittal Advertising And Distribution. Publicity & opening: poor. …….Also released all over. Opening was terribly weak everywhere.