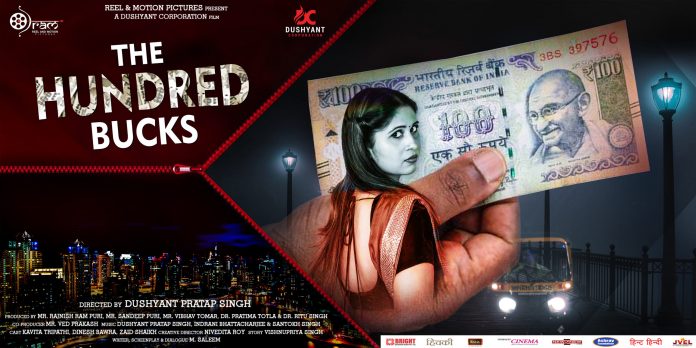 Reel & Motion Pictures and Dushyant Corporation's The Hundred Bucks (A) is the story of a call girl.
Mohini (Kavita Tripathi) is a call girl who solicits clients in an autorickshaw driven by Abdul (Dinesh Bawra). Abdul needs money to pay the school fees of his child. Mohini promises to give him money for the fees but as luck would have it, she doesn't find any client for a long time. A lady police inspector first has sex with Mohini but doesn't pay her anything. After that, an MLA has sex with Mohini but again, for free.
Mohini now goes to her lover but there, she kills one of his men when he tries to rape her. She runs away from there. Then, she meets a noble man who takes her for a night out but pays her Rs. 3,000 without seeking her services. Mohini pays Abdul Rs. 1,700 for his child's fees the next morning.
Vishnupriya Singh's story is asinine. M. Saleem's screenplay is also stupid and doesn't add up to much. The drama goes on and on without really arriving at anything. M. Saleem's dialogues are commonplace.
Kavita Tripathi does a fair job as Mohini. Dinesh Bawra lends decent support as Abdul. Zaid Shaikh and the others are ordinary.
Dushyant Pratap Singh's direction is terribly weak. Music (Santokh Singh, Dushyant Pratap Singh and Indrani Bhattacharjee) is weak. Lyrics are barely functional. Yogesh Singh's camerawork hardly deserves separate mention. Hardik Shaikh's editing leaves a lot to be desired.
On the whole, The Hundred Bucks is a poor show all the way and will, therefore, flop.
Released on 21-2-'20 at Movie Time Goregaon (daily 1 show) and another cinema of Bombay thru Jai Viratra Entertainment Ltd. Publicity & opening: dull. …….Also released all over.