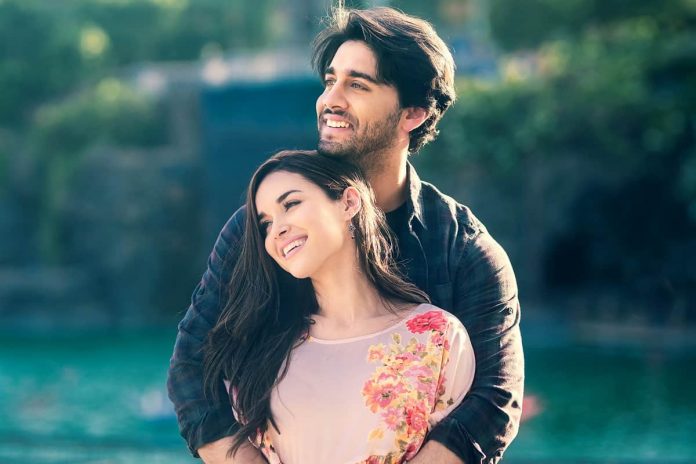 Jio Studios, A.R. Rahman, YM Movies and Ideal Entertainment's 99 Songs (UA) is a musical love story.
Jay (Ehan Bhat) is a budding singer and music composer. He is in love with Sophie (Edilsy Vargas) who cannot speak. She organises fashion shows and is the daughter of Singhania (Ranjit Barot), a rich businessman. Singhania sees a spark in Jay. Aware that Jay loves his daughter and wants to marry her, Singhania makes a business proposal to him dealing with setting up a music company. But Jay has other plans. He does not want to make a business out of his passion for music. This infuriates Singhania because he is convinced that Jay would not be able to look after his daughter whom he has raised in the lap of luxury. So he throws a challenge to Jay, which Jay accepts.
Jay's bosom pal, Polo (Tenzin Dalha), takes him to Shillong to work on Singhania's challenge. But things take an ugly turn in Shillong when Jay finds himself trapped in legal matters, that too, with Sheela (Lisa Ray), a young and beautiful singer of Shillong. Meanwhile, Sophie pines for him but is unable to establish contact with him.
What happens to the challenge? What happens to Jay? Does he succeed in the field of music? Do Jay and Sophie meet finally?
A.R. Rahman has written a story which is so slow-moving that it often tests the audience's patience. Besides, since there is no novelty in the story-line, it does not impress. Vishwesh Krishnamoorthy's screenplay is not half as exciting as it should've been. The drama is replete with clichéd scenes and oft-repeated and predictable twists and turns. Consequently, it fails to touch the heart or involve the viewers. The hearts of the audiences do not root for the lovers when they are separated. Frankly, so poor and predictable are the story and the screenplay that they simply fail to engage the viewers who, therefore, watch the drama unfold as outsiders who couldn't care less. Hussain Dalal's dialogues don't really add much to the proceedings.
Ehan Bhat makes an ordinary debut as Jay. He looks good but his acting and dialogue delivery need improvement. For one, he hardly opens his mouth while speaking his dialogues and, therefore, the dialogues are not very clear. Edilsy Vargas makes an average debut as Sophie. Tenzin Dalha is quite good as Polo. Manisha Koirala is alright in a brief role. Lisa Ray leaves a mark as Sheela. Warina Hussain makes her presence felt in a brief role. Ranjit Barot is effective as Singhania. Rahul Ram is quite nice as Zorawar. Ashwath Bhatt (as chief minister Ashwath Prabhakar) leaves a mark. Neel Tyagi shines as young Jay. Diwakar Pundir (as Jay's father) stands his own with a fine performance. Kurush Deboo (as Furtados), Chaitanya Sharma (as Ricky Punjabi), Akansha Pradhan (as Polo's girlfriend, Janice), and the others are adequate.
Vishwesh Krishnamoorthy's direction is dull. Instead of making a film which could move the audience, he has made a class-appealing and slow-moving fare. Having said that, it must be added that he knows the craft of filmmaking. A.R. Rahman's music is very good but the songs are not too popular. All the same, the melody and the orchestration are pretty impressive. Lyrics (by Navnit Virk, Munna Shaukat Ali, Raftaar and Abhay Jodhpurkar) are good. Choreography (Lauren Gottlieb, Anatoliy Sachivko and Sumeet Nagdev) is fair. A.R. Rahman's background music is of a high order. Tanay Satam and James Cowley's cinematography is splendid. Action and stunt scenes (Ravi Kumar) are functional. Production designing (by Aparna Raina) is of a good standard. Editing (Akshay Mehta and Shreyas Beltangdy; consulting editor Monisha R. Baldawa) should've been sharper.
On the whole, 99 Songs is too dull and routine to make any impact at the box-office. The current scenario (cinemas shut down in some states, limitation on capacities where cinemas are functional, night curfews, weekend restriction on cinemas in some states) will only add to the film's tale of woes.
Released on 16-4-'21 all over India (except in Bombay, Maharashtra and other places where cinemas have been ordered to remain shut) by Jio Studios. Publicity: dull. Opening: weak.