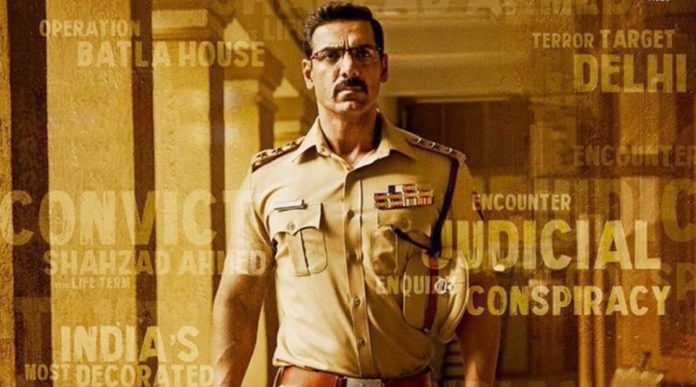 T-Series, JA Entertainment, Emmay Entertainment and Bake My Cake Films' Batla House (UA) is based on the famous Batla House encounter of Delhi, which took place in 2008.
Sanjay Kumar (John Abraham) is an efficient police officer in Delhi who has been asked by his senior, Jaivir Singh (Manish Chaudhary), to keep an eye on and engage some suspected terrorists living in Batla House in Delhi. However, his team fires at the young boys even before Sanjay Kumar reaches the spot. In the cross-firing, two boys, Adil Amin (Kranti Prakash Jha) and Sadiq (Niranjan Jadhao), are killed while a police officer, KK (Ravi Kishan), is seriously injured. KK soon breathes his last in the hospital. The opposition and the public alike raise a hue and cry over the police encounter, describing it as a fake encounter which had resulted in the death of two innocent students.
Sanjay Kumar becomes the target of public barbs as he has no proof to establish that the ones killed in the encounter were indeed terrorists. Two of the terrorists had escaped in the cross-firing while one, who had been caught by Sanjay Kumar and his team, had turned hostile. The ministers and some seniors of Sanjay Kumar are at their wits' end and look at Sanjay with suspicion, but his immediate boss, Jaivir Singh, knows that Sanjay is not wrong. ACP Sanjay Kumar tries very hard to prove his point but meets with little success. Ultimately, it's a question of his prestige and integrity when the Batla House encounter case reaches the court. How Sanjay Kumar proves his point forms the crux of the story.
Ritesh Shah has rewritten the true-life story which is, at the core, a fine story. But his style of writing the story is not good enough, at least in the first half which sometimes confuses the audience and at other times, keeps their engagement level at less than cent per cent. Ritesh Shah's screenplay is very average in the pre-interval portion but better in the second half. Actually, the drama picks up when dancer Huma is made a part of the story. The courtroom drama that follows is engaging but the fireworks one has gotten used to watching in Hindi films which have courtroom dramas as important parts, are not as exciting as one expects. This is mainly because the arguments of the lawyers on the two sides are not as punch-packed as they should've been. Another reason why the screenplay is found lacking is the absence of recognisable faces in important roles. Like, for instance, Sanjay Kumar's core team has faces which are not well-known. Ditto for the characters of the terrorists — they are played by faces which can't be recognised or recalled easily. The writer is not able to impress upon the viewers as to who from among the police is on Sanjay Kumar's side and who isn't because some people seem to be opportunists. Even if some had to be shown as sitting on the fence, Ritesh Shah should have underlined that fact rather than underplaying it. Overall, Ritesh Shah's screenplay makes the film one more almost-routine good-versus-evil drama. Ritesh Shah's dialogues are fair when they should've been more weighty and should've had more patriotic feelings infused into them.
John Abraham does a fair job but he is good in dramatic and melodramatic scenes. Otherwise, he has similar expressions on his face many of the times. Besides, since he has been seen playing the man in uniform in so many recent films and also since there is not much variation he has brought to the character of Sanjay Kumar from his earlier roles, the viewers will not applaud his performance. He has not been photographed too well. Mrunal Thakur plays his journalist-wife, Nandita Kumar, with conviction. She is good. Manish Chaudhary doesn't get much scope to perform as Sanjay Kumar's senior, Jaivir Singh, although he has a lot of screen time. Ravi Kishan is earnest as KK. Rajesh Sharma is reasonably effective as lawyer Shailesh Arya. Sahidur Rehman is quite nice as Dilshad. Nora Fatehi is superb in her song-dance number. She looks beautiful and also acts ably in a brief role after the dance. Alok Pandey leaves a fine mark as Tufail. Faizan Khan is fair as Javed. Amit Verma is okay as Vazir Singh. Amit Jairath lends good support as Jeetendra. Sanjeev Jotangia is okay as Balbir. Kranti Prakash Jha (as Adil Amin) and Niranjan Jadhao (as Sadiq) lend good support. Chirag Katrecha (as Zia), Yathaarth Kansal (as Arif) and Pramod Pathak (as Sanjay Kumar's lawyer or the public prosecutor) are okay. Jitender Trehan is nice in the role of Commissioner Laharwal. Sonam Arora (as Mrs. KK), Mohammad Saif (as Saif), Sandeep Yadav (as the Nizampur Collector), Shashank Awasthi (as Dilshad's friend), Vallabh Gada (as KK's father), Lalita Katgara (as KK's mother), Anil Rastogi (as home minister Shivaji Patil), Asif Ali Baig (as minister P.C. Naidu), and Utkarsh Rai (as the judge) lend decent support.
Nikhil Advani's direction is good in the post-interval portion when he seems to be more in control of the proceedings. However, his narration in the first half doesn't make the goings-on very easy for the audience to understand. Music (Rochak Kohli, Tanishk Bagchi and Ankit Tiwari) is fairly good. Of course, the remixed version of the super-hit 'O saki saki re' song (by Tanishk Bagchi) is a big hit. Lyrics (Kumaar, Tanishk Bagchi, Dev Kohli, Gautam G. Sharma, Gurpreet Saini and Prince Dubey) are alright. The picturisation (by Adil Shaikh) of the 'O saki saki re' song is absolutely mind-blowing. Nora Fatehi's dance deserves full marks. Other song picturisations are so-so. John Stewart Eduri's background music is okay; it ought to have been far more impactful. Soumik Mukherjee's cinematography is very good. Amin Khatib's action and stunt scenes are mass-appealing. Priya Suhas' production designing is appropriate. Maahir Zaveri's editing is good but it could've been sharper.
On the whole, Batla House, abounding in action, is just about average in merits but it will do business that's better than its merits because of the good start it has taken today (thanks to the double holiday for Independence Day and Raksha Bandhan) and on the strength of collections in North India as the audience there is fond of action films. The producers have already made a profit on the table while the distributors would break even.
Released on 15-8-'19 at Regal (daily 2 shows) and other cinemas of Bombay thru Panorama Studios and Anand Pandit Motion Pictures. Publicity: very good. Opening: good (start in the morning shows was not very good but collections picked up soon thereafter). …….Also released all over. Opening was good everywhere.