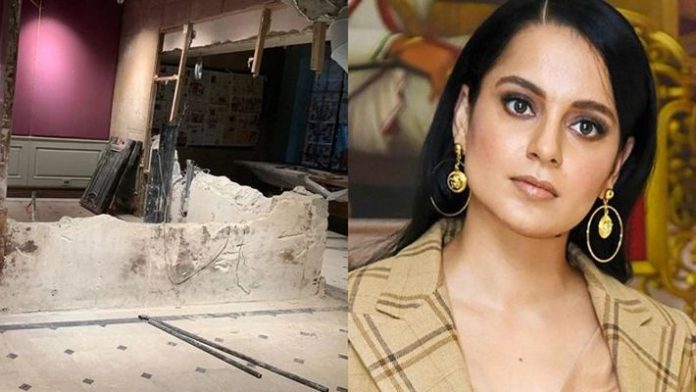 The Brihanmumbai Municipal Corporation asked the Bombay high court to dismiss Kangana Ranaut's claim of Rs. 2 crore by way of damages from it for part demolition of her office at Pali Hill, Bandra on 9th September. Kangana had filed a plea on 9th itself, on hearing which the high court had stayed the demolition but the BMC had done its job by then. The actress amended her plea last week, claiming Rs. 2 crore damages from the BMC and its officials. She said that she had not made any illegal changes or alterations in her office, but the BMC rubbished her claim. Kangana's lawyer told the court that the BMC had carried out the demolition as revenge against her for being publicly critical of the Shiv Sena government. The court asked for Shiv Sena's spokesman, Sanjay Raut, to be made a party to her plea as the plea referred to a DVD showing Raut allegedly threatening her. The court said that Sanjay Raut should be given a chance to defend himself. Upon this, Kangana's lawyer also asked the H-West ward's designated officer, Bhagyavant Late, to be made a party as he had issued all communications related to the illegal construction notice and demolition.
On September 9, the BMC demolished a part of Kangana Ranaut's office bungalow, alleging that she had made illegal structural changes and repairs to the structure in breach of the civic body's sanction plan. Kangana Ranaut filed a rejoinder affidavit in the high court yesterday (21st September), stating that she didn't make any structural changes or repairs illegally. She also denied the BMC's allegation that her demand for the demolition to be declared illegal and for Rs. 2 crore as damages by the civic body was an abuse of the process of law.
The bench said, on the next date, both parties will have to argue on the amount of time that should have been given to Kangana to respond to the BMC's demolition notice issued under section 354 (A) of the Municipal Corporation Act. The court also directed the BMC to file its response to Kangana Ranaut's rejoinder affidavit by 24th September. The BMC lawyer told the court that while earlier Kangana had maintained that the alleged structural changes were made some years ago in consonance with the BMC's sanction plan, she had outrightly denied having made any structural changes to her office bungalow in her rejoinder affidavit.
The civic body urged the high court to dismiss Kangana's plea and impose a cost upon her for filing the petition, which it said was an "abuse" of the process of law. The high court is likely to further hear the matter tomorrow (23rd).