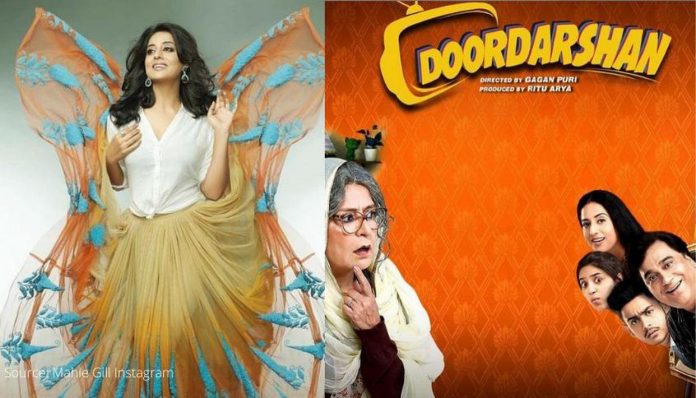 Arya Films' Doordarshan (UA) is a family drama.
Sunil Bhateja (Manu Rishi Chadha) is separated from his wife, Billoo (Mahie Gill). The two are now on the verge of a divorce. Their two children, Sunny (Shardul Rana) and Sweety (Archita Sharma), live with Sunil and his mother, Darshan Kaur (Dolly Ahluwalia), who has been comatose for 30 years now.
Even as Sunil is struggling to have the divorce go through peacefully, if it must happen, his mother comes out of the coma. So that she doesn't get a mental shock that she was comatose for 30 years, Sunil and his family members struggle to make things appear as if they are still living 30 years in the past. That includes Sunil dressing up as a school boy, Billoo behaving like his close friend, and Sunil's two children being passed off as house helps. Since Darshan Kaur remembers Doordarshan serials which she used to avidly watch, the family struggles to recreate her favourite TV serials to give her the impression that she has not missed anything in life, and definitely not 30 years! Does Darshan Kaur ever get to know that she was comatose for 30 years? What happens to the marriage of Sunil and Billoo?
Gagan Puri has written a far-fetched story which appears implausible at many places. Although Sunil and his family members and friends struggle to recreate the past, it is not clear how they intend to finally break the news to his mother that she was comatose for 30 years. Because this point is not addressed, the entire drama looks kiddish as the family looks so dim-witted that it doesn't want to face reality. Also, what's the big deal about slowly breaking the news to a patient that she was comatose for many years. After all, she would, some day, have to be told the truth because how can one keep the facade going forever. Gagan Puri's screenplay has some heartwarming moments but most other scenes are so over the top that even the comedy often becomes embarrassing and loses its fun element. It would not be wrong to say that while several individual scenes are comical, they don't add up to a comic entertainer because they look rather unbelievable in the scheme of things. The track of Sunil and Billoo's estrangement and imminent divorce is half-baked and, therefore, does not appeal. Overall, the screenplay looks like the job of an amateur who doesn't know that screenplay writing for a film is different from writing for an episode of a television serial. Frankly, this screenplay looks like that of a Doordarshan TV serial of 30 years ago. Gagan Puri's dialogues are funny and entertaining.
Manu Rishi Chadha acts with effortless ease but to imagine that he can carry an entire film on his shoulders is foolhardiness. Mahie Gill is quite good as Billoo but she gets limited scope only. Dolly Ahluwalia performs ably and lives the character of Darshan Kaur but she does go overboard at times, maybe because the plot is implausible. Shardul Rana has a fantastic sense of comic timing. He is first-rate as Sunny. Archita Sharma is natural in the role of Sweety. Rajesh Sharma makes his mark as Goldy. Supriya Shukla makes her presence felt as Goldy's wife, Geetu. Mehek Manwani looks pretty and does well as Twinkle. Sumit Gulati is fantastic as Pappi. Aditya Kumar lends remarkable support as Bunty. Manoj Bakshi (as the Hindi teacher), Naresh Gosain (as Mr. Malhotra), Ritika Arora (as Sunil's secretary), Ajay Singh (as the newspaper delivery man), Ena Vohra (as Billoo's aunt), and the others provide decent support.
Gagan Puri's direction is alright. His narrative style, like the script, is more suited to a television serial. Meet Bros.' music and background music are okay. Kumaar's lyrics are commonplace. Shabina Khan's choreography is nothing to shout about. Soni Singh's camerawork is ordinary. Gautam Naresh's production designing and Shekhar Ujjainwal's art direction hardly deserve special mention. Shubham Srivastava's editing should have been sharper.
On the whole, Doordarshan is a flop comedy fare.
Released on 28-2-'20 at Inox Metro (daily 1 show) and other cinemas of Bombay thru PVR Pictures Ltd. Publicity & opening: poor. …….Also released all over. Opening was weak everywhere.