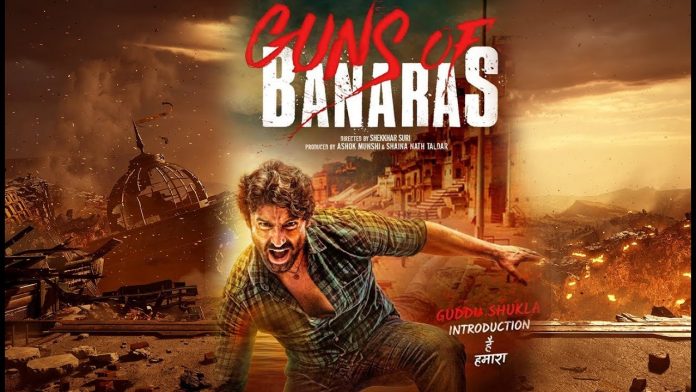 Films Title and Dashaka Films' Guns Of Banaras (UA) is an action drama set in Banaras.
Guddu (Karan Nath) lives in Banaras with his parents (Vinod Khanna and Zarina Wahab) and younger sister (Tanvi Rao). He gets a job in a bank. He has a motorcycle which he needs for his bank job. He loves Hema (Nathalia) who lives close by.
One day, Guddu's motorbike gets stolen. He files a complaint with the police station, which angers Vikram Singh (Ganesh Venkatram) at whose behest the bike has been stolen. Vikram Singh and elder brother Brijesh Singh (Abhimanyu Singh) are the underworld dons of Banaras. Although Brijesh Singh is not in favour of Vikram locking horns with commoner Guddu, Vikram goes ahead and beats up Guddu's father to seek revenge. In the process, Guddu beats up Vikram who now becomes his sworn enemy.
How Guddu gets sucked into the world of crime after his motorcycle is stolen and what happens finally is what the film is all about.
The film is a remake of Tamil film Polladhavan which had story and screenplay by Vetrimaaran. The additional screenplay is penned by Shekhar Suri and Anshuman Chaturvedi. The story is routine, without even a hint of novelty. It's actually a thin story which has been padded up by adding characters, some useful, others useless. The screenplay is clichéd and completely predictable. Since there's no freshness whatsoever in the drama, it fails to really involve the viewers in the way it should. Resultantly, the audience passively views the drama unfold. The writers have not tied all the loose threads in the end and that's a minus point. For instance, what happens to the mystery of the STF officer's murder is not known. Dialogues, written by Samar Katyaan and Anshuman Chaturvedi, are routine.
Karan Nath does fairly well as Guddu. Nathalia is average as Hema. Vinod Khanna lends reasonable support in the role of Guddu's father. Zarina Wahab is quite nice as Guddu's mother. Shilpa Shirodkar is natural to the core as Brijesh Singh's wife. Abhimanyu Singh is quite nice as Brijesh Singh. Ganesh Venkatram is alright as Vikram Singh. Dr. Mohan Agashe leaves a mark as Triloki. Tej Sapru is good as Hema's father. Girish Sehdev makes his presence felt as the STF officer who is murdered. Salim Baig is alright as Tiwari. Ashok Pathak (as Suleman), Samar Katyaan (as autorickshaw driver Kundan), Shashi Kiran (as the showroom manager), Tanvi Rao (as Guddu's sister), Deepak Pandit (as the narcotics officer), Akash Sinha (as Kamal), Vinod Jewant (as Devraj), Vaibhav Mathur (as the loafer), Anshul Gupta (as Kaju), Raju Gupta (as Babloo), Amit Kalra (as the corporate boss), and the others provide ordinary support.
Shekhar Suri's direction is average. Sohail Sen's music and Sameer Anjaan's lyrics are functional. Rajeev Surti's choreography is so-so. Amar Anil Mohile's background music is nothing to shout about. Rajender Kesani's camerawork is ordinary. Sham Kaushal's action and stunt scenes are thrilling. Ashwini Shrivastav's production designing and Ashok Lokare's art direction are okay. Bunty Nagi's editing is quite crisp.
On the whole, Guns Of Banaras is a routine action fare with bleak chances at the box-office. It may do somewhat okay in parts of U.P. circuit.
Released on 28-2-'20 at Glamour (daily 1 show) and other cinemas of Bombay thru UFO Cine Media Network. Publicity: so-so. Opening: poor. …….Also released all over. Opening was weak everywhere.