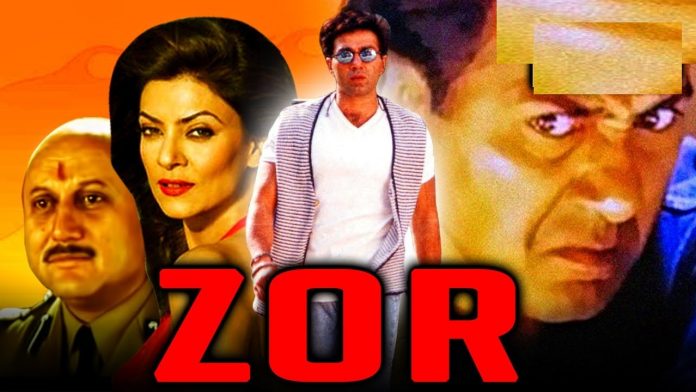 ZOR
Vicky Films (P.) Ltd.'s Zor (A) is a routine story of a one-man army against the evil forces in society, represented here by a don, a minister and a Godman. The three villains try to ruin the country through communal riots and this agitates a journalist so much that he takes it upon himself to expose their misdeeds. He realises that the three are involved in the worst of criminal activities when he tries to find out the truth about his dearest friend who has been dubbed a terrorist and for harbouring whom his (journalist's) father, an honest police officer, is imprisoned. Sunny Deol plays the journalist who switches tracks and becomes the custodian of the country. The three villains are played by Om Puri, Govind Namdeo and Mohan Agashe.
The biggest defect in the script is that it has too much of preaching. Sunny Deol goes on endlessly about the virtues of being a nationalist and the vices of being a traitor/terrorist. What the audience expects of Sunny Deol is to bash up people but he does that quite sparingly. Instead, he has been given lines and lines of dialogues to mouth. This not only irritates the audience, it also dilutes the intensity of the tension in the drama. Screenplay leaves plenty to be desired as the drama very often loses grip and becomes loose and uninteresting. Some scenes, where there was ample scope for action, have been completed either without action or with minimal fights. Nor are there many hard-hitting or fiery dialogues to evoke claps. The first half is very dull and the drama is somewhat better after interval.
Sunny Deol, no doubt, does very well but his fans are bound to be disappointed due to his limited action. At least in the climax, one expects him to beat the lives out of the villains but he, instead, argues it out in the court of law, making the climax unnecessarily verbose. Sushmita Sen shows a marked improvement over her first film, acts fairly well and impresses in dances too. Milind Gunaji, as Sunny's bosom friend, fails to put life into his character. Although he plays a Muslim armyman, his diction is typically Maharashtrian. Om Puri has limited scope and is fair. Govind Namdeo too doesn't get much scope. He does well. Mohan Agashe is very impressive in the role of the Godman. Anupam Kher is good as Sunny's father. Laxmikant Berde's comedy is nothing to write home about. Veeru Krishan is good. Dina Pathak, A.K. Hangal, Tiku Talsania, Farida Jalal, Dinesh Hingoo, Rana Jung Bahadur, Sucheta Pawse, Deepanjali and the rest lend fair support.
Sangeeth Sivan is another director who seems to believe more in form than in content. For, his flair for dim lighting and capturing visual beauty is obvious in every frame (in fact, the poor lighting gets jarring after a while), but he needs to take serious lessons in scripting. Music is the greatest drawback of the film. The songs are pathetic and none of them appeals to the listener. Although their picturisations are eye-filling, the boring tunes are enough to put off the viewer. Action scenes have been well composed. Sound effects and Dolby digital mixing are of a high standard.
On the whole, high-priced Zor is a disappointment and, despite a very good start, will find the going tough in most of the circuits. Business in Punjab should be better.
Released on 13-2-'98 at Novelty and 21 other cinemas of Bombay thru Nicks Investment P. Ltd. Publicity & opening: very good. …….Also released all over. Opening was excellent everywhere except in Gujarat where it was fairly good.
LATEST POSITION
KAMA SUTRA is a tale of super-success everywhere.
Kama Sutra – A Tale Of Love (dubbed) had done extraordinary. Ladies are reported to be now frequenting cinemas screening the film, in many places. 1st week Bombay 38,92,794 (88.89%) from 10 cinemas (5 on F.H.); Ahmedabad 7,11,395 from 3 cinemas, Baroda 1,61,669, Rajkot 100% (all shows full in advance); Pune 10,01,556 from 4 cinemas (1 in matinee), Solapur 96,665 (100%); Hubli 1,40,596 from 2 cinemas (1 in matinee), Belgaum 1,29,393 (100%) from 2 cinemas (1 in noon); Delhi 35,02,771 (95.01%) from 6 cinemas (1 in F.H.); Ghaziabad 1,62,300 (63.08%), Kanpur 3,11,498 (89.71%), Lucknow 2,87,893 (98.43%), Agra 1,72,000 (66.49%), Allahabad 1,81,611 (94.63%), Varanasi 2,21,635 (89.37%), Meerut 1,56,995 (94.30%), Gorakhpur 1,36,040 (89.47%); Calcutta 23,04,438 (both, English and Hindi versions) from 15 cinemas; Guwahati share over 2,00,000; Nagpur 6,33,235 from 3 cinemas, Amravati 1,66,569, Raipur (6 days) 1,88,729, Bhilai 1,70,214; Indore 5,24,121 from 2 cinemas (1 on F.H.), Bhopal 3,64,065 from 3 cinemas; Jaipur 4,44,700 (100%); Hyderabad 15,42,628 from 6 cinemas (1 in noon); Vijayawada 3,31,820; English and Tamil versions doing fantastic in Tamilnadu.
………..
Banarasi Babu drops further. 2nd week Bombay 18,19,931 (51.97%) from 10 cinemas (7 on F.H.); Ahmedabad 1,94,563 from 3 cinemas, Vapi 1,49,600, Jamnagar (matinee) 6,964 (1 unrecd.); Pune 3,82,753 from 3 cinemas, Solapur 89,106 from 2 cinemas (1 in matinee), Satara 27,217; Delhi 17,42,167 from 11 cinemas (1 on F.H.); Kanpur 1,73,174 from 2 cinemas, Lucknow 1,72,829, Allahahad 90,500, Varanasi 1,48,456, Bareilly 68,293 (27.10%), Dehradun 81,000 (1st week 1,28,000), Hardwar 20,000; Nagpur 1,45,407 from 3 cinemas, Jabalpur (6 days) 1,09,899, Amravati (6 days) 52,569, Dhule 57,023, Bhilai 75,213, total 2,20,342, 1st week Jalgaon (6 days) 1,19,553; 2nd week Indore 79,009 (3 on F.H.), Bhopal 40,000; Jaipur 2,55,677 from 2 cinemas, Bikaner 70,060; 1st week Hyderabad 22,90,500 from 13 cinemas; below average in 2nd week in Madras.
Vinashak is also dull. 2nd week Bombay 15,94,862 (43.28%) from 9 cinemas (6 on F.H.); Ahmedabad 3,03,947 from 5 cinemas (1 unrecd.), Vapi 1,81,376, 1st week Jamnagar (matinee) 36,904 from 2 cinemas; 2nd week Pune 2,29,565 from 3 cinemas (1 in matinee), Kolhapur 1,21,306, Solapur 1,56,930 from 2 cinemas (1 in matinee), Satara 1,02,077 from 2 cinemas (1 in matinee); Delhi 12,61,749 from 9 cinemas (1 on F.H.); Kanpur 1,83,345 from 2 cinemas, Lucknow 1,60,416, Agra 1,18,000, Allahahad 1,01,500, Bareilly 66,036 (33.22%), Dehradun 70,205 (1st 1,36,316), 1st week Hardwar 64,748; 2nd Calcutta 1,46,662; Gaya 32,000; Nagpur 1,32,978 from 2 cinemas, Jabalpur 1,14,649, total 2,94,540, Amravati 1,04,375 total 2,97,608, Raipur 72,220, Bhilai (6 days) 43,249, Durg 40,697, Jalgaon 91,051 (1st week 1,82,235), Wardha 28,109, Chandrapur 62,125, total 2,11,443, 1st week Yavatmal 1,23,466; 2nd week Bhopal 2,69,216 from 2 cinemas; Jaipur 2,93,984 from 2 cinemas, Jodhpur 1,20,000, Bikaner 50,000; Hyderabad 3,86,747 from 4 cinemas (1 in noon).
…………
Chachi 420 8th week Bombay 18,46,875 (73.84%) from 7 cinemas (3 on F.H.); Ahmedabad 90,158, Baroda (matinee) 17,893; Pune 3,02,961 from 3 cinemas (1 in matinee), Kolhapur 66,373, Solapur 70,772, 2nd week Barsi 21,957 (1st 35,551), 8th week Satara 22,922, 3rd week Miraj 64,230; 2nd Dharwad 46,918; 8th week Delhi 4,17,144 from 3 cinemas; Kanpur 83,599 from 2 cinemas, Lucknow 95,627, Agra 25,735, Allahabad 19,600, Dehradun 36,640 (7th 53,000), total 5,92,606; Nagpur 69,201 from 2 cinemas, 7th week Jabalpur 57,175, total 5,87,914, 8th week Dhule (6 days) 33,328, total 4,29,190, Raipur (6 days) 41,886; Bhopal 1,04,500; 7th week Jaipur 99,008; 8th week Hyderabad 1,42,401.
Desh Re Joya Dada Pardesh Joya (Gujarati, TF) is creating havoc wherever released. 5th week Ahmedabad 7,29,736 from 4 cinemas, Asodar 1,19,952, 2nd week Patan 72,951, 3rd week Baroda 1,48,344, 1st Nadiad 79,147, 3rd Jamnagar 1,73,518, 5th week Rajkot 2,24,732, Bhavnagar 1,92,947, Junagadh 1,37,337, Morbi 1,59,591, 2nd week Botad 1,21,724.
'DTPH' 100 DAYS
Yash Chopra's Dil To Pagal Hai completed 100 days of its run all over on 7th February. It stars Madhuri Dixit, Shah Rukh Khan and Karisma Kapoor. Music: Uttam Singh.
RAMESH PATEL'S DAUGHTER TO WED
Marriage of Sheetal, daughter of Ramesh Patel of Filmcenter, with Kartik will be solemnised on 17th February at the RWITC, Mahalaxmi, Bombay.
NEW MINI CINEMA IN BOMBAY
A new cinema in Bombay, Cinestar, will be inaugurated on 17th February with an invitee show of Saat Rang Ke Sapne. The cinema, owned by the Kanakias and controlled by Shringar, is located at Kandivli (West) where earlier stood Sona cinema. The cinema will be thrown open to the public from 20th February.
It has 281 seats and only one class. The admission rate is Rs. 55 and the nett capacity for 28 shows is Rs. 2,65,545. The cinema is equipped with Dolby digital and DTS sound systems.
YOU ASKED IT
With Kama Sutra having clicked, can't old English sex films be dubbed in Hindi, especially in view of the fact that dubbed versions of censored films cannot be offered new cuts in visuals?
– Yes, old English sex films can be dubbed but that doesn't mean that all of them will click like KAMA SUTRA. The novelty and shock value of KAMA SUTRA cannot be expected to be there in every film.
Aren't too many small-budget horror films being made?
– In the small-budget group, it's only horror or sex films that are considered safe. Someone should try making a horror film with plenty of action. It just might click.
Does the Maharashtra government now give subsidy to Marathi film producers before the release of a film?
– Yes, subsidy of Rs. 15 lakh is given to a producer during the making of his film.
DO YOU KNOW?
* Bombay distributors Shringar Films hold the distinction of having released the first Dolby film (1942 A LOVE STORY at Metro, Bombay), the first DTS film (HINDUSTANI at Eros, Bombay) and the first Dolby digital film (DAUD at New Excelsior, Bombay).
* KAMA SUTRA (dubbed) has created a record by collecting 96.90% in 1st week in Delhi (4 cinemas).
* CHACHI 420 has created a record by collecting 5,92,606/- in 8 weeks at Payal, Dehradun.
3-E
Education-Entertainment-Enlightenment
CBFC Higher Than High Court?
Although the Bombay high court clearly laid down in the case of Mira Nair's Kama Sutra that there can be no additional cuts in the visuals in the dubbed version of a film (over and above the cuts in the original version), the Madras regional office of the CBFC has committed the same mistake which had been committed by the Bombay regional office in the case of Kama Sutra. The film in question this time is Gali Gali Anarkali, the Hindi dubbed version of the English (Indian) film, I Love You. Although I Love You is censored and released, the Madras office of the CBFC has refused certificate to the dubbed version.
Sexy Success
West Bengal distributor Romi Jaiswal seems to be lucky with films laden with sex. He had released Bandit Queen in his territory, which proved a hit. Now he is laughing his way to the bank with Kama Sutra. In between, he had damp squibs like Insaaf. Moral of the story: Sex spells success.
Luck Transferred
If West Bengal distributor Romi Jaiswal is lucky with sex films, Nizam distributor Ravi Machhar wouldn't even try his luck with such films. Ravi was the original distributor of Kama Sutra for Nizam circuit, but his parents were against the idea of their son releasing "such films". Like an obedient son, Ravi relinquished the rights and suggested the name of another distributor, Dilip Tandon, to R. Mohan, the all-India rights controller of Kama Sutra. Tandon should thank Ravi Machhar's parents for the lottery.
Killing Jack To Accommodate John
It's sad how a distributor 'kills' one film to make way for another. East Punjab distributors, Saraswati Films, released Kama Sutra last week and Zor this week. To accommodate Zor, they discontinued Kama Sutra from the cinemas of Jalandhar and Ludhiana. This, even though the collections of Kama Sutra were truly good. That's not fair.
Divine Blessings?
By a strange coincidence, several people associated with Kama Sutra have their names which are religiously reverred in Hindu mythology. The film's producer-director is Mira (Nair) and her banner's name is Mirabai Films P. Ltd. The all-India rights are with R. Mohan (Lord Krishna is also called Mohan). The Bombay distributors are Shyam and Balkrishna (both names of Lord Krishna) Shroff. The Delhi-U.P. distributor is G.D. Mehta and the 'G' in his name stands for Govardhan. The name of the concern distributing the film in East Punjab and Rajasthan is Saraswati (Goddess of learning) Films.