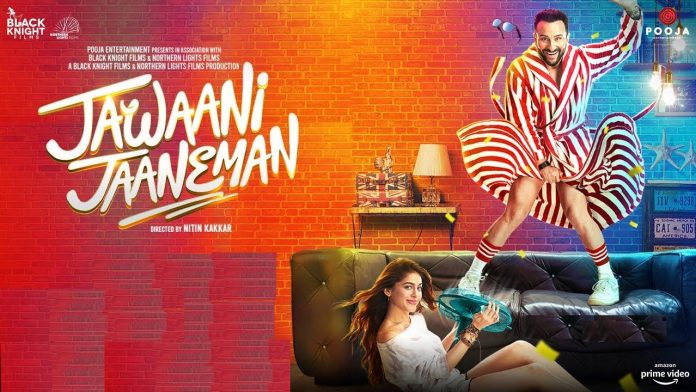 Pooja Entertainment, Black Knight Films and Northern Lights Films' Jawaani Jaaneman (UA) is the story of a Casanova who encounters his own daughter whose existence he was never aware of.
Jazz (Saif Ali Khan) lives in London and wears his heart on his sleeve. He doesn't believe in the institution of marriage but definitely believes in love. In fact, he has affairs with girls, at the drop of a hat. His family consisting of his parents (Farida Jalal and Shivendra Singh Mahal), elder brother, Dimpy (Kumud Mishra), sister-in-law (Dixita Pandya) and their two kids live in the same city but in a different rented apartment owned by Mallika (Kamlesh Gill). Jazz and Dimpy are real estate brokers and they are trying to broker a deal of the huge plot of land where the family stays. Everyone, except Mallika, has agreed to the deal.
Even while the deal is attempted to be closed, Tia (Alaya F.) enters Jazz's life, claiming to be his daughter about whose existence he was clueless. Tia has come from Amsterdam where she lives with her mother, Ananya (Tabu). Soon, Jazz also learns that Tia is pregnant with a child although she is not married. Tia is carrying the child of her ex-boyfriend, Rohan (Dante Alexander).
What happens thereafter? Does the commitment-phobic Jazz accept daughter Tia? What happens to the real estate deal? And does Tia deliver her child?
The film is an official remake of Argentinian film Igualita A Mi. The story is interesting and engaging. But it is too bold for the Indian audience as at its core is premarital sex. The screenplay (of the original) and the additional screenplay (by Hussain Dalal and Abbas Dalal) are fun-filled. Since the story and screenplay are written in a comical style, they keep the audience entertained throughout. The banter between Jazz and Tia, especially, is entertaining and enjoyable. The track of Tia's pregnancy comes as an interesting twist but it also gives the audience a feeling that every unusual thing happens in Jazz's family only. This does not go down too well with the viewers. Also, solutions to even complex problems seem to come in a jiffy, making that portion of the drama a bit difficult to believe. For instance, Tia gets a very obstinate Mallika to agree to vacate her houses but how she manages that is simply not shown.
The moral issues about pregnancy out of marriage are not even addressed and hence will be an issue for the Indian audience. The youngsters may not mind that as much as the older generation but even the youth will find the moral issue disturbing. Even otherwise, the screenplay is class-appealing because it deals with a topic like pre-marital sex. Having said that, it must be mentioned that a section of the target audience will thoroughly enjoy the comedy. The scenes between Jazz and Tia, and between Jazz and Ananya are quite funny and often, even hilarious. Likewise, the scenes between Jazz and his family members are very comical. Special mention must be made of the scene of misunderstanding between Jazz, Dimpy and their parents, in the presence of Tia. The climax is sought to be made a bit emotional but the issue is not strong and direct enough to have the desired emotional effect. Dialogues as also the additional dialogues (by Hussain Dalal and Abbas Dalal) are very witty and funny.
Saif Ali Khan suits Jazz's Casanova character beautifully and does an outstanding job of it. His performance is marvellous and with his acting, he does complete justice to the character. His comic sense of timing is remarkable. Alaya F. makes a supremely impressive debut as Tia. She looks cute and her acting is terrific. Tabu shines in a special appearance as Ananya and evokes laughter each time she comes on screen! Kumud Mishra lends terrific support as Dimpy. Kubra Sait is first-rate as Jazz's hair-stylist-friend. Chunkey Panday makes his mark in a brief role as Rocky. Farida Jalal makes her presence amply felt as Jazz's mother. Kamlesh Gill is natural to the core as Mallika. Kiku Sharda is effective as the doctor. Dante Alexander has his moments as Rohan. Rameet Sandhu (as Tanvi) is nice. Shivendra Singh Mahal (as Jazz's father), Dixita Pandya (as Jazz's sister-in-law) and the others provide decent support.
Nitin Kakkar's direction is very good. He has narrated the subject in a way that it keeps the audience engrossed and entertained. But the fact remains that the film is aimed at the classes, and its treatment is also of the kind which will appeal to that audience mainly. Besides, even the classes will not be comfortable with the moral issues of the drama. Music (Gourov-Roshin and Tanishk Bagchi) and lyrics (Shabbir Ahmed, Shellee and Devshi Khanduri) are a mixed bag of fast-paced and melodious songs but there's no super-hit original number. Song picturisations (by Mudassar Khan and Adil Shaikh) are quite good, especially the 'Jinhe mera dil luteya' remixed song. Ketan Sodha's background music is impactful. Manoj Kumar Khatoi's cinematography is very nice. Productoin designing (by Urvi Kakkar Ashar and Shipra Rawal) and art direction (by Harry Meads and Rizwan Thakur) are appropriate. Sachindra Vats' editing, with additional editing by Chandan Arora, is sharp.
On the whole, Jawaani Jaaneman is an entertaining fare but it is meant for a thin section of the class audiences and for some audiences of the big-city multiplexes mainly. Considering the investment by the distributors on the one hand and the poor opening on the other, it looks very unlikely that the film will be able to score despite unusual masala for the cities and classes.
Released on 31-1-'20 at Regal (daily 2 shows) and other cinemas of Bombay thru PEN Marudhar Cine Entertainment. Publicity: good. Opening: poor. …….Also released all over. Opening was very weak everywhere.