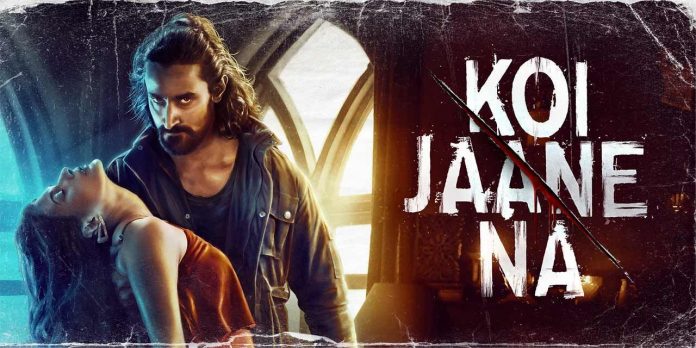 T-Series and Amin Hajee Film Company's Koi Jaane Na (UA) is a suspense thriller.
Kabir Kapoor (Kunaal Kapoor) is a novelist who has divorced his wife, Rashmi (Vidya Malvade), for cheating on him with his publisher, Randeep (Randeep Arya). Kabir also writes murder mystery novels about a fictitious character called Zaraan Khan. But he does so as a ghost writer because they are cheap pulp fiction books rather than the intense works for which he has millions of fans. For writing the Zaraan Khan novels, he disguises as the character he wants to give Zaraan Khan in his novel, which makes them (novels) extremely popular with the masses. Meanwhile, his publisher, Randeep, and Rashmi are contemplating legal action against Kabir for not writing the second part of the novel despite taking a fat signing amount. Kabir is unable to write the second part and also does not have the money to return the publisher the signing amount he had accepted. His manager (Achint Kaur) prods him on to write the second part and get done with it.
One day, Kabir meets Suhana (Amyra Dastur) just by chance and takes a liking for her. Kabir and Suhana's love blossoms. But in between the love story happen two murders. Kabir becomes the prime suspect in both the murder cases. Soon, the needle of suspicion points to one Dr. Rao (Atul Kulkarni). Strangely, the two murders have an uncanny resemblance to the murders in the Zaraan Khan novels by Kabir. Who is the murderer?
Amin Hajee has written a story which is a suspense drama but the suspense simply fails to involve the audience even one bit. The story actually makes the viewers wonder what he is trying to arrive at because it is half-baked and goes from nowhere to almost nowhere. No doubt, the revelation of the suspense in the end does shock the viewers but the sense of participation which the audience feels till that point is reached is not half as much as it should have been. Hajee's screenplay should've been more simplistic as several things don't register too well in the audience's mind. It also becomes evident that some characters and scenes have been added merely to increase the suspense. In other words, there are some scenes which don't come in the natural flow of things. Probably, the weakest part of the screenplay is that although Suhana meets Kabir by chance, her involvement in Kabir's life and his novel's characters gives the impression that she had planned her meeting with him, which is not the case. This kind of a coincidence does not appeal. Dialogues (by Suhail Tatari and Amin Hajee; additional dialogues by Alok Sharma) are just about okay.
Kunaal Kapoor does fairly well as Kabir Kapoor. Amyra Dastur performs ably in the role of Suhana. Ashwini Kalsekar makes an impact as the investigating police officer. Karim Hajee has his moments as Ricky Rosario. Sameer Khadekar is okay as Chandrakant. Atul Kulkarni acts ably in a special appearance as Dr. Rao. But it is simply not clear why he behaves less like a doctor and more like a serial killer. Vidya Malvade makes her presence felt as Rashmi. Aamir Khan adds tremendous star value in a club song-dance. Elli Avram dances gracefully in the club song-dance. Achint Kaur is earnest as Kabir Kapoor's manager. Neha Mahajan lends average support as Bindiya. Randeep Arya (as Randeep) makes his mark. Kamlesh Sawant (as the police inspector), Aditi Govitrikar (as Suhana's mother), Raj Zutshi (as Raj), Sky Hajee (as young Mahek), Summer Hajee (as young Suhana), Aditya Lakhia (as Aditya), Viraf Patel (as Vicky Singhania), Sudhir Dayma (as the gardener) and the others are adequate.
Amin Hajee's direction is ordinary. Although he has made a suspense drama which holds the audience's interest towards the end, the interest quotient in the rest of the film is not much. Music (Tanishk Bagchi, Amaal Malik, Rochak Kohli, Abhijit Vaghani and Parry G.) is quite good. The 'Harfan Maula' song (shot by Manoj Lobo; production design by Dipankar Dasgupta) is the best number. Lyrics (Manoj Muntashir, Kumaar and Amitabh Bhattacharya) are okay. Choreography (Bosco-Caesar) is good in the club song-dance. Background music (by Saurabh Lokhande and Jarvis Menezes) is ordinary. Arun Prasad's cinematography is decent. Abbas Ali Moghul's action and stunt scenes are alright. Production designing (Nida Diwan) and art direction (Pratik Uppal and Navin Kanade) are so-so. Ballu Saluja's editing leaves something to be desired.
On the whole, Koi Jaane Na is a non-starter as it neither has the content nor the cast to draw the audiences in.
Released on 2-4-'21 at Inox (daily 2 shows) and other cinemas of Bombay thru AA Films. Publicity: poor. Opening: very dull. …….Also released all over. Opening was weak everywhere.