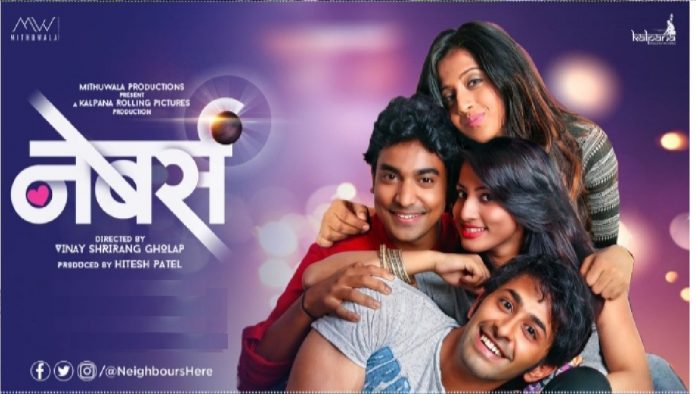 Mithuwala Productions and Kalpana Rolling Pictures' Neighbours (Marathi) is the story of two star-crossed people. Roshan (Chetan Chitnis) lives in an apartment. His life turns topsy turvy when Prerna (Krutika Gaikwad) moves into the neighbouring apartment. Prerna is a mysterious girl. Roshan and Prerna are in for shocks and surprises galore.
Vinay Gholap has written a story and screenplay, both of which lack conviction. The drama, therefore, remains just that, and it fails to engage the viewers. The audience watches it passively rather than becoming a part of it. Hrishikesh Koli and Vinay Gholap's dialogues are fair.
Chetan Chitnis does an average job as Roshan. Krutika Gaikwad is so-so as Prerna. Siddharth Bodke lends ordinary support as Amit. Prasad Jawade is okay in the role of Ankur. Aditi Yevale, Neha Bam and Shailesh Datar are adequate.
Vinay Gholap's direction is not up to the mark. Nishaad's music and background score are both functional. Lyrics (Mangesh Kangane) are routine. Song picturisations (by Pannam Balam, Aadesh Vaidya and Vrushali Chavan) lack fire. Ashutosh Apte's camerawork is alright. Sanjeev Ranee's art direction is commonplace. Guru Patil's editing leaves something to be desired.
On the whole, Neighbours is a flop fare.
Released on 23-9-'22 at Maxus Andheri (daily 1 show) and other cinemas of Bombay thru Studiographe Entertainments. Publicity & opening: dull, in spite of low admission rates because of it being National Cinema Day today.