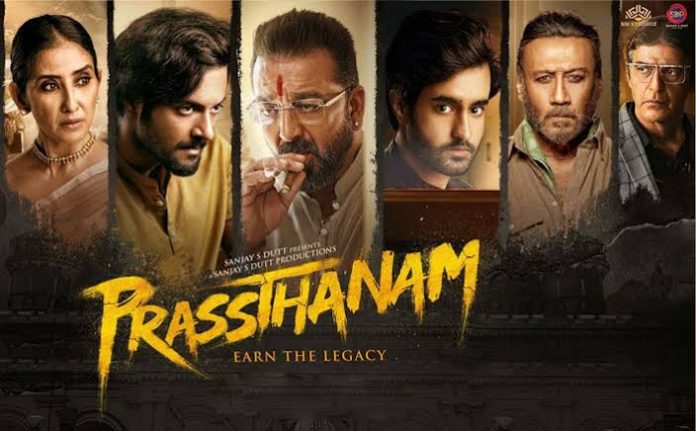 Sanjay S. Dutt Productions' Prassthanam (UA) is a political vendetta drama.
Baldev Pratap Singh (Sanjay Dutt) becomes the leader of a political party after the leader's son, Shiv (Anup Soni), is killed. Not just that, bachelor Baldev also marries Shiv's widow, Saroj (Manisha Koirala), and accepts her two children, Aayush and Palak, as his own kids. Baldev and Saroj then have a son, Vivaan.
Years have passed. All the kids are now grown up. Palak (Chahat Khanna), herself a doctor, is married to a psychiatrist. Vivaan (Satyajeet Dubey) is jealous of Aayush and hates his parents because in the world of politics, it is either Baldev Pratap Singh or Aayush. In fact, Baldev himself is not keen that Vivaan enter politics because he has all the wrong habits. But rather than look after his dad's business, Vivaan wants to enter politics.
Baldev's trusted lieutenant, Baadshah (Jackie Shroff), has a daughter, Aasma (Divina Thakur). After completing her education, she is asked by Baldev to manage his hotel. In his drunken stupor, Vivaan drugs, rapes and kills Aasma one day. This leads to enmity between Baldev and Baadshah because Baldev tries to protect his son from the arm of law in spite of his crime. But Baadshah swears revenge. Not just that, Baadshah also reveals a secret about Baldev, to Aayush. Baadshah had held this secret close to his chest over the years, having vowed never to reveal it to anybody. What is that secret?
There is another track of businessman Khatri (Chunkey Panday) who is close to politicians who favour him. He tries to get close to Baldev but the latter doesn't oblige. There's also a romantic track of Aayush and Shivi (Amyra Dastur) who is related to Aayush's sister, Palak, by marriage.
What happens to Vivaan? Do Baldev and Baadshah settle scores or do they patch up their differences?
The film is a remake of the Telugu film of the same name. Deva Katta's story is predictable and treads the beaten path. There are a number of twists and turns, some contrived or convoluted, some others very predictable. His screenplay, adapted in Hindi by Farhad Samji, is also very routine. There is not even an attempt to offer the audience something new or fresh. As a result, the screenplay unfolds without really involving the viewers who, therefore, watch it passively. Romance is forced. Comedy is conspicuous by its absence. Emotions fail to touch the heart. Action is in abundance — and that should appeal mainly to masses in circuits like U.P. and Bihar. Farhad Samji's dialogues are okay.
Sanjay Dutt is good as Baldev Pratap Singh. Jackie Shroff does well as Baadshah. Although Ali Fazal has performed ably, he has a very lengthy role which the audience may find odd, considering that there is Sanjay Dutt in the cast. Manisha Koirala looks nice, but does not get much scope to perform. Satyajeet Dubey is okay as Vivaan. Chunkey Panday performs ably as Khatri. Amyra Dastur looks pretty in the role of Aayush's girlfriend, Shivi. Her acting is okay. Chahat Khanna is average as Palak. Divina Thakur is alright as Aasma. Zakir Hussain leaves a mark as Majid Maqbool. Deep Raj Rana makes his mark as police officer Sarang. Anup Soni (as Shiv), Shivam Singh (as Khatri's son), Yash Chaurasia (as Durga), Ishita Raj Sharma (in an item song-dance), Narendra Kumar Panjwani (as the secretary of the political party), Naval Shukla (as the party president), master Rehan Khan (as young Aayush), baby Bhairavi Raichura (as young Palak), master Aarav Shukla (as Palak's son), baby Unnati (as Palak's daughter), and the others lend fair support.
Deva Katta's direction is routine. Music (Farhad Samji, Ankit Tiwari and Vikram Montrose) is okay. Lyrics (by Farhad Samji, Yash Eshwari, Atique Allahabadi, Shekhar Astitva and Anurag Bhomia) are so-so. Song picturisations (by Brinda Parameswar, Ganesh Acharya, Rajeev Surti and Vijay Ganguly) are average; the best choreography is of the item song. Mahesh Shankar's background music is functional. Camerawork (Ravi Yadav) is good. Abbas Ali Moghul's routine action and stunt scenes will appeal only to the masses. Suman Roy Mahapatra and Pallavi Bagga's production designing is so-so. Ballu Saluja's editing should have been tighter.
On the whole, Prassthanam is a flop show with some chances in a couple of small circuits only.
Released on 20-9-'19 at Inox (daily 2 shows) and other cinemas of Bombay by NH Studioz thru August Entertainment. Publicity & opening: poor. …….Also released all over. Opening was dull everywhere.