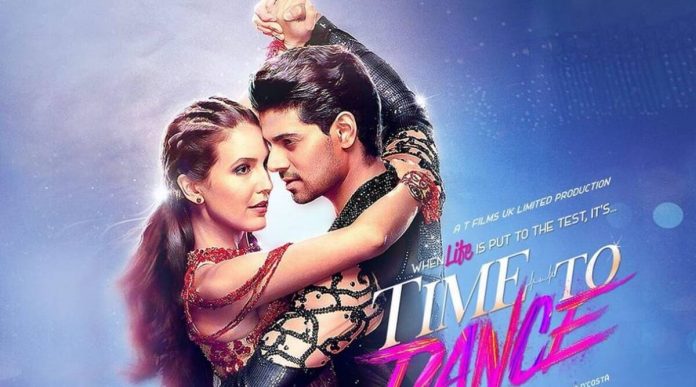 T Films UK Ltd.'s Time To Dance is a film about a dance competition in London.
Rishabh (Sooraj Pancholi) and Sada (Rajpal Yadav) work as waiters in a club in London. Rishabh is a street dancer. Isha (Isabelle Kaif) and Meher (Waluscha De Sousa) are sisters who run a dance academy in London. While Isha teaches dance to students in the academy, Meher works elsewhere to make extra money as they have a loan to repay. Isha is a fabulous dancer.
The club in which Rishabh works hosts a dance competition every year. William (Sammy Jonas Heaney) has been the winner of the competition since the last two years. This year, William's partner is Isha. William's mother (Natasha Powell) hates Isha.
While dancing one day, Isha has a leg injury. She is advised to refran from dancing for six to seven months. She is crestfallen as she was very keen to participate in the dance competition. Since Rishabh likes Isha very much, he teaches her students in her place. William changes his dance partner when he gets to know about Isha's injury. This infuriates Isha who now asks Rishabh to be her partner for the competition. But Rishabh declines Isha's offer because he has a horrific memory of dance competitions. What is that memory?
After much coaxing, Rishabh agrees to become Isha's partner. But he has to learn dancing in a dance academy to be qualified as a professional dancer as only professional dancers can participate in the dance competition. There's also Isha's recovery from her leg injury, which is to be monitored. How Rishabh trains and then how he and Isha participate in the dance competition form the crux of the story. What happens in the competition?
Deepak Dwivedi has written a routine and predictable story which lacks novelty. The romantic angle is weak and so is the emotional appeal of the story. Comedy is poor. Even the spirit of competition fails to excite the viewers because the story and Deepak Dwivedi's screenplay are extremely dull and clichéd. Resultantly, the drama progresses without involving the audience who, therefore, couldn't care less about what's in store for them next. Deepak Dwivedi's dialogues are routine. Many dialogues are in English, and this would restrict the reach and appeal of the film.
Sooraj Pancholi dances quite well and his acting is fairly good. Isabelle Kaif is also a good dancer and she looks pretty but her acting is so-so. Sammy Jonas Heaney is alright as William. Waluscha De Sousa lends decent support as Meher. Saqib Saleem does a decent job in a brief role as the bank recovery officer. Rajpal Yadav is too loud and irritating most of the times. Natasha Powell is alright as William's mother. Others barely pass muster.
Stanley Menino D'Costa's direction is below the mark. He has not been able to make a film which involves the viewers. Music (Rochak Kohli, Guru Randhawa, Vishal Mishra, Gurinder Seagal and Vijay Verma) is alright but none of the songs is popular. For a film based on dancing, this is a major minus point. Lyrics (Kumaar, Guru Randhawa and Kunaal Verma) are average. Song picturisations are fairly good. Background music (Vijay Verma, Anamik Chauhan and Lyton) is alright. Rajeev Shrivastava's camerawork is okay. Felix Colex's production designing hardly deserves mention. Munishwer Bharat Singh Rao's editing should've been crisper.
On the whole, Time To Dance will go largely unnoticed at the box-office as it neither has the entertainment quotient to sustain the audience's interest nor is there awareness about the film or its release.
Released on 12-3-'21 at Metro Inox (daily 2 shows) and other cinemas of Bombay thru AA Films. Publicity & opening: dull. …….Also released all over. Opening was poor everywhere.